Patty Sgrecci
SCUPLTURE + 3D
ARTIST BIO
Leaves fluttering in the breeze,
laundry billowing on a line,
the spiraling descent of a maple seed:
all are inspiration for my kinetic art.
I use mobiles to examine the mystery of movement.
Each piece is a study in cause and effect,
tension and release;
change.
My background includes a BFA in Fiber Arts and a keen interest in mixed media.  Kinetic sculptures allow me to draw in space.  Whether I'm stitching, carving, soldering, wrapping or assembling I use reed, wire, wood and fiber to create sculptures that have a  lyrical, linear quality. My goal is to create sculptures that echo the gestures of nature in an interactive dance.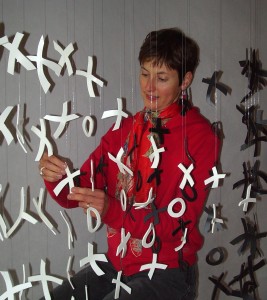 ARTWORK
Images shown are representative of the artist. Please contact the gallery for availability.