ARTIST BIO
For Esther Sullivan, metalsmithing is a boundless gateway for expression, discovery, exploration, and learning. Growing up in central Vermont, she cultivated a special connection with nature. Her days of romping around the Vermont woods with her siblings in her youth gave way to rock climbing in the desert as an adult. She moved from Vermont to Bozeman, Montana where she received a Bachelor of Fine Arts in Metalsmithing from Montana State University.
Her flare for metalsmithing is influenced by traditional methods learned in art school and technical courses, as well as from her experiences working with jewelers. This has lead her to experiment and develop her own unique metalsmithing techniques and designs. Her work is influenced by the earth and its connection with the human spirit. Sullivan expresses this connection through contrasting elements in her hand fabricated designs.
Textured material and highly oxidized metals are matched with bright high karat gold to create highly refined, thoughtful, and sophisticated designs. Their strong modern presence is both feminine and natural feeling, evoking the resilience of our connection to the earth and the expansive universe around us. Sullivan minimize her environmental impact by using only reclaimed metals and eco-friendly studio practices. Sullivan's studio is based in Bozeman, Montana where she finds constant inspiration from the landscape that surrounds her.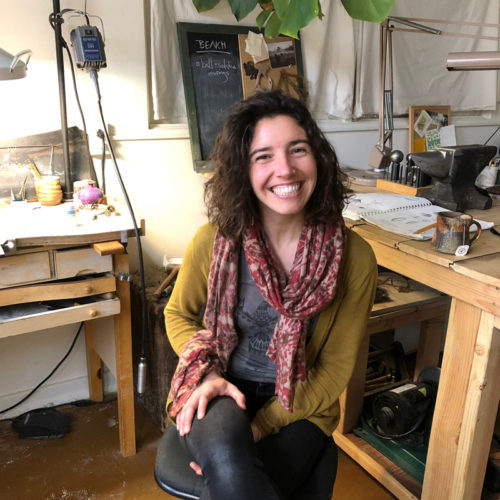 AVAILABLE WORK
Images shown are representative of the artist. Please contact the gallery for availability.