JONATHAN D. EBINGER
SCULPTURE + 3D
ARTIST BIO
A skilled sculptural artist, Jonathan D. Ebinger graduated from the Art Institute of Boston with a degree in fine art. After college, he returned home to New Jersey where he took a job as a union construction worker and took advantage of free welding classes. Shortly after, he combined his new skill with his training as an artist, and began welding sculptures out of nuts, washers and other metal materials. He is able to transform these common items from simple, hard pieces of metal into graceful and intricately textured works of art, primarily of animals.
To me they are not just construction materials, but rather pieces of a puzzle that I am able to fit together to create whatever kind of sculpture I can imagine. They are metal shapes; hexagons and perfect circles of all different sizes. When I bring together all of these geometric shapes, they have an intriguing and inviting look and feel.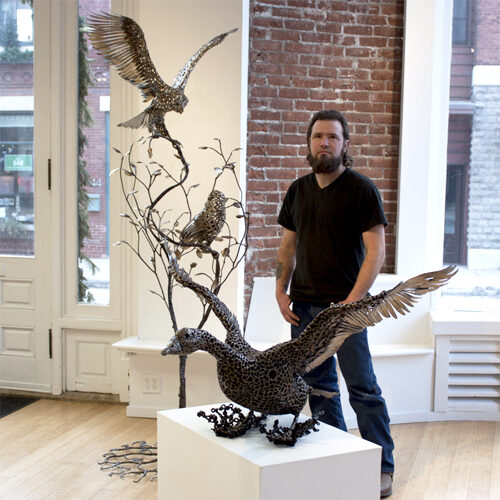 ARTWORK
Images shown are representative of the artist. Please contact the gallery for availability.