TIMOTHY FISHER
SCULPTURE + 3D and PAINTING + MIXED MEDIA
ARTIST BIO
I lived six years of my childhood and early adulthood in Africa, which together with my parents' interest in African sculpture has had significant influence on my art. I have expanded this interest to a love of international folk art, which dominates the decor of my home
I have been making carved wood sculptures since the late 1960s.Each sculpture is usually carved from a single log, though I feel free to add wood as necessary. I rough out the sculpture with a chain saw, and then do the majority of the shaping with carving chisels.  Final finish is either accented by the patterns of the chisels or sanded.  I often use beads for details like eyes before a final finish with furniture oil.
The paintings/collages were a new departure for me in 2003; prompted  by my wanting to spend a period of the Vermont winter in Mexico, but continue making art there. Acrylics are painted canvas, combined with fabric and paper, the elements are cut out separately arranged and attached to canvas.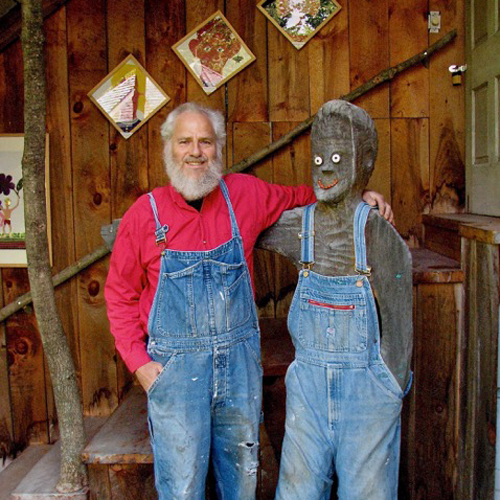 ARTWORK
Images shown are representative of the artist. Please contact the gallery for availability.