WILLIAM HAYS
PAINTING + MIXED MEDIA
ARTIST STATEMENT
In my printmaking I've naturally grown into very complex, multicolor prints that defy the simplicity of linocut printing. As I work, I watch the print unfold, color by color over the course of weeks, like a layered mosaic of carved shapes. These shapes and my chosen colors work together in service to my composition; the whole, in service to a mood or sense of place dear to my heart.
The greatest privilege in art, and in life, is the creation of something from yourself that speaks to others. Throughout history the great artists have transcended the limitations of paint and canvas to enrich the viewer through inspiration, ability and ideas. Each painting is a unique and challenging experience that unfolds from the first strokes to the final varnish. Each image reveals its final form through a series of decisions, each based on the previous action. Each idea carries the potential for universality.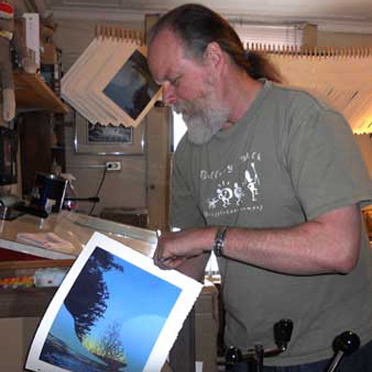 AVAILABLE ARTWORK
Images shown are representative of the artist. Please contact the gallery for availability.