C E L E B R A T I O N S :


n e w   a r t i s t s ,   n e w   e x h i b i t i o n s ,   o u r   b i r t h d a y !

Lately at Edgewater we've been receiving a steady flow of new artwork and crafts, causing us to "ooh" and "ahh" daily as we tear open boxes, carefully pull away bubble wrap and scrunch layer after layer of tissue paper underneath our eager fingers.

We're beginning to prepare the gallery for "The Sharing & Giving Season", building new displays and, soon enough, hanging our new exhibition.  Not only does November mark the beginning of a festive season, it also happens to be the month of our birthday. We will be celebrating our first anniversary, and we're going to do it in style.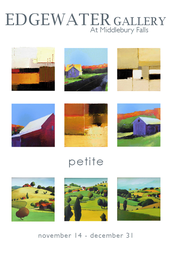 On Saturday, November 20th, from 5-8pm, we're opening " p e t i t e " , our first annual small works show, and we'll also be throwing a birthday party to thank all of you for making this first year so fantastic, for your continued support, and for your overwhelmingly positive response to Edgewater Gallery and all of its artists and artisans.
" p e t i t e "  will feature a large percentage of our artists, and it also features the gorgeous, and though not petite, yet appropriately titled watercolor, "Birthday" by renowned watercolorist Mary Whyte, a new artist-gallery relationship we're very excited to embark upon.
We're looking forward to seeing you soon! The new work in is as exciting and tasty as the cupcakes we will enjoy on our birthday celebration with you.