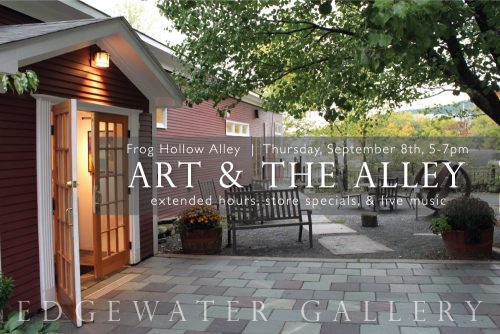 Edgewater at the Falls, along with neighboring businesses, would like to invite you to spend a wonderful evening with us. Frog Hollow Alley will be open for extended hours, with specials, food and much more. Edgewater Gallery will be celebrating with Jim Westphalen's opening reception "vanish. Disappearing icons of a rural America." Live music by Papa Grey Beard will be performed outside of Edgewater at the Falls. Local stores participating in the event include: Frog Hollow Bikes, Buy Again Alley, Steven Jupiter Gallery, Middlebury Chocolates and Vermont Folklife Center.
Join us this Thursday, September 8th, 5-7pm. For more information on this event, please CLICK HERE
We hope to see you there!