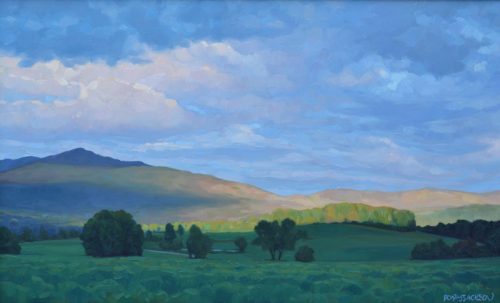 Mountain Glow 
30″ x 50″ – oil on canvas – $6100
"As a painter, my aim is to bring to life a presence to the viewer, a relationship between the earth and the people who hold covenant with it" says painter Rory Jackson. Best known for painting vast skies above rolling hills, Rory has focused his current exhibit: "All In One County" on the landscape between his mountain home in Lincoln to the Lake Champlain shore. Dramatic lighting amplifies Rory's compositions and showcases the true vibrancy of our surroundings. Residents in Addison County will be delighted in seeing familiar scenes, and visitors are sure to appreciate how quintessentially Vermont Rory's paintings truly are.
Join us from 5-7pm this Friday, August 12th for Rory's Opening Reception. Enjoy light refreshments, good conversation, and stunning art.
To view Rory's work, CLICK HERE