13oct5:00 pm7:00 pmTJ CUNNINGHAM At the RiverOpening Reception5:00 pm - 7:00 pm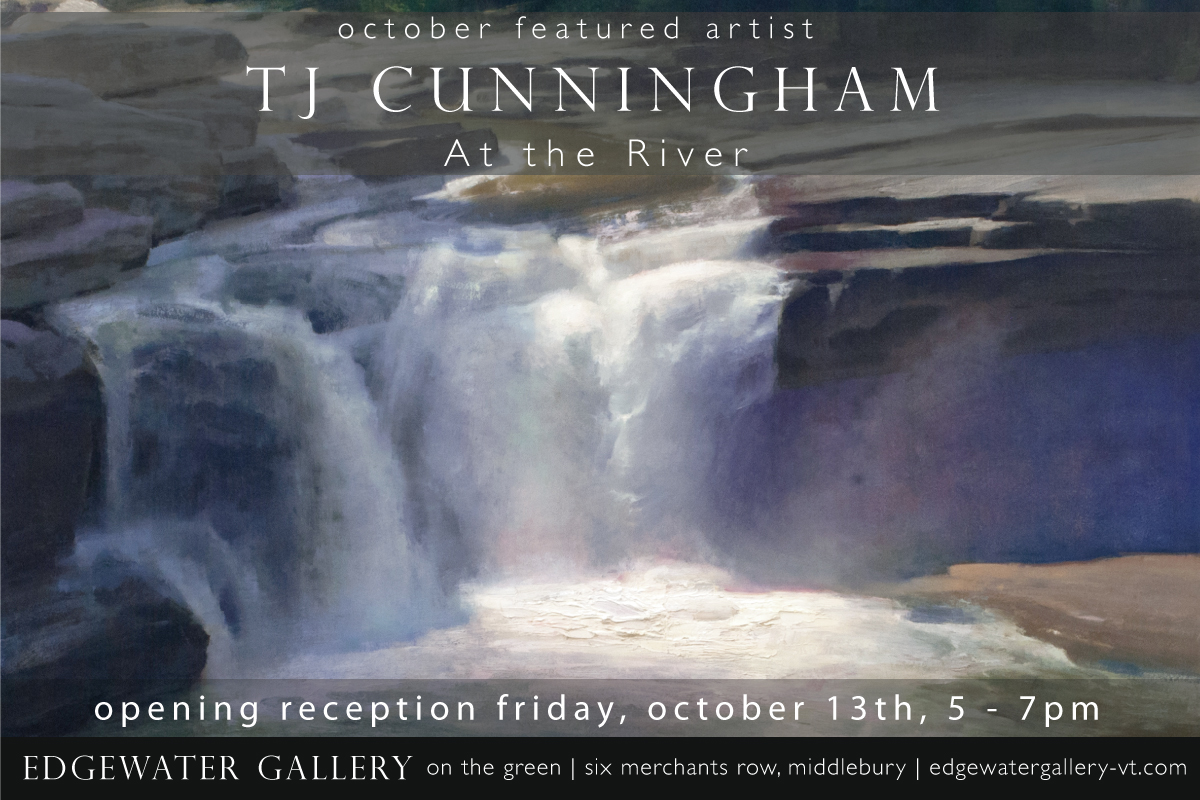 Event Details

OCTOBER SOLO EXHIBITION AT EDGEWATER ON THE GREEN

OPENING RECEPTION
FRIDAY, OCTOBER 13th, 5-7pm

This October Edgewater Gallery on the Green will be hosting a solo exhibition for TJ Cunningham. Be sure to stop by to see his stunning paintings that highlight the beauty of Vermont both in its natural landscapes and small town architecture. The opening reception for the show will be on Friday, October 13th from 5 – 7 pm . In addition, don't miss Cunningham's painting demonstration on October 20th–it will be a great way to bring art and inspiration into your life this autumn!

As an artist, I remain and hope always to be a student of the landscape which means that Vermont could never grow dull in the richness that it offers and it never grows easy. With every gain comes a new challenge as I strive to understand my subject more deeply and represent it more accurately. 

Last year as I began to put a new body of work together, I decided to focus on the river as my narrowed scope of study. Over the last year many hours were spent painting at the river and the new work is a compilation of larger studio pieces and smaller paintings that were created directly from life.  The smaller paintings along with many sketches and studies were the guiding inspiration for the larger, studio pieces.

I was drawn to focus on the river partly because of its serine aesthetic, but also because of all the good memories of adventure, solace, romance, and childhood bliss that its banks hold. I have only touched on the surface of this delightfully, deep motif. Still, it is my hope that I will be able to conjure the river in its beauty and energy to those who view this new body of work.

Click here to view TJ Cunninghams's current available work.
Time

(Friday) 5:00 pm - 7:00 pm