H A N N A H   S E S S I O N S


s e p t e m b e r ' s   f e a t u r e d   a r t i s t

O P E N I N G   R E C E P T I O N
f r i d a y ,   s e p t e m b e r   9 ,   5 – 7 p m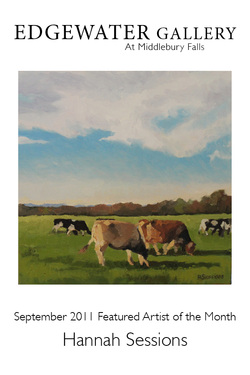 Explore Vermont's agricultural beauty through the paintings of Hannah Sessions; co-creator of Blue Ledge Farms and their award winning goat milk cheeses based on 110 acres in Salisbury, VT.
"For this show I have tried to express the light, life and general activity that is present on a farm in the summer. I have painted Greg (my husband) cutting hay, been in a cow barn while milking is happening and outside of the chicken barn as our laying hens venture out into the afternoon sun. I have stopped mid-chores to document the light as it enters the barn at 7 am and slowly stretches across the hay-covered floor. I have tracked cows and goats down to paint them enjoying lush pasture. It is animals that make farms such special and meaningful places for me, and I feel it is our relationship with animals which connects us to our landscape and ultimately to our humanity.
Farms, my own and others', are places of constant inspiration for my painting and it was a great pleasure to have the opportunity to put down farm implements and pick up a paintbrush in an attempt to relay some of the beauty and life I have around me everyday. To this end I am so very grateful to my husband and our employees for picking up my slack" – Hannah Sessions.