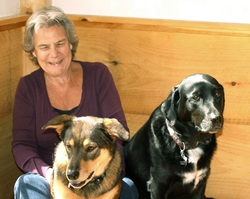 Anna Dibble, one of the gallery's celebrated artists, has brought new work for us to enjoy this month. These pieces feature her humorous depictions of animal-human encounters as well as some new ceramic sculptures from her Rana Lutra Society series!
She also brings a new collection to us entitled "Entanglement" . The colors and patterns in these eight pieces definitely draws people in and captivates its viewers. While each piece is individually beautiful, the effect of this grouping is stunning. They are accompanied by a William Stafford poem called "The Way It Is" which  beautifully fits the emotions of the series.
All these pieces are up at the gallery! Check them out below and on our website!
---
r a n a  l u t r a  s o c i e t y
E n t a n g l e m e n t



4 . 5 "   x   6 . 7 5 "   e a c h
$ 1 8 5   i n d i v i d u a l l y   /   $ 1 5 0  e a c h   w h e n   p u r c h a s e d   i n   g r o u p i n g s