Though the days might be getting longer and the weather is getting cooler, August is still a great time to embrace the last bits of summer fun.  Whether you're picnicking in the grass, swimming at a lake or sitting at the beach, what's better than the perfect summer bag?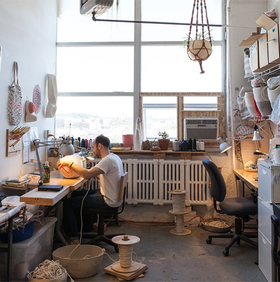 Doug Johnston
is an artist that comes to us from Brooklyn. Doug Johnston's work includes art, design, architecture and music, utilizing and exploring a variety of mediums and methods such as installation, fiber art, sculpture, photography, and collaborative performance. Since 2010 he has focused on a process of coiling and stitching rope into a variety of functional and sculptural objects.
All pieces are made by a small team of artists, including Doug and his wife Tomoe Matsuoka, in their studio. All cord is made in the USA to government specifications, and is of high-quality solid braid construction.The cotton cord is 100% cotton, raw and untreated. Each piece is made without the use of forms or molds. The process involves coiling cord and stitching it to itself with a sewing machine using a zigzag stitch. The technique ensures that each piece is unique with slight variations of shape and stitching.
---