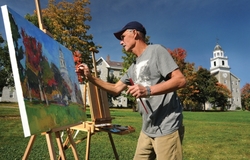 After a successful opening this past Friday, we are excited to carry on the energy from Anne Cady and Tom Dunne's exhibitions into this week!
Vladimir Kozhevnikov, a Russian artist, will be displaying his most recent work in the gallery October 17-19 in conjunction with his guest visit and lecture at Middlebury College. His work is known for its colorful landscapes and will show some recent paintings he's made while on his visit.
These pieces will be a great fit for our gallery especially as our own landscape continues to change and really exemplify the beauty of fall in Vermont. Kozhevnikov's lecture will be on October 16 at the college and if you're interested in attending it, you can call the Box Office for more information or check out this spotlight from the Addison Independent
We hope to see you soon at the gallery to join us in celebrating the fall and all the amazing pieces in our space!
---