Join us this Friday, July 8, for triple the adventure as we celebrate the opening of our two current exhibits, "Featured Artist of the Month: Anna Dibble", "LOCOMOTION: reflections from the American road trip", and the Middlebury Arts Walk. Join us from 5-7 to celebrate summer with us!
A N N A   D I B B L E


j u l y ' s   f e a t u r e d   a r t i s t

O P E N I N G   R E C E P T I O N
f r i d a y ,   j u l y   8 ,   5 – 7 p m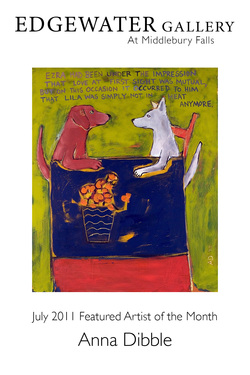 "The evolving bestiary in my paintings is inspired by my work in comic animation, a love of natural history and philosophy.  I like to compare human behavior and traits with those of the other animals.  Juxtapositions and paradoxes are my main themes.  Food plays an important element, as does a prejudiced view of our nonsensical human condition.  I think of my work as being like the Trickster in myth, who is the spirit of the in-between, the crossroads, the melding of opposite traits." – Anna Dibble
L O C O M O T I O N


r e f l e c t i o n s   f r o m   t h e   a m e r i c a n   r o a d   t r i p

O P E N I N G   R E C E P T I O N
f r i d a y ,   j u l y   8 ,   5 – 7 p m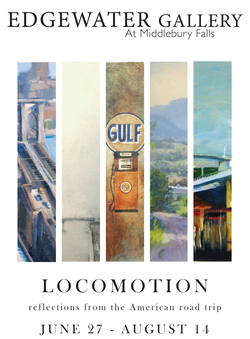 Experience the quintessential summertime adventure as Jeff Bye, Charlie Hunter, Sara Katz, Sean Thomas and Eric Tobin explore the hidden backroads and well-worn bridges of the classic American road trip. Opening reception on Friday, July 8, 5-7pm in conjunction with the Middlebury Arts Walk.