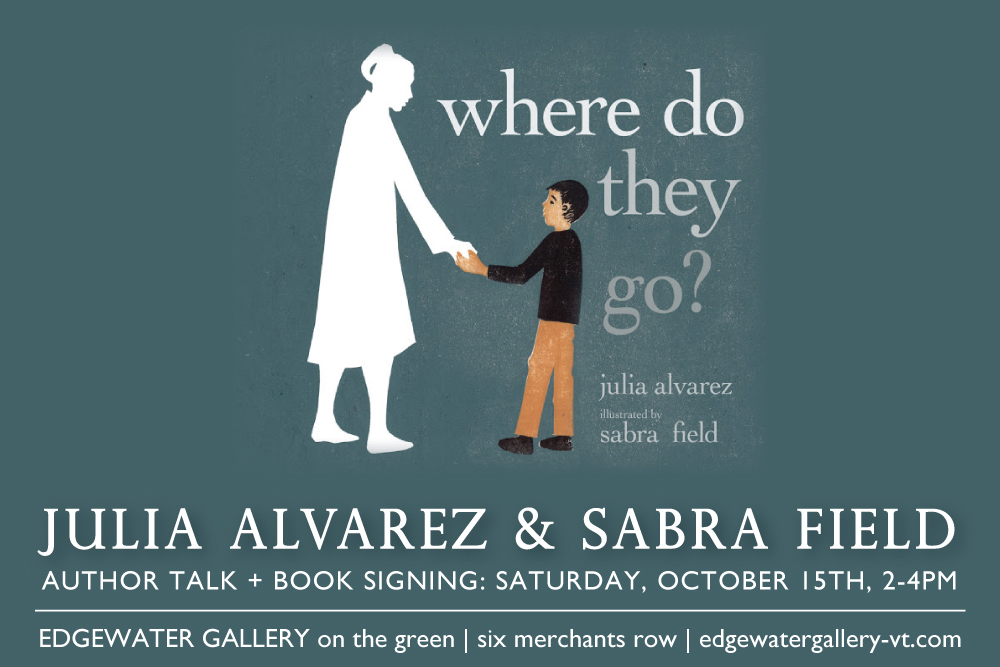 This Saturday, October 15th, from 2-4 pm at Edgewater Gallery on the Green,
Sabra Field and Julia Alvarez will discuss their book project Where Do They Go?
Sabra Field, known for her vibrant portrayals of Vermont fields, mountains, and sky through woodcuts, has established herself as one of the most accomplished modern printmakers in the world, and a monument among Vermont's rich arts community. In collaboration with best selling novelist (How the Garcia Girls Lost Their Accents) and children's author (Return to Sender) Julia Alvarez, Field has illustrated a new picture book which is a beautiful and comforting meditation on death, asking questions young readers might have about what happens to those they love after they die. "When somebody dies, where do they go? / Do they go where the wind goes when it blows? … Do they wink back at me when I wish on a star? Do they whisper, 'You're perfect, just as you are'?"
Field and Alvarez will read from their book, take questions and sign copies. The book will be available for purchase at Edgewater by the Vermont Book Shop. This is a special pre-publication launch event for the book, which will not be available to the general public until November. The event is free and open to the public.
Immediately following the Artist & Author Talk with Field & Alvarez, an Opening Reception will be held from 4-6 pm for Sabra Field and the five other artists showcased in the October featured exhibit, "Of the Land." A collection of work interpreting the land through the eyes of Vermont artists who use vastly different media and draw from a broad array of inspirations, this exhibit makes clear the respect and admiration for Vermont's landscape that unites these artists under one theme.
To read more about Sabra Field and her project with Julia Alvarez, click here to check out the article that appeared in the October 6th issue of the Arts + Leisure section of the Addison Independent.
RSVP to the event by clicking here or by visiting the event on Facebook.