20junAll Day242023 Plein AirMake Your Reservations Today!(All Day) The Pitcher Inn and Warren Store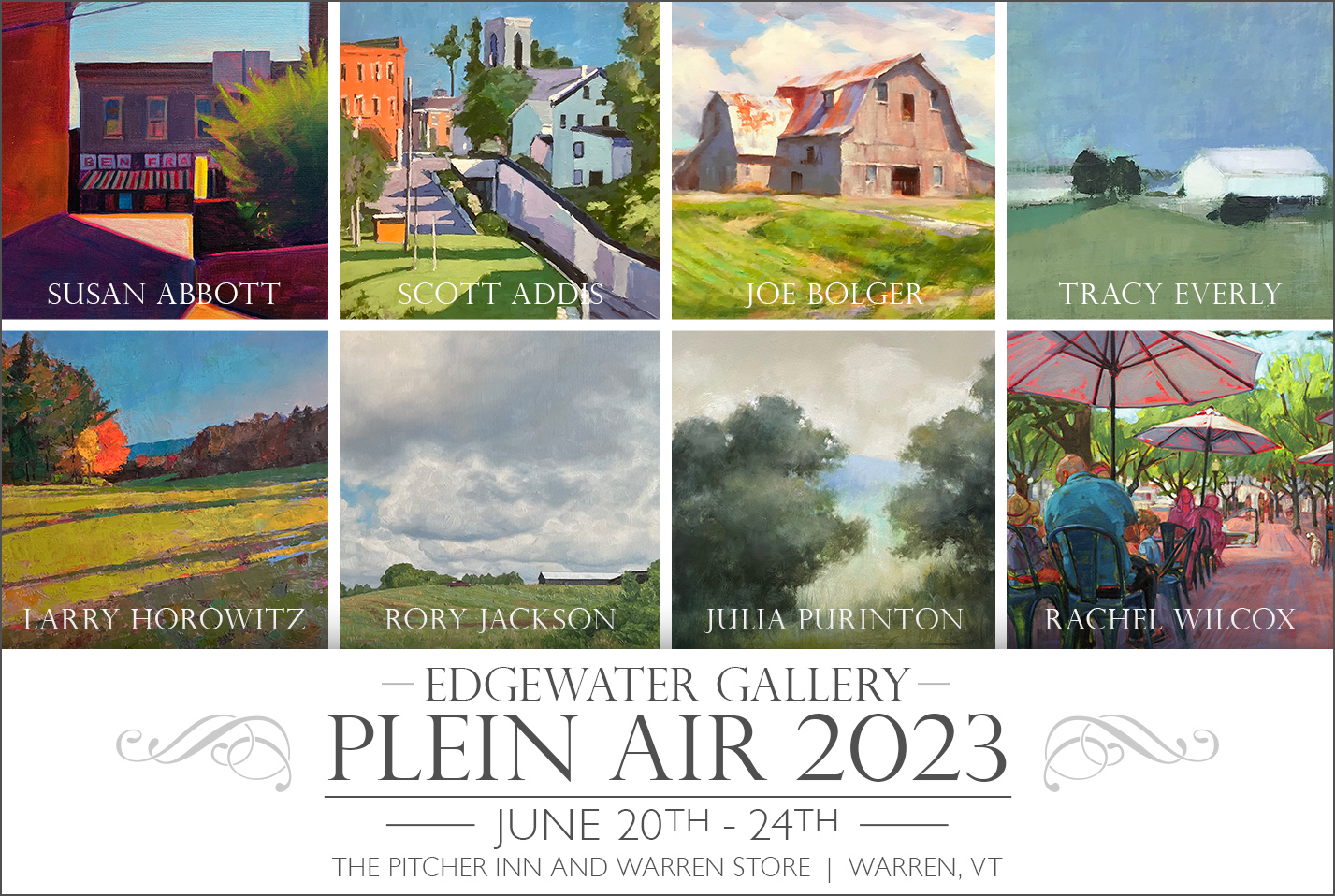 Event Details

Edgewater Gallery presents
2023 PLEIN AIR WORKSHOP AND FESTIVAL
June 20th – 24th, 2023
The Pitcher Inn and Warren Store
Warren, Vermont 05674
LIGHT, COLOR AND COMPOSITION
A three day workshop with

Tracy Everly

June 20th – 22nd
The Pitcher Inn and village of Warren, VT
BREAKFAST AND INTRODUCTION TO PLEIN AIR PAINTING
with Susan Abbott
Friday June 23rd
9:30 AM – 10:30 AM
The Pitcher Inn


275 Main St, Warren VT
PLEIN AIR PAINT OUT
Friday June 23rd – 24th
9:00 AM – 2:30 PM
RECEPTION AND WET PAINT SALE
Saturday June 24th 3:00 – 4:30 PM
The Pitcher Inn


275 Main St, Warren
Edgewater's Plein Air 2023 event shifts location this year, to picturesque Warren Vermont. Together with The Pitcher Inn and Warren Store, we will host the three day workshop and two day painting event Tuesday June 20rd through Saturday June 24th.  
Acclaimed plein air painter and teacher, Tracy Everly will open the event by offering a  workshop taking place on the three days leading up to the plein air event. Painters of all levels will benefit from this fun and informative class.
Workshop Description:
This workshop offers a guided learning opportunity to immerse yourself in a multi-day experience painting outdoors with Tracy. We will paint together in and around picturesque Warren, Vermont.   
We'll focus on simplifying the majesty of nature through composition, value control, and color. Topics will include choosing a painting site, exploring compositions, using value to create structure, and creating color harmony, among others. We will also discuss equally-important aspects of painting such as active looking, focus, mindset, and expectations.
Our days will include:
-Live painting demos
-Discussion
-Ample time to paint
-Individual guidance and feedback
-Connection with like-minded artists
Every day spent painting outside is an opportunity to enjoy the moment and grow as a painter.
GET TO KNOW TRACY EVERLY!
Artist Tracy Everly (b. Philadelphia 1968) uses oil paint to explore the fleeting experience of being human. She observes and paints and distills different moments into a simplified form that is ultimately meant to capture the remains or accumulation of an experience as it slips away. 
Everly's skill as a painter was developed through study with individual artists and through classes at The Pennsylvania Academy of Fine Arts in Philadelphia. She has won numerous awards for her work including an Award of Distinction from the American Impressionist Society, and two Bucks County Resident Artist Awards from the Bucks County Plein Air Festival. Her work has been included in both regional and national exhibitions.
Everly teaches online and also teaches in-person workshops across the U.S. She has been represented by Edgewater Gallery since 2022.
This workshop is suitable for all levels of experience, though some plein air experience is helpful.
Class fee: $540
To register for Tracy Everly's Three Day Plein Air Painting Workshop "Light, Color and Composition", call the gallery at 802-458-0098, or email [email protected]
PLEIN AIR PAINT OUT
Friday June 23rd – 24th, 2023
9:00 AM – 2:30 PM
The Pitcher Inn & Warren Store
& the village of Warren, VT
Our 4th annual plein air event travels east over the Green Mountains to Warren Vermont, one of Vermont's quintessential villages. Its location between two ranges of the Green Mountains and within the Green Mountain National Forest, provides a wealth of subject matter for our 8 plein air painters and a chance for visitors to enjoy the beauty of the Mad River Valley and our artists' interpretation of it.
Paintings done "en plein air" possess an exciting sense of immediacy and energy as artists set up canvases, palettes and brushes outdoors, facing the challenge of making on the spot decisions in composition, color, and portrayal of light and shadow. 
PARTICIPATING ARTISTS:
– Susan Abbott
– Scott Addis
– Joe Bolger
– Tracy Everly
– Larry Horowitz
– Rory Jackson
– Julia Purinton
– Rachel Wilcox
The artists will take advantage of morning light and moderate temperatures, starting their days by 9:00 AM. Edgewater Gallery staff will be available at both The Warren Store and The Pitcher Inn to provide maps of the area, and artist information. Plan your mid day break by pre-ordering a bag lunch in the morning at The Warren Store's Deli Counter. Explore the village while seeking out the painters and having the rare opportunity to learn first hand about their process while watching them work. 
BREAKFAST AND INTRODUCTION TO PLEIN AIR PAINTING
With Susan Abbott
Friday June 23rd 9:30 – 10:30 AM
$20 per person
The Pitcher Inn
275 Main St., Warren
Vermont plein air painter Susan Abbott will kick off the two day paint out with a discussion about her approach to plein air painting and the rewards and challenges that this discipline presents. 
Susan is an acclaimed painter and teacher whose insights will provide a valuable and inspired start to the paint out. Coffee and a continental breakfast selection will be available to attendees during the talk. 
This is a ticketed event. To register, visit the website edgewatergallery.com, call the gallery at 802-989-7419 or email us at [email protected]watergallery-vt.com 
– or  –
To view Susan Abbott's available work click here.
RECEPTION AND "WET PAINT SALE"
Saturday June 24th
3:00 PM – 4:30 PM
$20 per person
The Pitcher Inn
275 Main St., Warren VT
Plein Air 2023 concludes with a reception and fine art sale of the paintings completed during the festival. All of the work will be on view and available for purchase at The Pitcher Inn. Enjoy lite hors d'oeuvres and cocktails in the main reception area of the inn as you view the collection. Celebrate the artists, their hard work and creative successes. Take advantage of the rare opportunity to own a newly created work of fine art.
This is a ticketed event. To register, visit our website edgewatergallery.com, call the gallery at 802-989-7419 or email us at [email protected]
– or  –
Time

june 20 (Tuesday) - 24 (Saturday)
Location

The Pitcher Inn and Warren Store

275 Main Street & 284 Main Street
Organizer
Edgewater Gallery802.989.7419