18augAll Day25A Celebration of Plein Air PaintingSign up today!(All Day) Edgewater Gallery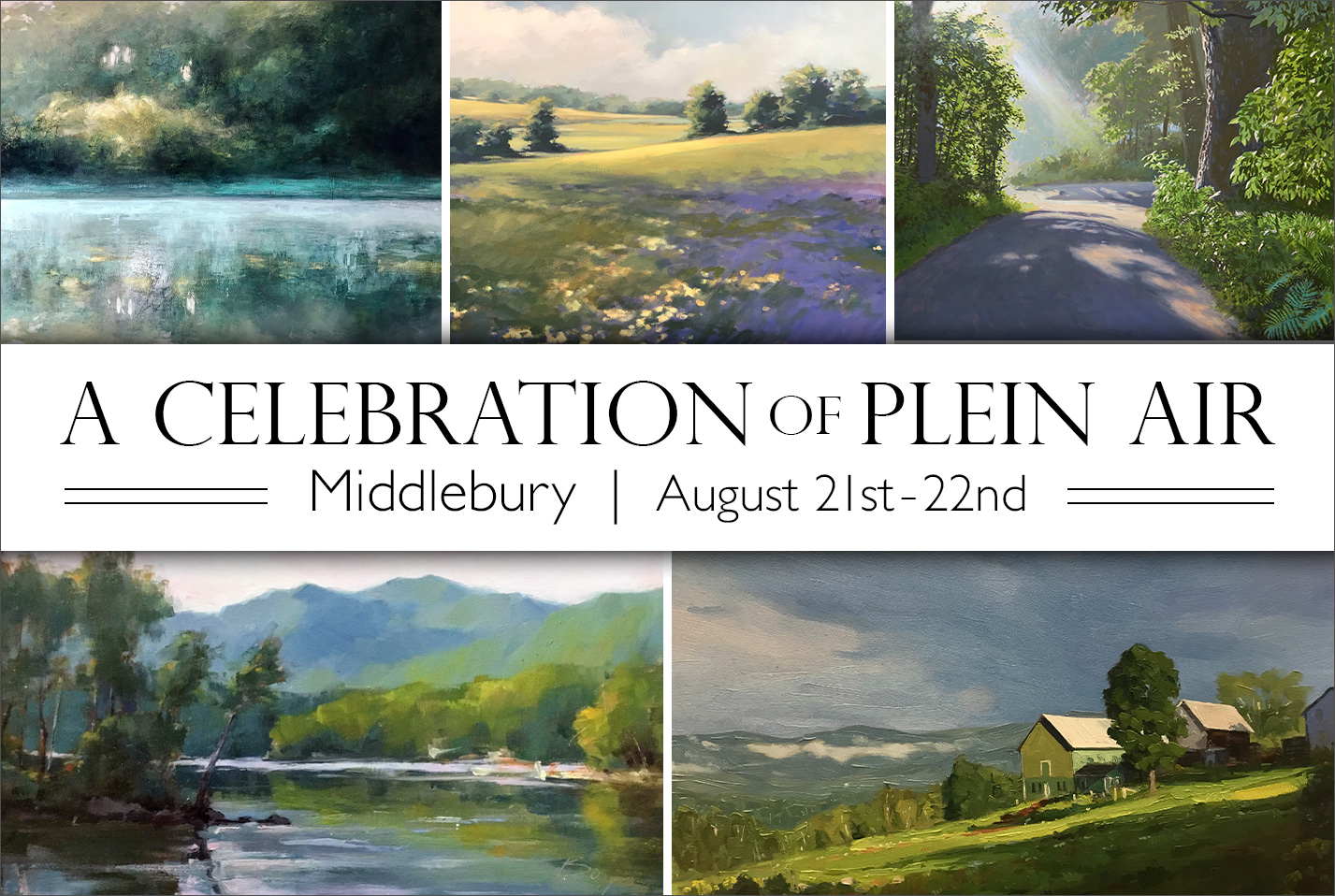 Event Details
Join us for A Celebration of Plein Air Painting
in the picturesque town of Middlebury, VT.
August 18th through August 22nd, 2020
This multi day event features 5 of Edgewater's Plein Air artists painting on location in and around Middlebury. The celebration gives Plein Air enthusiasts the opportunity to purchase newly created work "off the easel", and to learn from, meet and observe, the artists as they practice their craft in various locations in town, including the Otter Creek Falls, on the Middlebury college Campus, and on the historic town green.
• August 21st – 22nd – "Paint Out" – 8 Plein Air artists  practicing their craft. Various locations in Middlebury.
• August 22nd 4:00-6:00PM – Cocktail Party  – Upper Deck and gallery, Edgewater Gallery at the Falls, One Mill St, Middlebury, VT 05753
Detailed information about each of the above events below.
The celebration of plein air painting begins on August 21st and August 22nd as eight of Edgewater's finest Plein Air painters  arrive in Middlebury and set up their easels for the "Paint Out". Visitors will have the opportunity to observe the artists at work, meet them and learn about their processes and purchase work "off the easel" while they stroll and enjoy the natural and architectural beauty of this quintessential Vermont town. This part of the Plein Air event is open to all. Edgewater's Gallery at the Falls, One Mill St, will be the check in point to get up to date information on the artists' locations, use restrooms, or enjoy a bottled water.
The two day "Paint Out" ends in style with a cocktail party on August 22nd from 4:00-6:00PM on the deck at the Gallery at the Falls, overlooking Otter Creek. Enjoy light refreshments while mingling with our artists, viewing their newly painted work, and having the opportunity to purchase paintings in a "Wet Paint Sale". Tickets for the cocktail party are $55 and can be purchased by calling Edgewater Gallery at 802-458-0098.  Take advantage of this opportunity to spend a summer evening enjoying the breeze over the Falls, viewing newly created works of art, and meeting eight celebrated artists.*
* Edgewater will be following the Vermont Department of Health's latest guidelines for public gatherings, for the cocktail party. The safety of our guests, artists and staff will be our priority. Our gallery and deck space provide adequate room for proper social distancing. This will be a catered event with food and drink being served following the latest safety regulations. Please contact us at 802-458-0098 with any questions or concerns.
Time

august 18 (Tuesday) - 25 (Tuesday)
Location

Edgewater Gallery
Organizer
Edgewater Gallery802.989.7419