01augAll Day30sepAbout TownTwo Person Exhibition featuring Betsy Silverman and Rachel Wilcox(All Day) Edgewater Gallery at Middlebury Falls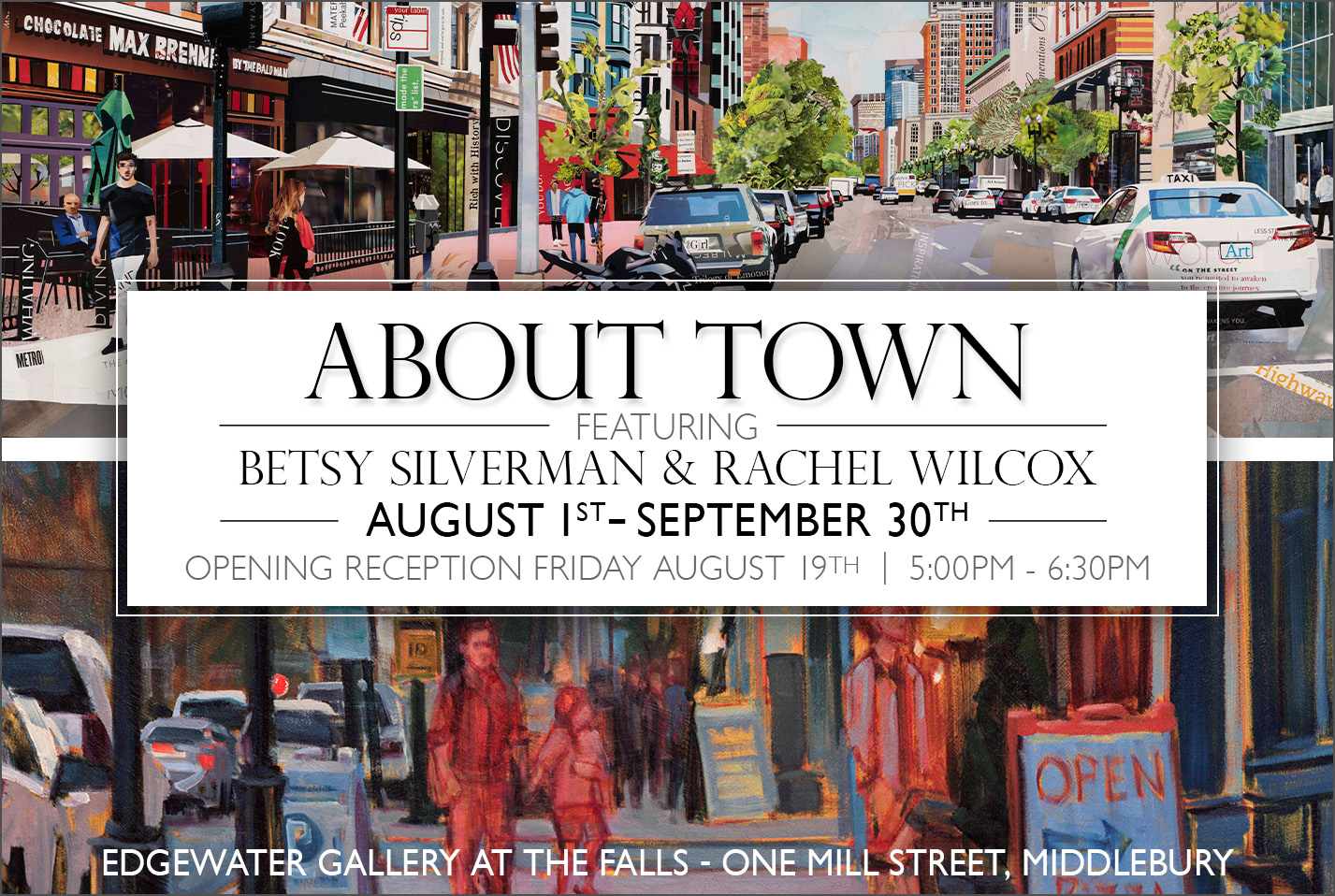 Event Details
ABOUT TOWN
Featuring the work of Betsy Silverman and Rachel Wilcox
August 1 – September 30, 2022
Edgewater Gallery at the Falls
This August we interrupt the languid, lazy days of summer in Vermont with a taste of city life presented by painter Rachel Wilcox and collage artist Betsy Silverman, in their two person show "About Town". Both artists capture the essence of the urban landscape; its pace, energy, and diversity. These city scenes show us the intersection of people's lives and their stories, and the compositional complexity and excitement where architecture, vehicles, and streetlife meet.
Betsy Silverman is a collage artist who has her studio in Newton Massachusetts.  Her pieces are constructed entirely of recycled magazine pieces, a material that she began using in architecture school at Rhode Island School of Design.  These are works to be appreciated not only at a distance for their graphic impact and sweeping scenes of city life but also at close range for the nuances of the artist's technique, her use of imagery and text that relates to her subject and her expertise in constructing the canvas. 
"Representing cities and towns brings my artistic process full-circle, as my interest in using recycled magazines evolved from my architectural studies.  In addition to using the techniques and tools of architecture practice, depicting these spaces fosters opportunities for me to explore the paper medium.  For example, my work for this exhibit contains diverse surfaces, such as windows, automobiles, and signage – all of which I craft by building layer upon layer of magazine images having various colors, textures, and gradations of intensity.  My process juxtaposes precisely cut pieces of paper, to create the perception of three-dimensionality, reflections, shadows, and illumination." Betsy Silverman
To see Betsy Silverman's available work click here.
Rachel Wilcox has her studio in Amesbury Massachusetts and graduated from the Rhode Island School of Design with a BFA in Illustration. Wilcox paints in oil and prefers working in series, exploring a theme from different approaches. She describes her affection for creating order from chaos in a scene by identifying patterns in form, light and movement. 
 "The city is a constant source of inspiration for me, whether it is filled with people or seemingly vacant. I am intrigued by the transitory yet routine nature of urban life. Where is everyone going? How are they getting there? These questions along with the various ways that we connect with each other along the way are concepts that resurface in much of my work.
I also love exploring different ways to manipulate oil paint. I am completely enamored with all of its qualities, and it is my goal to express that to the viewer. Using traditional oil painting methods, I enjoy figuring out the simplest way to communicate an idea or express a feeling or mood. I seek only to give the necessary information, leaving room for the viewer to add to the scene with their own memories and perceptions, thereby creating a very true sense of place." 
 – Rachel Wilcox
Rachel Wilcox will be participating in Plein Air 2022  August 20-21st.
To see Rachel Wilcox's available work click here.
For more information on "About Town", a two person exhibition featuring Betsy Silverman and Rachel Wilcox, call the gallery at 802-989-7419 or email us at [email protected].
Time

August 1 (Monday) - September 30 (Friday)
Location

Edgewater Gallery at Middlebury Falls

1 Mill Street Middlebury, Vt 05753
Organizer
Edgewater Gallery802.989.7419