27mayAll Day26julSummer SuiteTwo Person Exhibition featuring Jill Matthews and Katie Runde(All Day) Edgewater Gallery at Middlebury Falls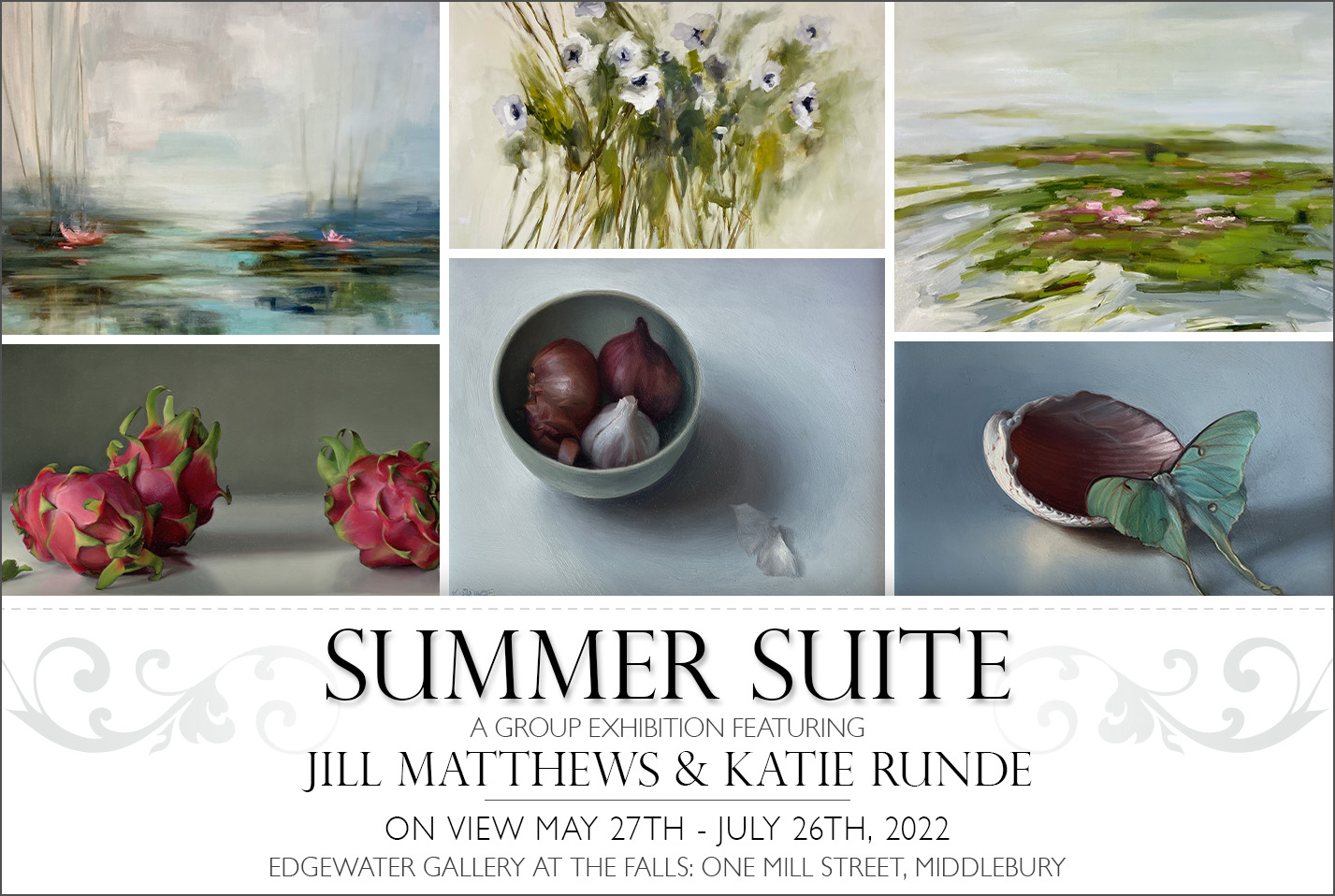 Event Details
SUMMER SUITE
Featuring the work of Jill Matthews and Katie Runde
May 27 – July 26, 2022
Edgewater Gallery at the Falls
In the classical music world a "suite" is described as a group of self contained instrumental movements of varying character, usually in the same key. "Summer Suite", a two person exhibition featuring Jill Matthews and Katie Runde is our version as it applies to the art of painting. The two artists present collections that share elements of still life, and sense of place while being of distinct character. Jill Matthews' work for Summer Suite is a departure from her previous still life paintings which featured richly rendered bouquets set against quiet, softly textured backgrounds. In this series, Matthews sets the flowers free! Loosely bunched flowers painted in an easy gestural brushstroke, float and glide on backgrounds of subtly varied swirling neutrals. She is also including several impressionistic waterscapes that show water lilies floating in a dreamlike scene of quiet water and plantlife. Katie Runde is a contemporary realist painter whose still life paintings are exquisitely rendered compositions of fruits, vegetables, and sweets in rich tones, and like Jill Matthews, are set off against quiet but complex background tones. In this collection Runde focuses on her inner self and the process of translating her emotions to her paintings. Through her choice of objects and placement of elements in the compositions, Katies Runde exposes facets of her personality.
Jill Matthews was born and raised in Vermont. She studied fine art at The University of Vermont and upon graduating, moved to San Diego California. After a brief career as a fine art educator, she realized her true passion was creating art and she has been painting professionally ever since. Her family has recently settled back on the east coast. She feels fortunate to be living and working in the inspiring state of Maine. Matthews' work is showcased in multiple galleries on both the east and west coasts.
"My work now is based on an initial idea or vision, I still will use some references in the process, but my most successful moments in painting happen when I lose that security and the work is coming from within."
Katie Runde has her studio in Middlebury, Vermont. Runde expresses her creative energy through music, painting and theological explorations. She is skilled at both portraiture and still life painting and her work can be found in public and private collections across the country. Most recently Runde was chosen to paint the portrait of Alexander Twilight that now hangs in the statehouse in Montpelier Vermont. Twilight was the first African American to graduate from a US college and the first to serve as a state legislator.
"The more I paint, the more I realize that it all comes down to a study, appreciation, and obsession with light. Whether in still life or portrait, realist painting is an act of attunement with something or someone we may see every day but not necessarily think to delve into. It is not about the illusion of dimension, but a celebration. Even a simple study becomes its own theology– to look hard enough at what is, is to engage with its sublimity."
For more information about "Summer Suite" call the gallery at 802-458-0098 or email us at i[email protected].
Click here to view Jill Matthew's available work.
Time

May 27 (Friday) - July 26 (Tuesday)
Location

Edgewater Gallery at Middlebury Falls

1 Mill Street Middlebury, Vt 05753
Organizer
Edgewater Gallery802.989.7419