01julAll Day09augLand & Tide: Scenes from New EnglandJuly 1st - August 9th, 2022(All Day) Edgewater Gallery on the Green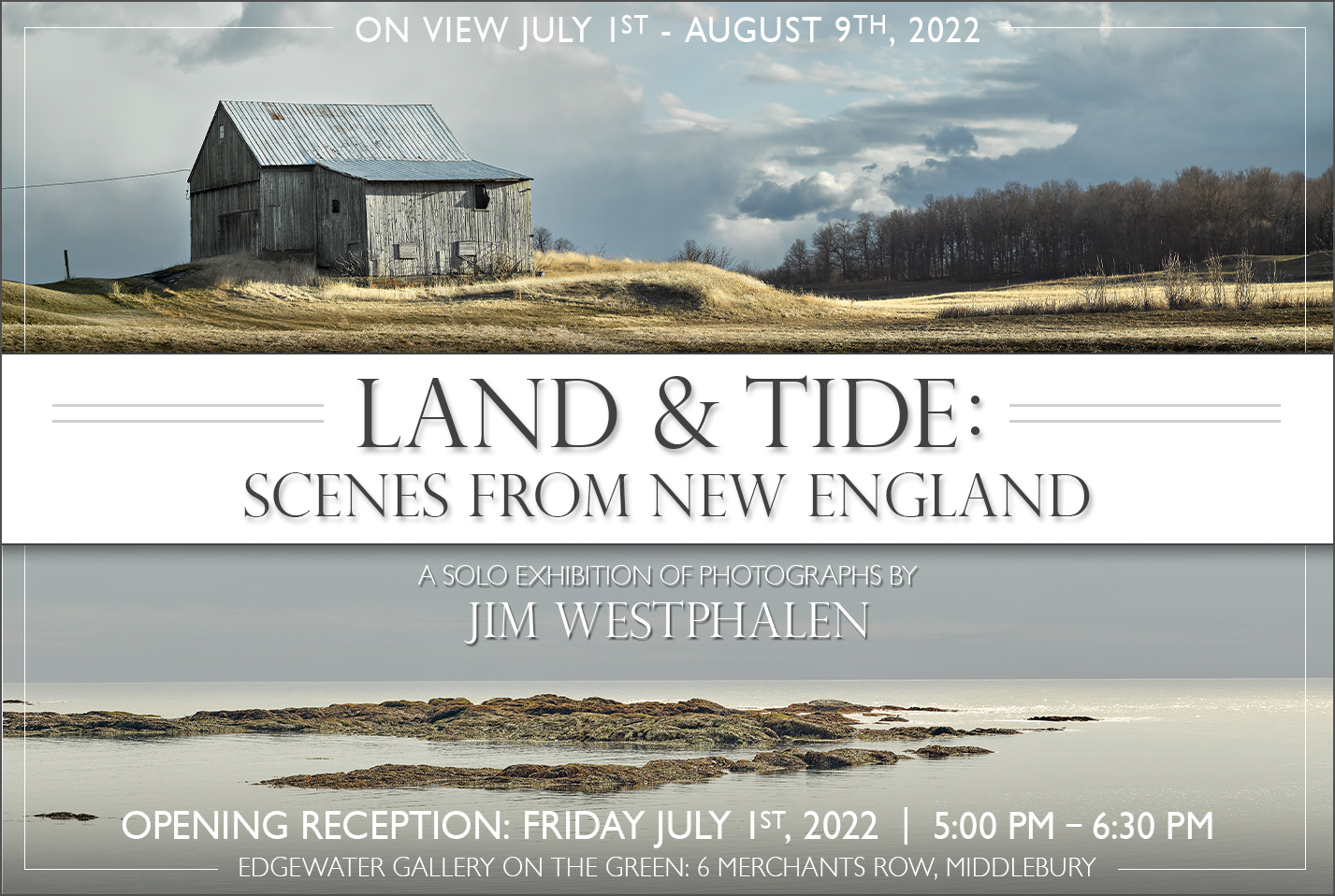 Event Details

On view July 1 – August 9, 2022
LAND & TIDE:
Scenes from New England
A solo exhibition featuring

Jim Westphalen
OPENING RECEPTION:
Friday July 1st, 2022
5:00PM – 6:30PM
Edgewater Gallery on the Green
6 Merchants Row, Middlebury
Experience the majesty of the New England landscape through the eyes and the lens of fine art photographer Jim Westphalen in his solo exhibition of new work on view at Edgewater Gallery on the Green July 1st – August 9th. New England is a study of contrasts. Traveling through it visitors can experience the drama of the Atlantic coastline, its dense forests, tall mountain ranges and gentle rolling fields and farmland. Jim Westphalen lives and has his studio in Vermont and has conveyed his connection to the local landscape through years of images including his Vanish series which honors the venerable barns and structures that sit proudly in our landscape. However, Westphalen is also drawn to the coast, both the drama of the rocky shoreline and surging surf and the quieter marshlands and tidepools that are slightly inland. In this collection of framed limited edition archival prints, viewers will be immersed in the diverse landscape of our region.
Originally from Long Island, Jim Westphalen began his training and career in photography in New York doing commercial and architectural photography. After a time, he fell in love with the landscape of New England and moved to Vermont in 1996 where he continued his work as a successful commercial photographer all the while developing his fine art photography by focusing on the Vermont landscape and the structures that stand in varying stages of decay along our roads and byways. Today, the artist has made the transition to being exclusively a fine art photographer. Westphalen creates his works by making a series of images that he then merges together to make the finished print. This allows him to achieve incredible detail in his images that helps to pull the viewer into the drama of the landscape. His large-scale photographs are presented in float frames without glass or mats, therefore eliminating the barrier between the art and the viewer and creating an ambiguity about whether these are photographs or paintings.
What comes to mind when you think "New England"? Does it conjure images of pastoral scenes with cows and farms? Perhaps it's snow dusted mountains or crashing surf on rocky shores? In this body of work, I will take you on a journey that visits both the quintessential and the unexpected. Exploring that intangible lure of the land of many faces. Enjoy the trip.
– Jim Westphalen
For more information about "Land & Tide", a solo exhibition featuring Jim Westphalen, call the gallery at 802-989-7419 or email us at [email protected].
Time

July 1 (Friday) - August 9 (Tuesday)
Location

Edgewater Gallery on the Green

6 merchants row middlebury, vt 05753
Organizer
Edgewater Gallery802.989.7419