05mayAll Day26junTown & CountryMay 5th - June 26th, 2022(All Day) Edgewater Gallery on the Green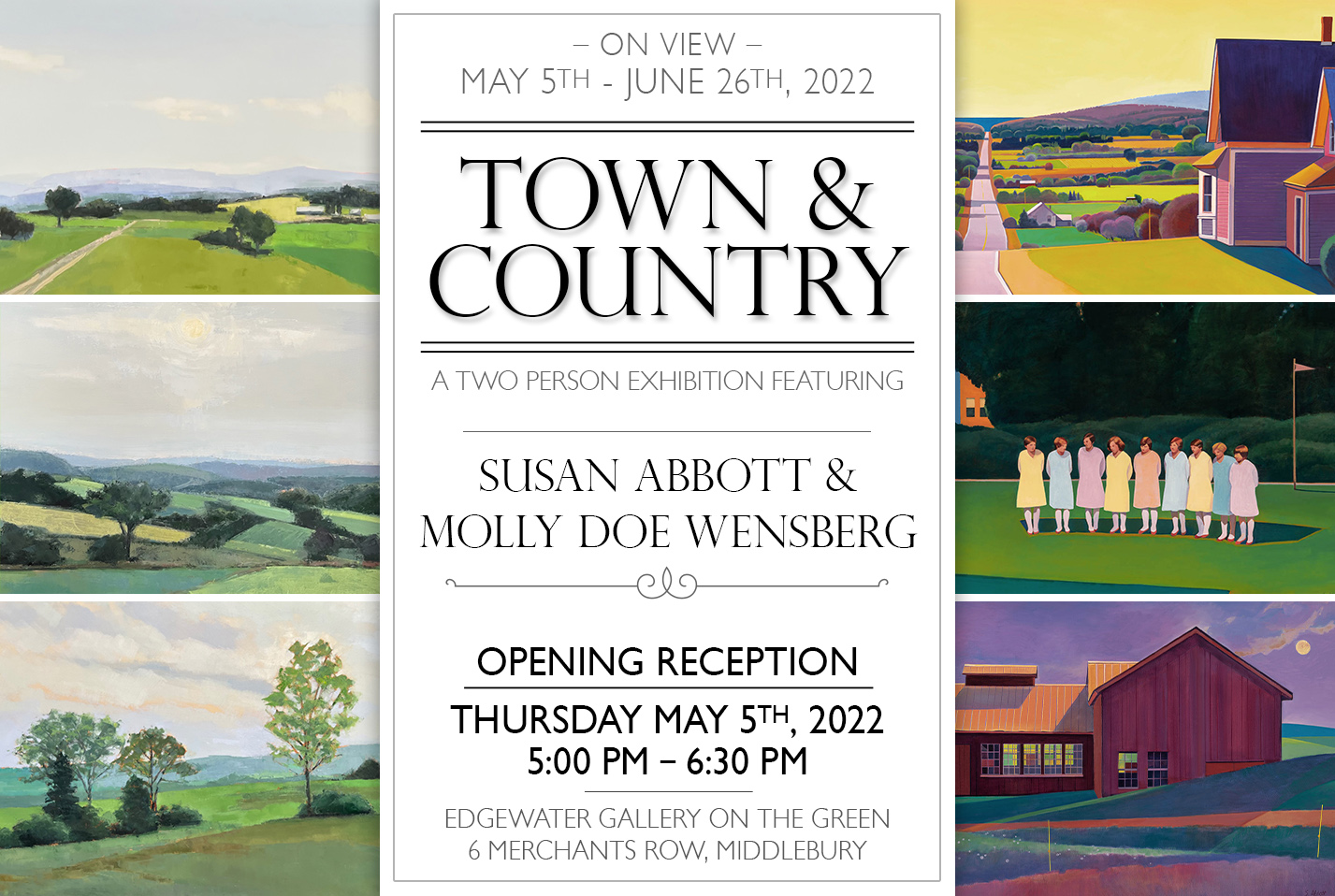 Event Details

On view May 5 – June 26, 2022
TOWN & COUNTRY
A two person exhibition featuring

Susan Abbott & Molly Doe Wensberg
OPENING RECEPTION:
Thursday May 5th, 2022
5:00PM – 6:30PM
Edgewater Gallery on the Green
6 Merchants Row, Middlebury
Town and Country brings together two New England artists whose focus is on the landscape but very different aspects of the landscape. In this two person exhibition on view from May 5th through June 26th at Edgewater Gallery on the Green Susan Abbott and Molly Doe Wensberg present new collections and perspectives of rural New England. Join us for an opening reception on Thursday May 5th 5:00-6:30 PM when guests can preview the new collections, meet the artists and enjoy light refreshment in the gallery at 6 Merchants Row.
Susan Abbott has her studio in Montpelier Vermont and her interest since relocating to Vermont 25 years ago, has been in the honest portrayal of the working landscape; its towns, farm structures, machinery and vehicles. Abbott collects information on location but adds elements of abstraction by inventing a color palette and altering shapes in the composition once in her studio.
"I'm still inspired by what I see here every day and in all seasons: the small towns, winding roads, barnyards, farmhouses–and also the memory of Vermonters who inhabited these places for generations in time. When I paint, my love of abstraction, composition, and color combine with subject to create paintings that show these old, familiar places in new, unexpected ways."
Susan Abbott
Molly Doe Wensberg's paintings are inspired by the unique characteristics of the Vermont and New Hampshire landscape and her interpretations of the land show the layered vastness of the fields, forests and mountains in a rich palette of warm greens and golds that evoke the warming light of spring and rebirth.
"There is nothing like the freshness of the greens of spring! Working on these paintings during this past winter filled my thoughts and warmed my spirit. As always, I am inspired and awakened by the ever-changing landscape that mother nature presents anew on a daily, if not hourly, basis.
I'm happy to share these paintings which are inspired by my travels throughout New England over the last year."
-Molly Doe Wensberg
For more information about "Town and Country", a two person exhibition with Susan Abbott and Molly Doe Wensberg, call the gallery at 802-989-7419 or email us at [email protected].
To view Susan Abbott's collection, click here.
Time

May 5 (Thursday) - June 26 (Sunday)
Location

Edgewater Gallery on the Green

6 merchants row middlebury, vt 05753
Organizer
Edgewater Gallery802.989.7419