18augAll Day21Plein Air 2022Thursday August 18th - Sunday August 21st(All Day) Both Edgewater Gallery Locations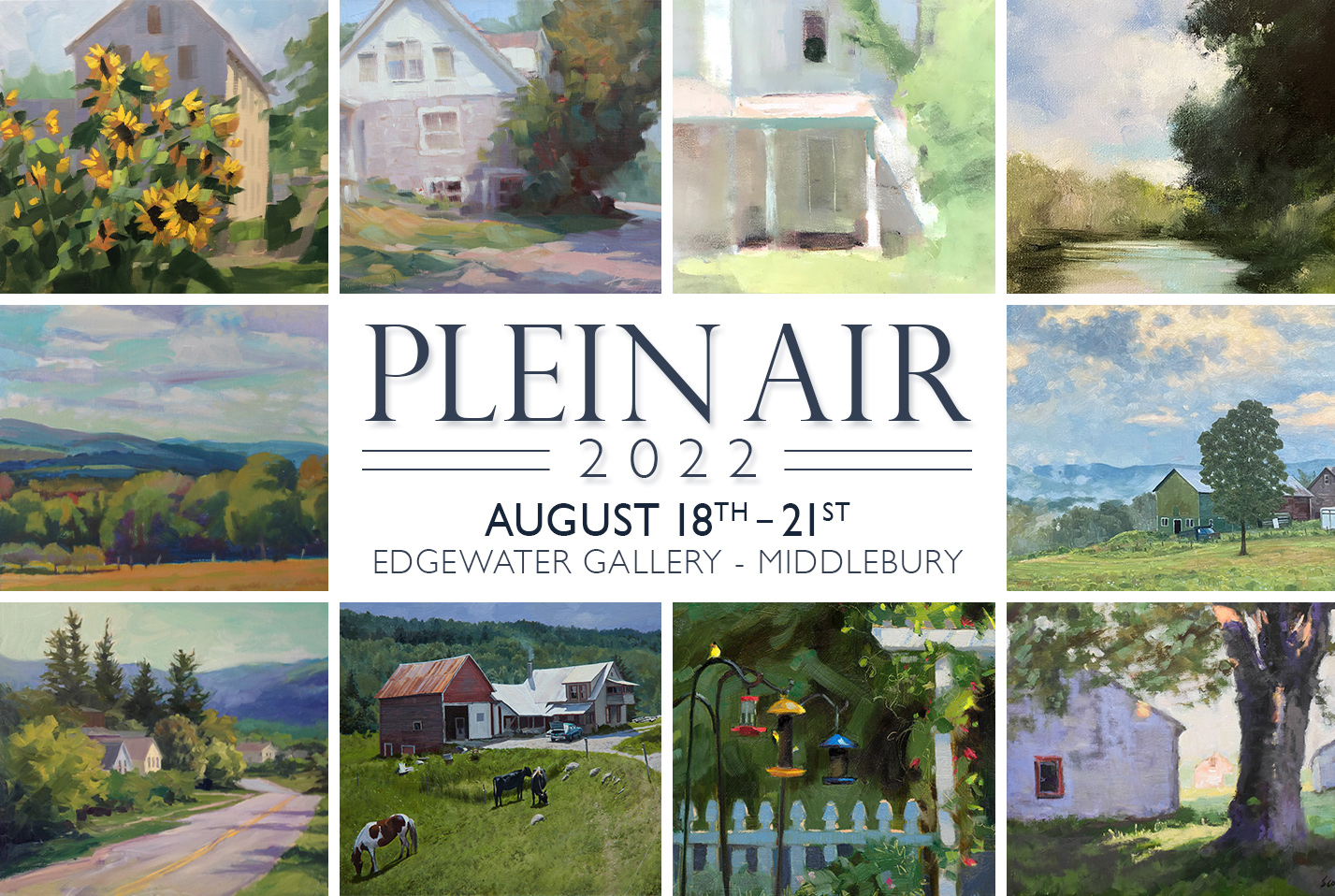 Event Details
PLEIN AIR 2022
THURSDAY AUGUST 18 – SUNDAY AUGUST 21, 2022
Edgewater Gallery, Middlebury
WORKSHOP WITH SUSAN ABBOTT
"Color in Plein Air"
Thursday August 18th – Friday 19th
*WORKSHOP IS FULL
OPENING RECEPTIONS
Friday August 19th
5:00PM – 6:30PM
Betsy Silverman & Rachel Wilcox
Two Person Exhibition
Edgewater Gallery at the Falls, One Mill St.
Rory Jackson
Solo Exhibition of New Work
Edgewater Gallery on the Green, 6 Merchants Row
PLEIN AIR PAINT OUT
Saturday August 20th – Sunday August 21st
9:00AM – 2:30PM
Edgewater Gallery at the Falls & Downtown Middlebury
COCKTAIL RECEPTION AND WET PAINT SALE
Sunday August 21st 4:00PM – 5:30PM
Edgewater Gallery at the Falls, One Mill St., Middlebury
Join us as we celebrate the art of plein air painting in Plein Air 2022, our third annual paint out event. This year's program is expanded to include a two day workshop with Susan Abbott and double opening receptions, one at each gallery on Friday August 19th. Saturday and Sunday will be the Paint Out days and the event closes with our cocktail reception and Wet Paint Sale on Sunday August 21st. 
The picturesque town of Middlebury on a late August weekend is the perfect setting to experience the art of plein air as our artists leave their studios behind and take their paints, brushes, palettes and canvases outside to paint the landscape. Plein air paintings convey the artist's immediate response to a scene and have an energy that comes from the artist having to make decisions about the composition on the spot without the luxury of studied time in the studio.
PARTICIPATING ARTISTS
DETAILS
WORKSHOP WITH SUSAN ABBOTT
"Color in Plein Air"
Thursday August 18th – Friday August 19th
9:00AM – 4:00PM*
Painting outdoors from nature involves so much more than just copying the colors we see. This intensive workshop is your chance to explore the many aspects of color theory and color composition that skilled plein air painters employ. Working outside two sessions a day and also with slide lectures, demos and critiques, we'll explore how you can use complements and analogous hues, focal point colors, color value, and color design to strengthen and expand your landscape painting skills.
Level: Intermediate to advanced
Mediums: Watercolor, oil and acrylic
Fee: $300.00 per person
12 person limit for the class
*Edgewater Gallery will provide lunch on Friday August 19th.
*WORKSHOP IS FULL
OPENING RECEPTIONS
Friday August 19th
5:00 PM – 6:30 PM
Betsy Silverman and Rachel Wilcox
Two Person Exhibition
Edgewater Gallery at the Falls, One Mill St.
Rory Jackson
Solo Exhibition of New Work
Edgewater Gallery on the Green, 6 Merchants Row
Join us for opening receptions for two new exhibitions at each of our Middlebury galleries. At Edgewater Gallery at the Falls, One Mill St., we will celebrate the opening of a two person show featuring the work of Betsy Silverman and Rachel Wilcox. The theme is city and townscapes and each artist will interpret the theme using their very different mediums.  Betsy Silverman works in collage using recycled magazine pieces. Her compositions are detailed, realist compositions that are embedded with whimsical text and images that refer to her subject matter. Rachel Wilcox is one of our plein air participants. Wilcox likes to explore different themes and enjoys the challenges that are inherent in different subject matter. She seeks patterns and simplification of shape, light and shadow in her work, whether the subject is the landscape, a still life or an interior.
At Edgewater Gallery on the Green, Rory Jackson's solo exhibition opens. Jackson's subject is the landscape that exists outside his Addison County studio and along his ride home. He continues to study and explore the nuances of the changing light and palette of the land and skies caused by the passage of time and season.
Light refreshment will be served at both receptions which are free and open to all. Enjoy the opportunity to get a first look at three new collections, meet the artists and explore the galleries.
For more information about the opening receptions for the Betsy Silverman, Rachel Wilcox and Rory Jackson visit the website www.edgewatergallery.com, call the gallery at 802-989-7419 or email us at [email protected].
PLEIN AIR PAINT OUT
Saturday August 20th – Sunday August 21st
9:00 AM – 2:30 PM
Edgewater Gallery at the Falls &  Downtown Middlebury
The plein air artists  will begin their day early while the morning light is good and the temperatures are moderate. Stop by either of our locations to learn where each artist is painting, pick up a map of the town and information about the participating artists. Visitors can then explore the town discovering the artists as they go and learning about their process through observation and discussion. 
Both of our galleries will be open throughout the two day paint out. Bathrooms and cold drinks will be available.
COCKTAIL RECEPTION & WET PAINT SALE
Sunday August 21st 4:00 PM – 5:30PM
Edgewater Gallery at the Falls, One Mill St., Middlebury
Plein Air 2022 concludes with a cocktail reception and Wet Paint Sale at Edgewater Gallery at the Falls, One Mill St. Cocktails and hors d'oeuvres will be served on our Upper Deck overlooking the Otter Creek Falls and each artist's work from the two day paint out will be on view and for sale throughout the gallery. Celebrate with the artists and fellow plein air enthusiasts, and have the opportunity to purchase a newly created work of fine art.
This is a ticketed event. Tickets are $30 and can be purchased online at www.edgewatergallery.com or by calling 802-458-0098 or 802-989-7419.

Time

august 18 (Thursday) - 21 (Sunday)
Location

Both Edgewater Gallery Locations

6 merchants row and 1 mill street middlebury, vt 05753
Organizer
Edgewater Gallery802.989.7419