22feb5:30 pm22mar7:00 pmAs I See ItFebruary 22nd - March 22nd, 2023(february 22) 5:30 pm - (march 22) 7:00 pm Edgewater Gallery on the Green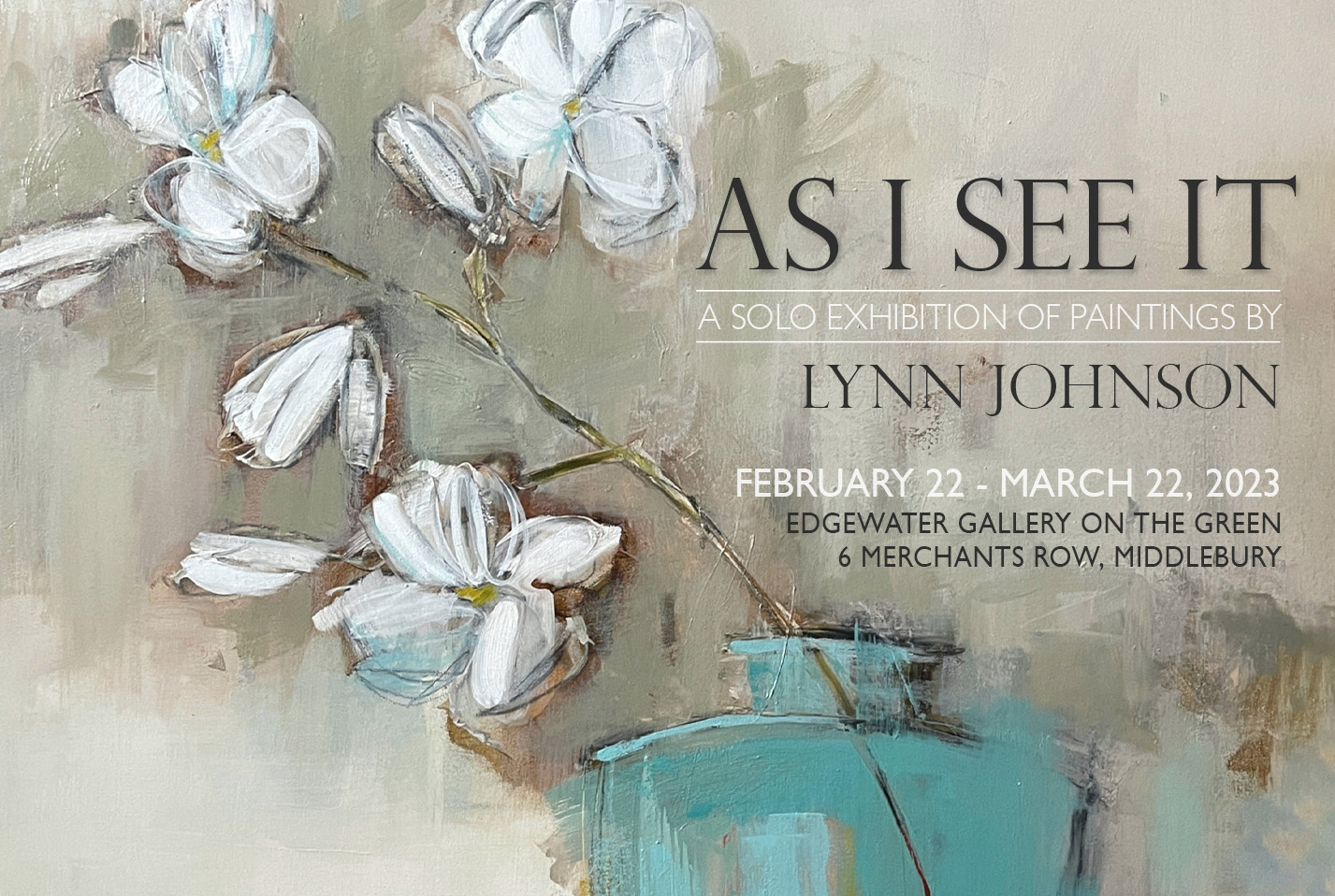 Event Details
As I See It

A Solo Exhibition of Paintings
by Lynn Johnson
February 22nd – March 22nd, 2023
Edgewater Gallery on the Green, 6 Merchants Row, Middlebury
We begin the 2023 season at Edgewater Gallery on the Green by introducing the work of Lynn Johnson in her solo exhibition of floral still life paintings on paper and canvas. Johnson works in oil and graphite in a style that is highly gestural, exudes a sense of joy of process, energy and spontaneity. Lynn Johnson prefers to work large. Her collection will fill the gallery on the green with a dance of color and movement.
"Every canvas is an opportunity to create and learn something new and different from its predecessor. I take pieces and moments from one canvas and build on them in the next. I experiment with finding new ways or tools to manipulate the paint, to create lines and marks. The palette evolves. Push forward, press on, never settle.  Each painting has its own unique identity and voice. This is most likely why I don't deviate far from florals as my subject as the possibilities seem endless to me.
This body of work evokes a sense of serenity and calm. There are an abundance of distractions, interruptions and noise in the world around us, I offer an exhale. The palette has been purposely toned down to reflect softness, stillness, and quiet through the use of neutral colors but I have added some brights either peeking through the layers or intentionally lying on the surface."
-Lynn Johnson
Lynn Johnson is an American born contemporary artist. She received her BFA from Iowa State University College of Art and worked for several years in the field of graphic art and design. A move from the mountain west to Georgia in 2000 forever altered her career path when she found work managing a fine art gallery in Atlanta, her new home town. She became a part of the art community through the gallery, its clients, and the artists. Johnson was welcomed and encouraged to pursue her own work. This was the catalyst that she needed and that led to a professional painting career. 
The artist's work has been exhibited in public and private collections throughout the United States and is often described as calming, serene and feminine.
For more information on "As I See It", a solo exhibition of paintings by Lynn Johnson, email us at [email protected] or call 802-989-7419.
Time

February 22 (Wednesday) 5:30 pm - March 22 (Wednesday) 7:00 pm
Location

Edgewater Gallery on the Green

6 merchants row middlebury, vt 05753
Organizer
Edgewater Gallery802.989.7419