20jun(jun 20)9:00 am22(jun 22)4:00 pmLight, Color and CompositionJune 20th - 22nd, 2023 at The Pitcher Inn and Warren Store9:00 am - 4:00 pm (22) The Pitcher Inn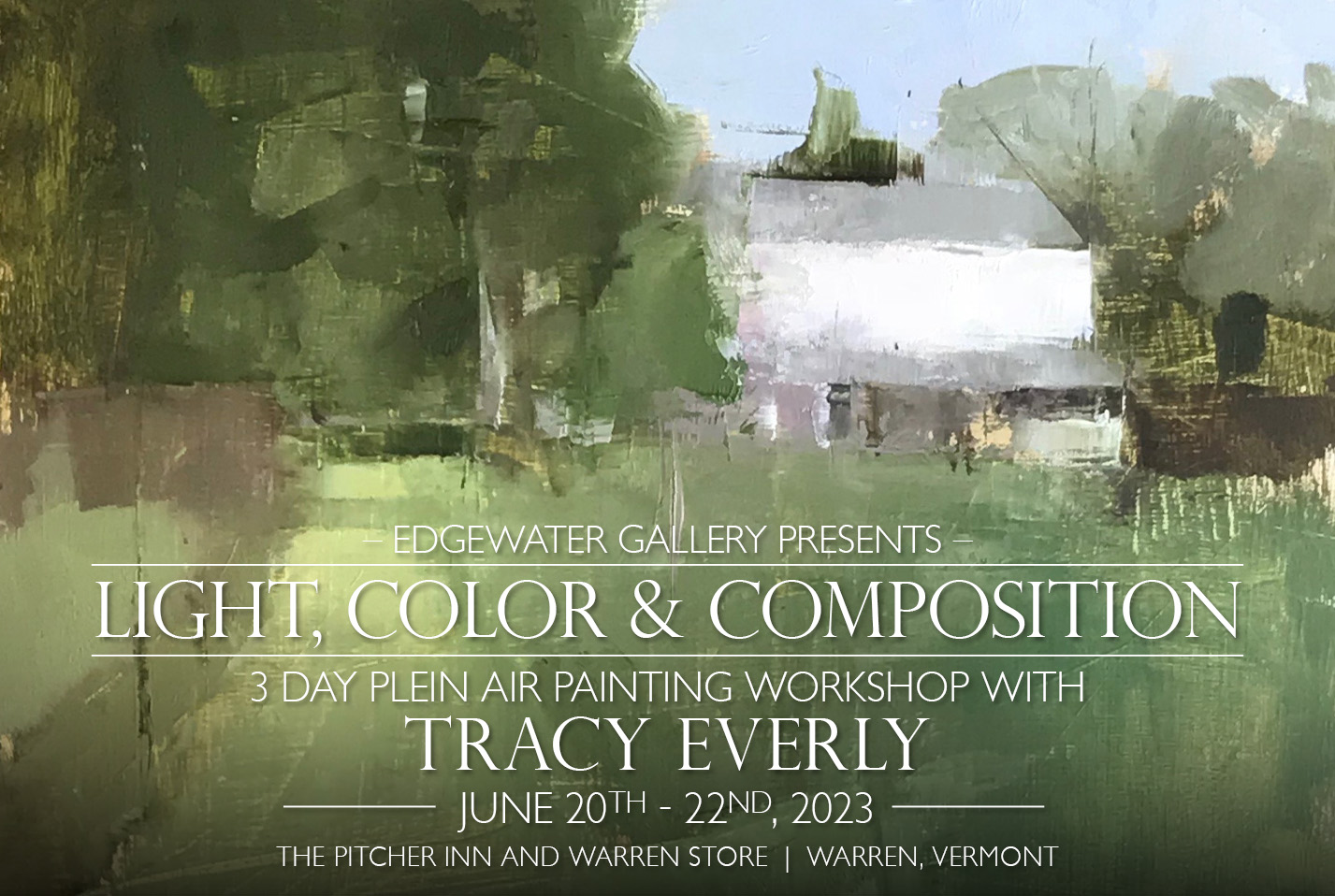 Event Details
Edgewater Gallery presents:
A Plein Air Workshop with
Tracy Everly
Light, Color and Composition
3 Day Plein Air Painting Workshop
June 20th – 22nd, 2023
The Pitcher Inn and Warren Store
Warren, Vermont

Edgewater Gallery invites you to participate in a three day plein air painting workshop given by experienced painter and teacher Tracy Everly of Bucks County Pennsylvania
Edgewater's Plein Air 2023 event shifts location this year, to picturesque Warren Vermont. Together with The Pitcher Inn and Warren Store, we will host the two day painting event Friday June 23rd and Saturday June 24th. Everly's workshop takes place for the three days leading up to the plein air event and will provide a wonderful opportunity for learning prior to the celebration.
Get to know Tracy Everly!
Artist Tracy Everly (b. Philadelphia 1968) uses oil paint to explore the fleeting
experience of being human. She observes and paints and distills different moments into
a simplified form that is ultimately meant to capture the remains or accumulation of an
experience as it slips away.
Everly's skill as a painter was developed through study with individual artists and through classes at The Pennsylvania Academy of Fine Arts in Philadelphia. She has won numerous awards for her work including an Award of Distinction from the American Impressionist Society, and two Bucks County Resident Artist Awards from the Bucks County Plein Air Festival. Her work has been included in both regional and national exhibitions.
Everly teaches online and also teaches in-person workshops across the U.S. She has been represented by Edgewater Gallery since 2022.
Workshop description:
This workshop offers a guided learning opportunity to immerse yourself in a multi-day experience painting outdoors with Tracy. We will paint together in and around picturesque Warren, Vermont.
We'll focus on simplifying the majesty of nature through composition, value control, and color. Topics will include choosing a painting site, exploring compositions, using value to create structure, and creating color harmony, among others. We will also discuss equally-important aspects of painting such as active looking, focus, mindset, and expectations.
Our days will include:
-Live painting demos
-Discussion
-Ample time to paint
-Individual guidance and feedback
-Connection with like-minded artists
Every day spent painting outside is an opportunity to enjoy the moment and grow as a painter.
Suitable for all levels of experience, though some plein air experience is helpful.
Class fee: $540
To register for Tracy Everly's Three Day Plein Air Painting Workshop "Light, Color and Composition", call the gallery at 802-458-0098, email [email protected] or

Organizer
Edgewater Gallery802.989.7419