25aprAll Day23mayIntroducing!On view April 25th - May 23rd, 2023(All Day) Edgewater Gallery at Middlebury Falls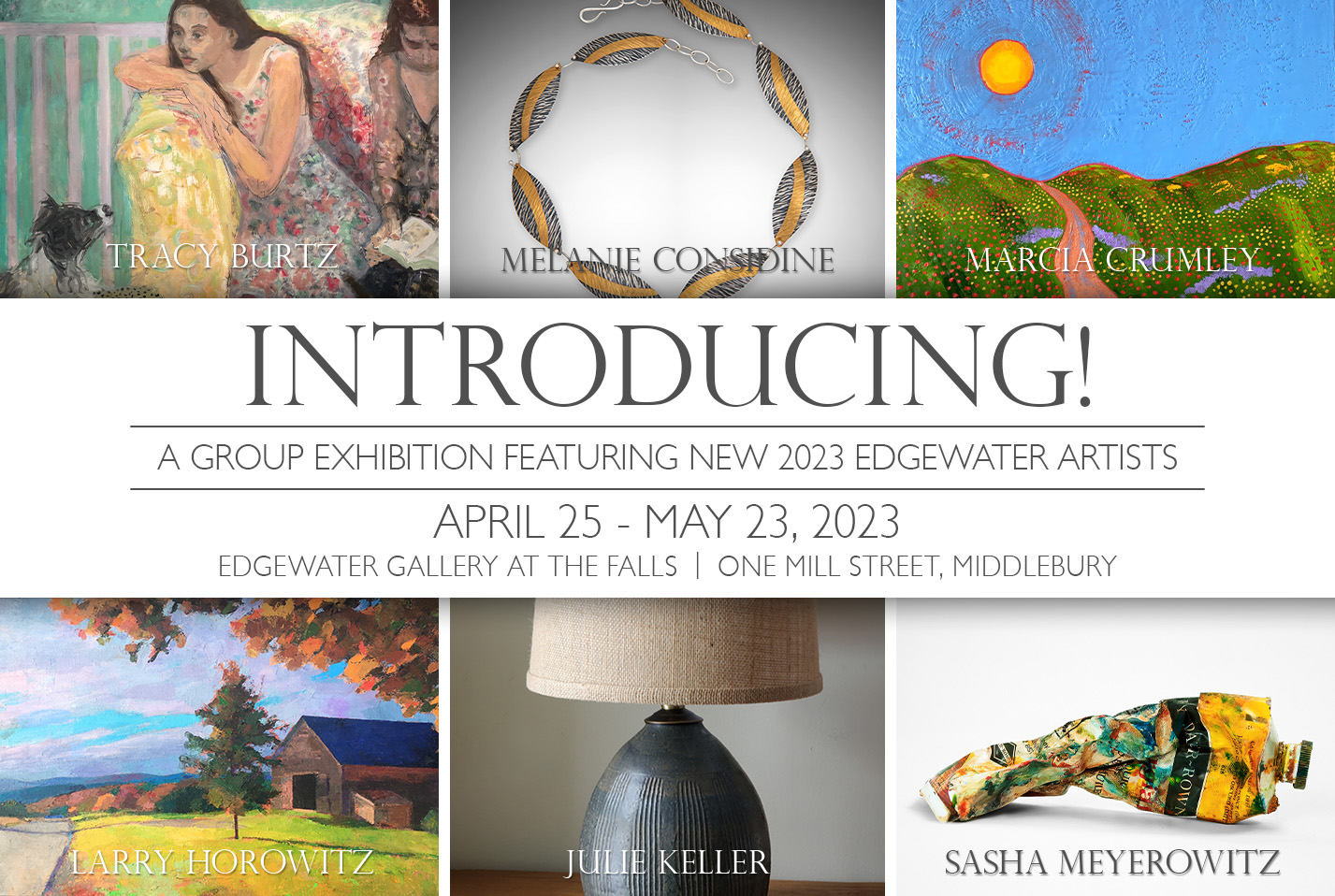 Event Details
INTRODUCING!
A group exhibition featuring new 2023 Edgewater artists:
Tracy Burtz/Melanie Considine/Marcia Crumley/Larry Horowitz/Julie Keller/Sasha Dorje Meyerowitz
On view April 25 – May 23, 2023
Edgewater Gallery at the Falls, One Mill Street, Middlebury
Edgewater Gallery presents the work of six artists in "Introducing!", all of whom are new to our audience for 2023. Springtime conjers thoughts of new beginnings, fresh perspectives and ideas. This show will embody this theme as we preview the work of three painters, one photographer, a jewelry artist and a ceramic artist, who will expand our collection with their subject matter, interpretations of theme, art making processes, and presentation of finished pieces.
Tracy Burtz paints figures, capturing intimate moments and interactions between family members including their pets. The viewer is taken into the space and feels the privilege of being included. Burtz creates both harmony and tension in her compositions through her use of patterning and elements of abstraction.
Melanie Considine is a Vermont jewelry artist whose work is inspired by organic forms in the natural world and the universe. As an avid gardener her work often echoes botanical shapes. She transforms these natural shapes into contemporary design statements made in silver, high carat gold and semi precious stones.
Marcia Crumley's encaustic paintings on panel dance with bold unexpected color, patterning derived from the New England landscape and an irrepressible joy of subject matter. As a recent transplant to Maine, Crumley revels in the fast moving weather patterns of northern New England. She reduces her landscapes and botanical and forest forms to the essential shapes and uses a bright underpainting and layers of textured color to create her cheerful interpretations of our landscape.
Larry Horowitz is an American landscape painter who has his studio in New York but who spends his summer season on Cape Cod and his fall season in the hills of northern Vermont. Horowitz is a skilled plein air painter whose process involves a highly textured application of paint and loose, free brushwork. He was an apprentice to Wolf Kahn and has roots in the abstract expressionist movement. These influences are evident in his interpretations of the New England landscape.
Julie Keller is the founder of The Starbird Pottery, a Vermont based, one woman, small batch ceramic business.. Each piece is made individually, by hand, on a potter's wheel. Keller's collection for Edgewater is a group of one of a kind ceramic based lamps. Each table lamp features a uniquely shaped, glazed and sized vessel with a compatible shade. Keller's use of neutral tones and simple organic forms results in pieces that are at home in a contemporary or traditional setting.
Sasha Meyerowitz grew up seeing the world around him through the lens of a camera. First, through the eyes of his father Joel Meyerowitz and then from his own perspective as he developed a body of work that includes landscapes, city scenes and the "Painter Helpers" series which arose out of his noticing the humorous, worker-like quality of the used paint tubes in his wife's studio. They were like art themselves, bearing the fingerprints of the artist and the interaction of many colors that formed a painting.
For more information about "Introducing!" a group exhibition featuring new 2023 Edgewater artists, visit our website www.edgewatergallery.com, call the gallery at 802-458-009 or email us at [email protected].
Time

April 25 (Tuesday) - May 23 (Tuesday)
Location

Edgewater Gallery at Middlebury Falls

1 Mill Street Middlebury, Vt 05753
Organizer
Edgewater Gallery802.989.7419