03mayAll Day27junSeasonal MajestyMay 3rd - June 27th, 2023(All Day) Edgewater Gallery on the Green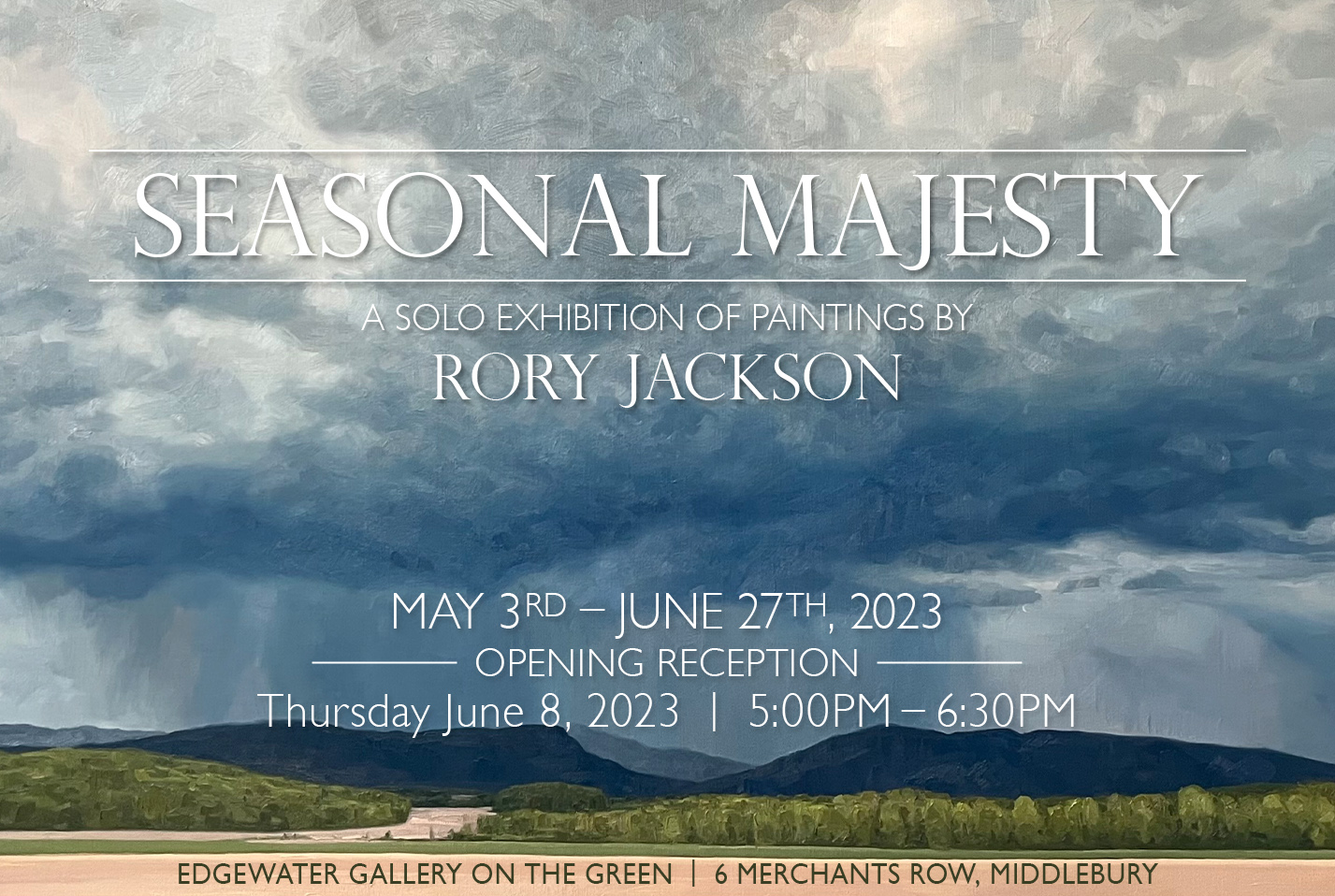 Event Details
SEASONAL MAJESTY

A Solo Exhibition of paintings by
Rory Jackson
May 3rd – June 27th, 2023
Opening Reception: Thursday June 8th  |  5:00PM – 6:30PM
Edgewater Gallery on the Green, 6 Merchants Row, Middlebury
In Rory Jackson's latest body of work the artist uses his creative process to reach a higher understanding of the ideals of mindfulness and appreciation of the strength that an existence centered on a reverence for earth's beauty can bring.
Jackson's subject matter for "Seasonal Majesty" is the landscape of Addison county, specifically the area between Snake Mountain and Stark Mountain. He observes the sometimes subtle, sometimes dramatic change in light, cloudscape, and palette, that each season renders. In his close study of his subject, he seeks to learn the power of his observations and the land.
"The Vermont landscape is dramatic and diverse in light and seasonal change. The compositions unfolding in landscape between Snake Mountain and Stark Mountain, expressed in this body of work, focus on the poetics of the clouds and the majesty present in each season. The purpose of this process of creating, is to offer a peace of mind and a remembrance of the reorienting beauty of the earth."
– Rory Jackson
Rory Jackson has his studio in Bristol Vermont. Raised in a family of artists he credits their encouragement and mentoring, along with time he spent at the Art Students League of New York under the tutelage of Max Ginsberg, for his development as a painter. Jackson has had numerous solo and group exhibitions at Edgewater Gallery and his work is held in both private and corporate collections nationally.
For more information about "Seasonal Majesty" a solo exhibition of paintings by Rory Jackson, visit www.edgewatergallery.com, call the gallery at 802-989-7419 or email [email protected].
Time

May 3 (Wednesday) - June 27 (Tuesday)
Location

Edgewater Gallery on the Green

6 merchants row middlebury, vt 05753
Organizer
Edgewater Gallery802.989.7419