01mayAll Day30junNew England EnvisionedMay 1st - April 30th(All Day) Edgewater Gallery on the Green - 6 merchants row middlebury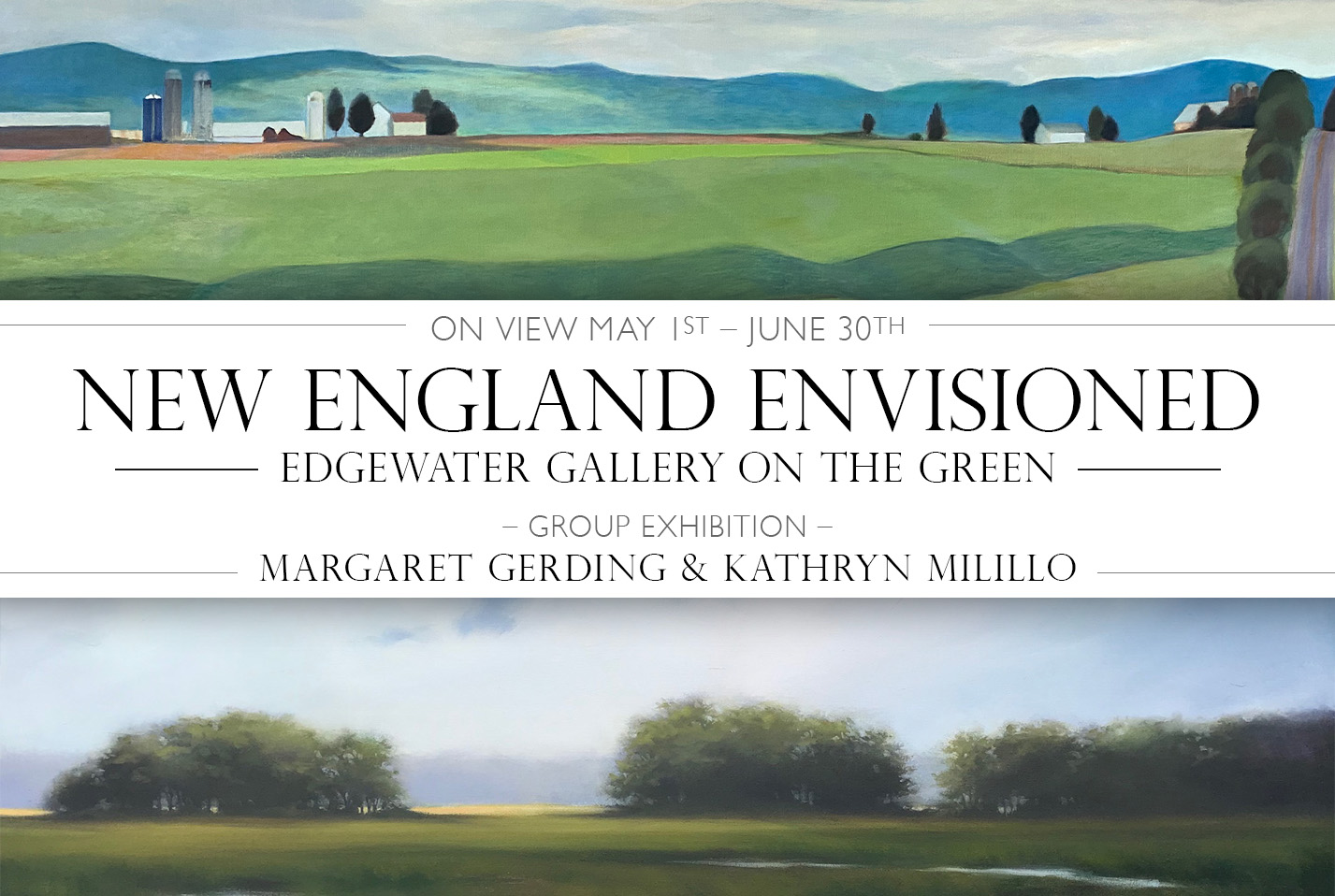 Event Details
New England Envisioned
Group Exhibition featuring Margaret Gerding & Kathryn Milillo
May 1st – June 30th, 2021
Edgewater Gallery on the Green
"New England Envisioned", our much anticipated pairing of two accomplished and beloved New England painters, opens May 1st at our Gallery on the Green. Margaret Gerding and Kathryn Milillo interpret the landscapes of their home states of Maine and Vermont in this exhibition.
Margaret Gerding has her studio in a coastal town in Southern Maine. Gerding paints en plein air and in the studio working to express her deep connection to the Maine coast and the open land around her. She studies the changing light and shadows of the day; the warm glow of the early morning sun, the gentle faded light of late afternoon and strives to capture and honor a moment in this cycle, in her luminous landscapes.
She writes of her collection for "New England Envisioned":
"Walking, exploring, and painting this New England landscape has continued to be my world…whether the day was moody and grey, or dappled with Spring's pastel colors, each offered something wonderful to put down on canvas. This "uncertain" year has allowed me to appreciate even more the simple beauty of color and form, along with embracing the spirit of each day.
Each painting in this body of work represents a real place, set in a specific moment of time. Working both plein-air and in the studio allows me to both capture the "moment" and work on pieces that develop the story over time."
Kathryn Milillo works from her studio in Proctor Vermont. Her love for the Vermont landscape includes the architecture that exists on our farms and in the rural hills and fields of the state. She pays homage to the dignified and stoic barns and farm buildings that  stand proudly revealing their history in their weathered siding and dilapidated roofs and windows. Milillo finds interest in the play of color against color and light's effect on the landscape. There is a gentle and serene beauty  in the way she assigns color, simplifies shape, and portrays light.
The artist's description of her collection for "New England Envisioned" says:
"As the world careened last April, painting became a privileged, paradoxical burden.
Gradually, I returned to my favorite places for solace. I chased memories that flickered and gleamed. I searched for those elusive ephemera: color and light.
With this collection of Vermont landscapes and buildings, I hope to offer a sense of
sanctuary, lightened with a little whimsy."
For more information on "New England Envisioned" featuring the work of Margaret Gerding and Kathryn Milillo, visit our website www.edgewatergallery.com, call the gallery at 802-989-7419 or email us at [email protected].
To view the complete collection for "New England Envisioned" click here.
To view Margaret Gerding's available work click here:
Time

May 1 (Saturday) - June 30 (Wednesday)
Location

Edgewater Gallery on the Green - 6 merchants row middlebury
Organizer
Edgewater Gallery802.989.7419