01junAll Day31julField of ViewJune 1st - July 31st(All Day) Edgewater Gallery at Middlebury Falls - 1 Mill Street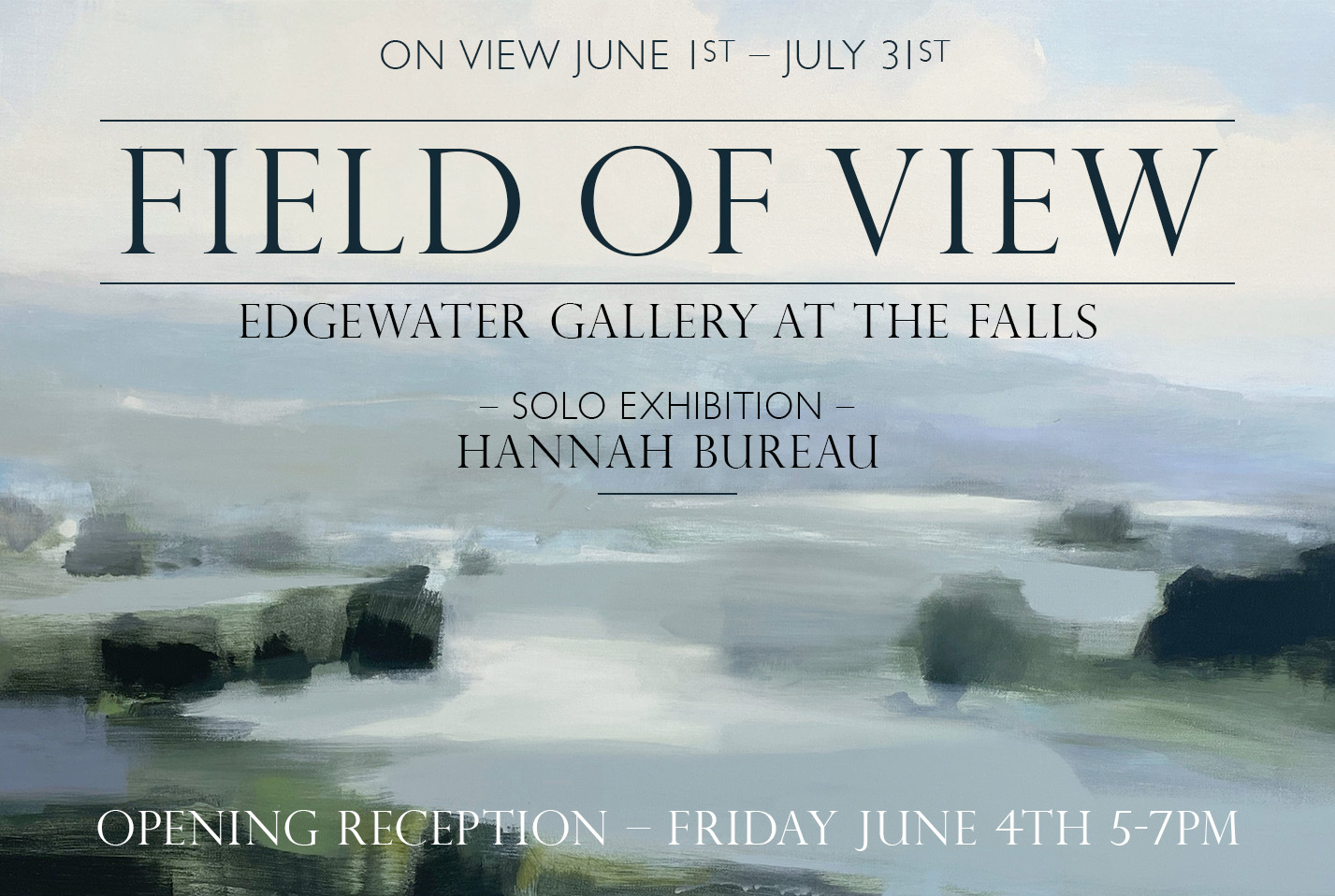 Event Details
FIELD OF VIEW
Solo Exhibition with Hannah Bureau
June 1st – July 31st, 2021
Opening Reception – Friday June 4th from 5-7PM
Edgewater Gallery at the Falls
Join us in June as we celebrate a new series of landscape paintings from Hannah Bureau. "Field of View" a solo exhibition of paintings by Hannah Bureau, will be on view at Edgewater Gallery at the Falls through July 31st with an opening reception Friday June 4th from 5-7PM.
Hannah Bureau achieves a balance of landscape and abstraction in her painting. She edits the layers of fields, forests, and water, down to what she sees as the essential shapes and planes of the composition, and then creates depth and a dreamlike quality through the use of a palette made up of subtle greys that she pushes toward warm and cool tones and punctuates with more defined areas of deep color. There is a looseness in her gesture where remnants of her process are exposed to further enhance the intimacy and dream quality of the painting. As Bureau edits and adds layers upon layers of shape and tone, landscapes emerge with a feeling of limitless depth and sense of place.
The artist writes of her newest collection for Edgewater:
"Exploring the way landscape fits together in a patchwork of intersecting fields inspired this body of work; these are agriculture fields as well as fields of color and shape overlapping and intersecting. Sometimes these fields are best described with a hard edge and sometimes with ethereal and soft passages designed to suggest a distant view. "
Join us for an opening reception on Friday June 4th from 5-7PM, Edgewater Gallery at the Falls, One Mill St. This event is free and open to the public.
For more information on Hannah Bureau's solo exhibition, "Field of View", call the gallery at 802-458-0098, or email us at 
[email protected]
.
Time

June 1 (Tuesday) - July 31 (Saturday)
Location

Edgewater Gallery at Middlebury Falls - 1 Mill Street

1 Mill Street Middlebury, Vt 05753
Organizer
Edgewater Gallery802.989.7419