19augAll Day21Plein Air 2021August 19th -21st(All Day) Edgewater Gallery at Middlebury Falls - 1 Mill Street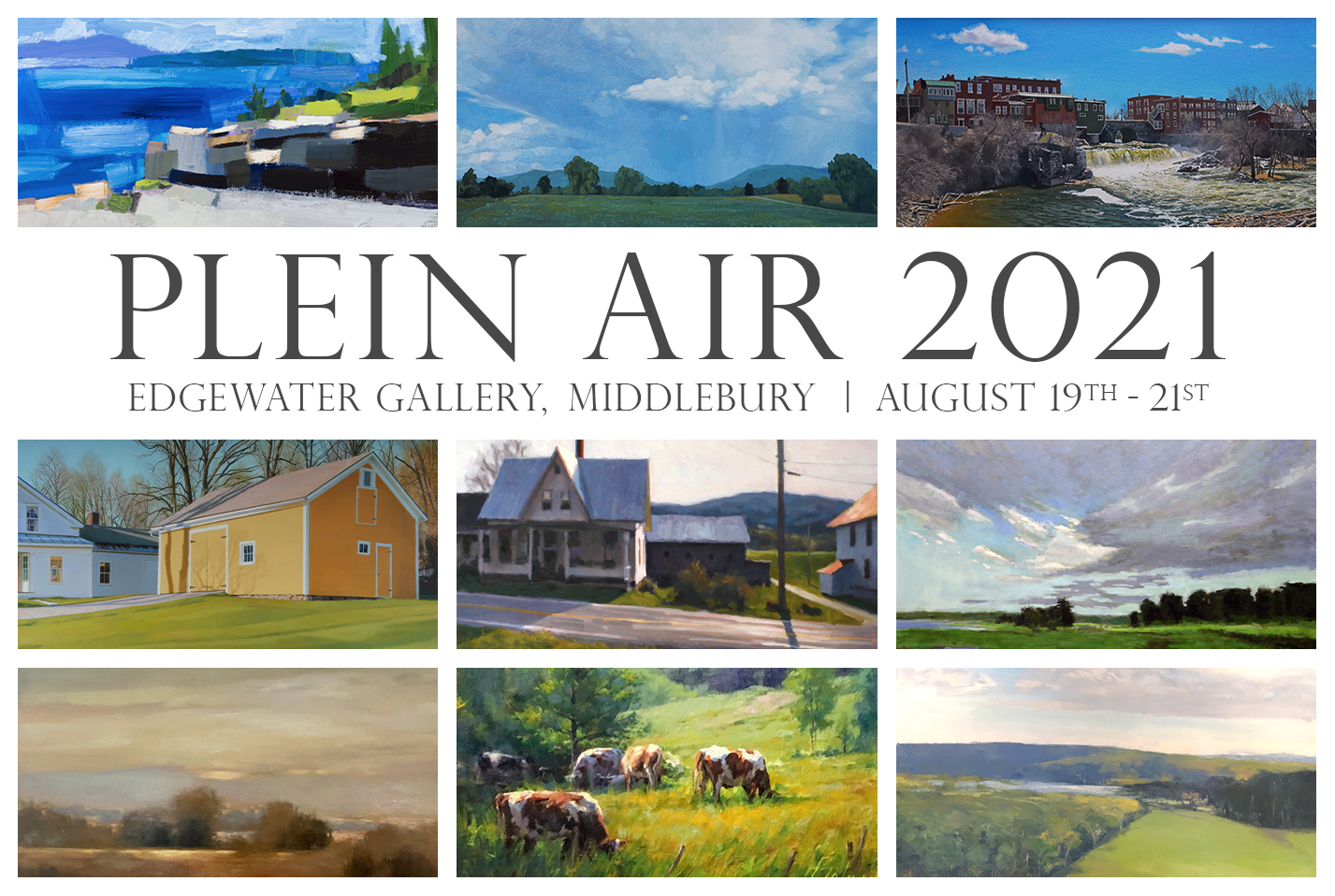 Event Details
PLEIN AIR 2021
Thursday August 19th – 5:00PM – 6:30PM
ARTIST TALK WITH TIM HORN
Friday August 20th & Saturday August 21st – 11:00AM – 4:00PM
PAINTERS ON LOCATION THROUGHOUT THE TOWN OF MIDDLEBURY
Saturday August 21st – 4:00PM – 6:00PM
COCKTAIL RECEPTION & "WET PAINT SALE"
Edgewater Gallery at the Falls – One Mill St, Middlebury
Join us for Plein Air 2021, our second annual celebration of plein air painting. This year eight of Edgewater's established painters will bring brushes and paints, canvases and palettes out of their studios, and into the great outdoors to immerse themselves in the landscape and create paintings that reflect the immediacy of each artist's emotional response to and interpretation of, their chosen composition. The spontaneity and improvisation that are part of painting en plein air add a unique quality to the finished piece. Visitors will witness this exciting process as they explore the picturesque town of Middlebury, discovering artists, watching them work, engaging them in conversation, and having the opportunity to purchase new paintings off the easel.
PARTICIPATING ARTISTS
DETAILS
Thursday August 19th 5:00PM-6:30PM – Artist talk with Timothy Horn
Tim Horn began his artistic career as a graphic designer but soon realized that his real interest lay in fine art painting. Horn lives in Northern California where he gravitates to painting scenes of rural life that include structures and old cars and explore the play of light and shadow on these elements. His paintings are imbued with a sense of nostalgia and he strives to tell his story and convey personal observations in each composition.
Tim Horn's work is held in collections and galleries nationally, and he has won numerous awards. He is an experienced teacher and holds workshops throughout the US and abroad.
Horn will discuss his process from Plein Air to studio work and his presentation will include a slideshow. Refreshments will be served.
This event is free and open to the public but we ask that you register by calling 802-458-0098 or by emailing us at [email protected] so that we are aware of the number of attendees and arrange seating for the event.
Friday August 20th and Saturday August 21st – Plein Air Paint Out 11:00AM – 4:00PM
Nine plein air painters painting at various locations in Middlebury.
Edgewater Gallery at the Falls, One Mill St., will be the meeting point for visitors to pick up information about the artists, their chosen location in town and a map of the town. We'll have water and snacks available to keep you hydrated and energized as you stroll and discover our artists at work.
Both Edgewater Gallery locations will be open to tour throughout the event.
Saturday August 21st – Cocktail Reception & Wet Paint Sale" 4:00PM – 6:00PM
Upper Deck and Lower Porch and Gallery, Edgewater Gallery at the Falls, One Mill St.
Celebrate our artists' hard work and beautiful results at a cocktail reception where you'll have an opportunity to mingle with the artists and purchase the new paintings in our "Wet Paint Sale".
Tickets for this event are $10 per person and can be purchased online at www.edgewatergallery.com or by calling 802-458-0098.
Spend a summer evening appreciating plein air painting, conversation with old and new friends and our beautiful location beside the Otter Creek Falls.

Time

august 19 (Thursday) - 21 (Saturday)
Location

Edgewater Gallery at Middlebury Falls - 1 Mill Street

1 Mill Street Middlebury, Vt 05753
Organizer
Edgewater Gallery802.989.7419