02julAll Day27augStudies to StudioJuly 2nd - August 27th(All Day) Edgewater Gallery on the Green - 6 merchants row middlebury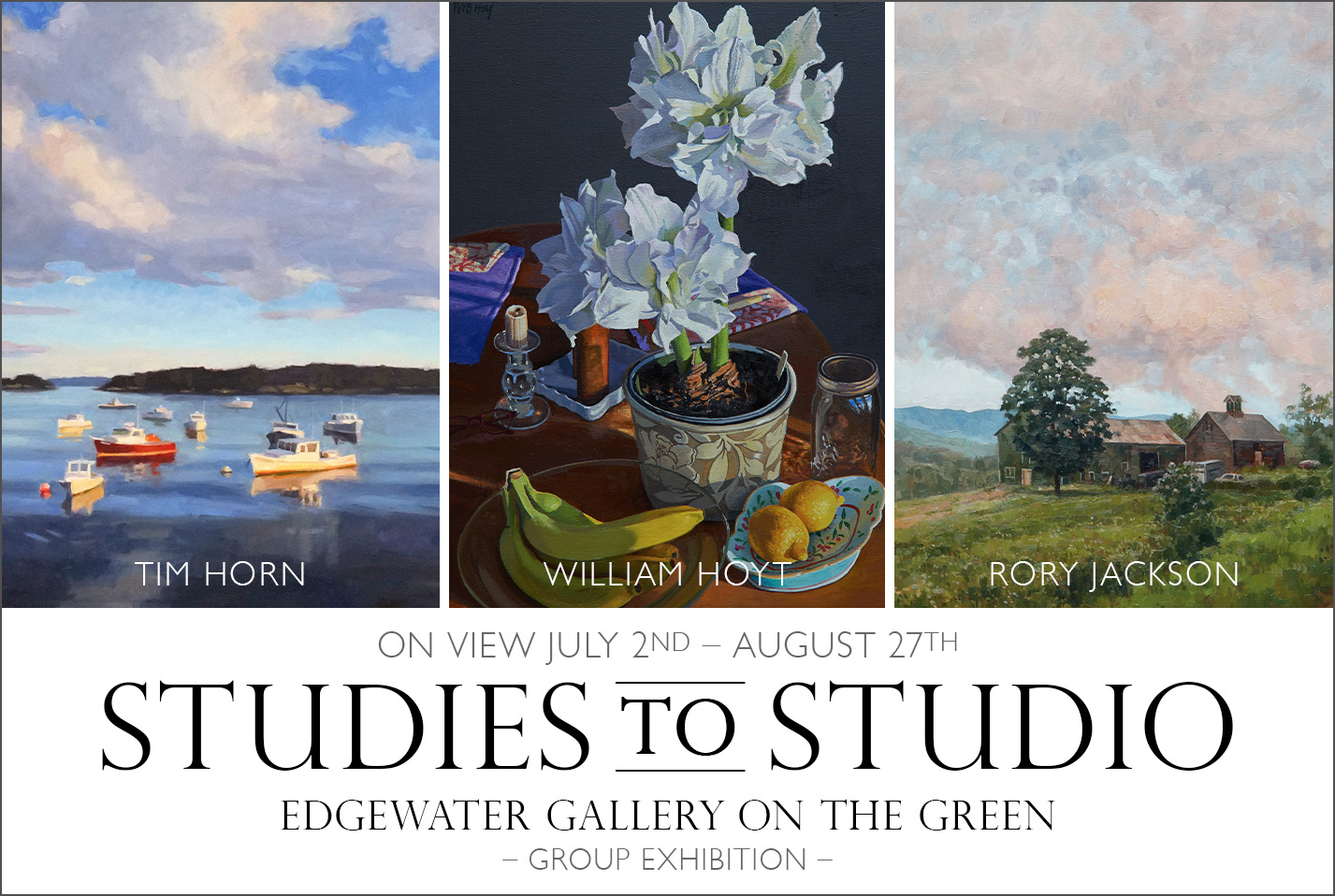 Event Details
Studies to Studio
Group Exhibition featuring Tim Horn, William Hoyt & Rory Jackson
July 2nd – August 31st, 2021
Edgewater Gallery on the Green
In conjunction with Plein Air 2021, Edgewater's three day celebration of plein air painting, taking place August 19th-21st, "Studies to Studio", a group exhibition featuring painters Timothy Horn, William Hoyt and Rory Jackson, opens July 2nd and runs through August 31st at Edgewater Gallery on the Green, 6 Merchant's Row. Each of these artists begins his process with studies done en plein air and then continues the work in the studio, refining the composition, by editing existing information and adding elements to enhance the overall look of the painting. "Studies to Studio" showcases collections from Horn, Hoyt and Jackson of finished work that began as studies done outdoors.
Timothy Horn has his studio in Northern California where he seeks out as subject matter the rural landscape and small town life of the west coast. Horn travels extensively however, and therefore his collection at Edgewater features New England coastal scenes and Vermont landscapes as well as west coast ones. Tim Horn's work has a strong sense of narrative and nostalgia accentuated through his use of vintage cars, and his ability to create a mood through his portrayal of light and shadow.
He writes of his collection for "Studies to Studio"
"Almost all of my work includes structural elements, which are often classical architecture, and automobiles, in the context of every day scenes in America. No matter what the subject matter, the light is always the challenge that interests me most. This body of work is the result of recent visits to Maine and Vermont — my first studio works since March of 2020."
William Hoyt graduated with a degree in fine art from Yale University and a year later was commissioned at the United States Navy Officer School where he served on the staff of the COMSIXTHFLT and was recognized for his artistic talents. He was asked to do portraits of admirals and to create a collection of paintings of fleet activities for the Naval art collection. After returning to civilian life he moved to Vermont where he still lives and paints. Hoyt chooses as subject matter the New England landscape, coastal scenes, sailing vessels and interiors. He explains that the people from his life and his life experiences are threads that influence his work and surface there. Hoyt's remarkable skill as a realist painter is enhanced by his ability to suggest a narrative in each piece. The viewer feels he or she has been invited to share an experience.
Rory Jackson's connection to the Vermont landscape is evident in each of his oil paintings. He portrays the land, sky, and forests, the subtle changes that come with a new season or a particular time of day, with an understanding that can only come from years of direct observation and exploration, and from a passion for his subject matter. Viewers recognize a stormy summer sky, a brilliant autumn array of color on a mountain side, or a brilliant winter snowscape and feel connected too.
Rory Jackson writes:
"Though I am a studio artist, working from reference for the majority of my gallery work, the study of life and the intake of the living, breathing, changing environment that surrounds us, is absolutely crucial in maintaining a legitimate representational expression. Painting is a practice, a constant and unforgiving practice, with the natural world as our teacher."
For more information on "Studies to Studio" a group show featuring Timothy Horn, William Hoyt and Rory Jackson, visit our website www.edgewatergallery.com, call the gallery at 802-989-7419 or email us at [email protected]
Time

July 2 (Friday) - August 27 (Friday)
Location

Edgewater Gallery on the Green - 6 merchants row middlebury
Organizer
Edgewater Gallery802.989.7419