01augAll Day31Studies to Studio at the FallsJuly 2nd - August 27th(All Day) Edgewater Gallery at Middlebury Falls - 1 Mill Street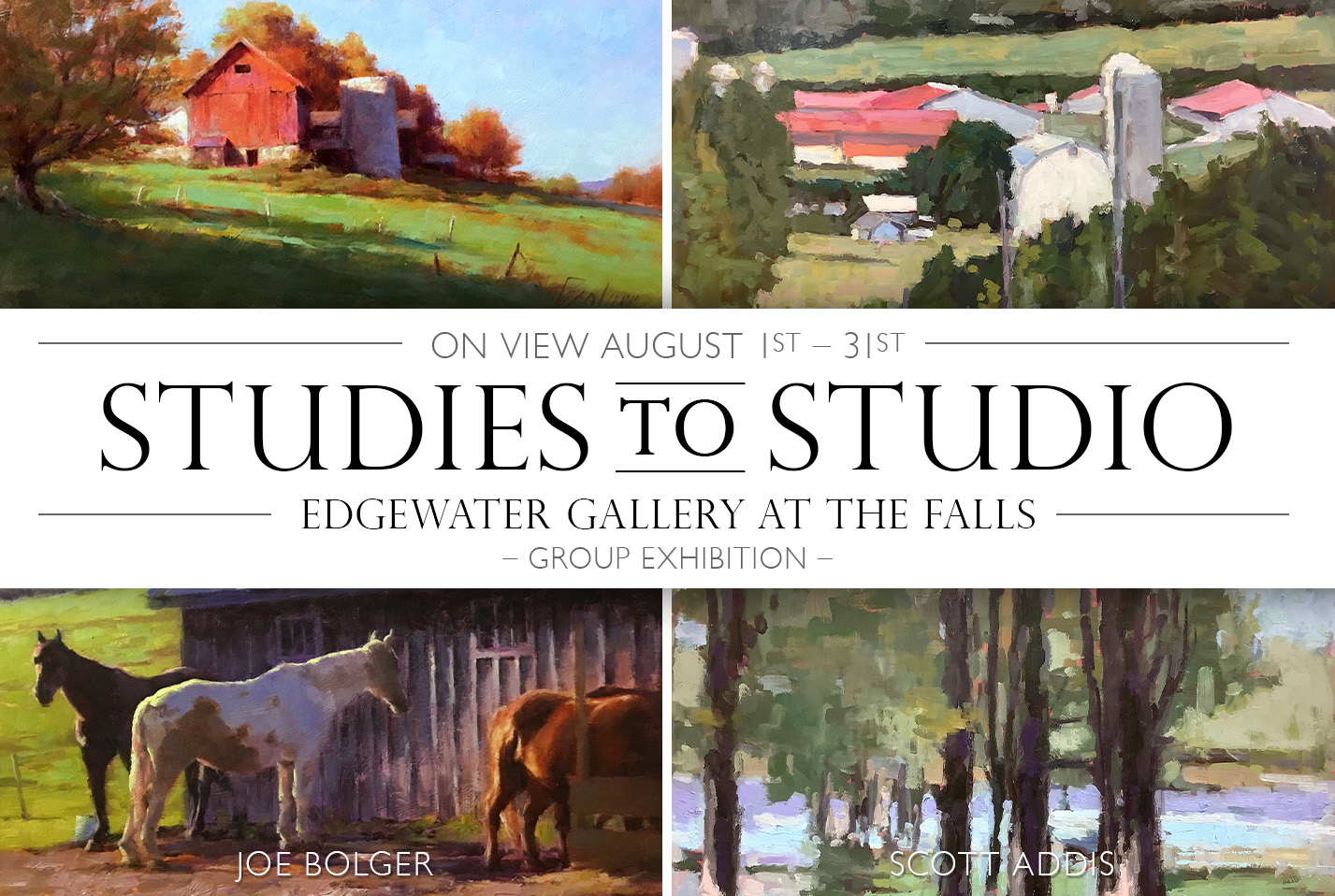 Event Details
Studies to Studio at the Falls
Group Exhibition featuring Joe Bolger, Scott Addis
August 1st – 31st, 2021
Edgewater Gallery at the Falls
In conjunction with Plein Air 2021, Edgewater's three day celebration of plein air painting, taking place August 19th-21st, "Studies to Studio", a group exhibition featuring painters Scott Addis and Joe Bolger, opens August 1st and runs through August 31st at Edgewater Gallery at the Falls, Middlebury. Both of these artists begins his process with studies done en plein air and then continues the work in the studio, refining the composition, by editing existing information and adding elements to enhance the overall look of the painting. "Studies to Studio" showcases collections from Scott Addis and Joe Bolger of studies and studio pieces derived from plein air studies.
Montreal based painter Scott Addis paints the rural farmland and wilderness of Quebec and Vermont. Whether Addis is working en plein air or in the studio, his paintings are unmistakable for their strong sense of gesture, portrayal of light and shadow and for the mood and narrative conveyed through all of these elements coming together. Scott Addis chooses the landscape as his subject because he can feel what it is to exist in the land that he is painting. This close awareness of his surroundings helps viewers to experience it too.
Joe Bolger does not discriminate when painting the landscape that surrounds his studio in Shoreham Vermont. He finds interest and beauty year round in the land, from the lush greens of summer, to the white starkness of winter, to the muted tones of early spring's mud season and the brilliance of autumn foliage. Bolger's  understanding of his subject matter is clear in his painting. He connects us to the beauty of the light on the land and structures of rural Vermont, the subtle changes in palette as the seasons shift, and the unique quality of life in our state.
For more information on "Studies to Studio" featuring the work of Scott Addis and Joe Bolger, visit our website www.edgewatergallery.com, call the gallery at 802-458-0098 or email us at [email protected].
Time

august 1 (Sunday) - 31 (Tuesday)
Location

Edgewater Gallery at Middlebury Falls - 1 Mill Street

1 Mill Street Middlebury, Vt 05753
Organizer
Edgewater Gallery802.989.7419