01sepAll Day30Still Life / Life StillsSeptember 1st - 30th(All Day) Edgewater Gallery on the Green - 6 merchants row middlebury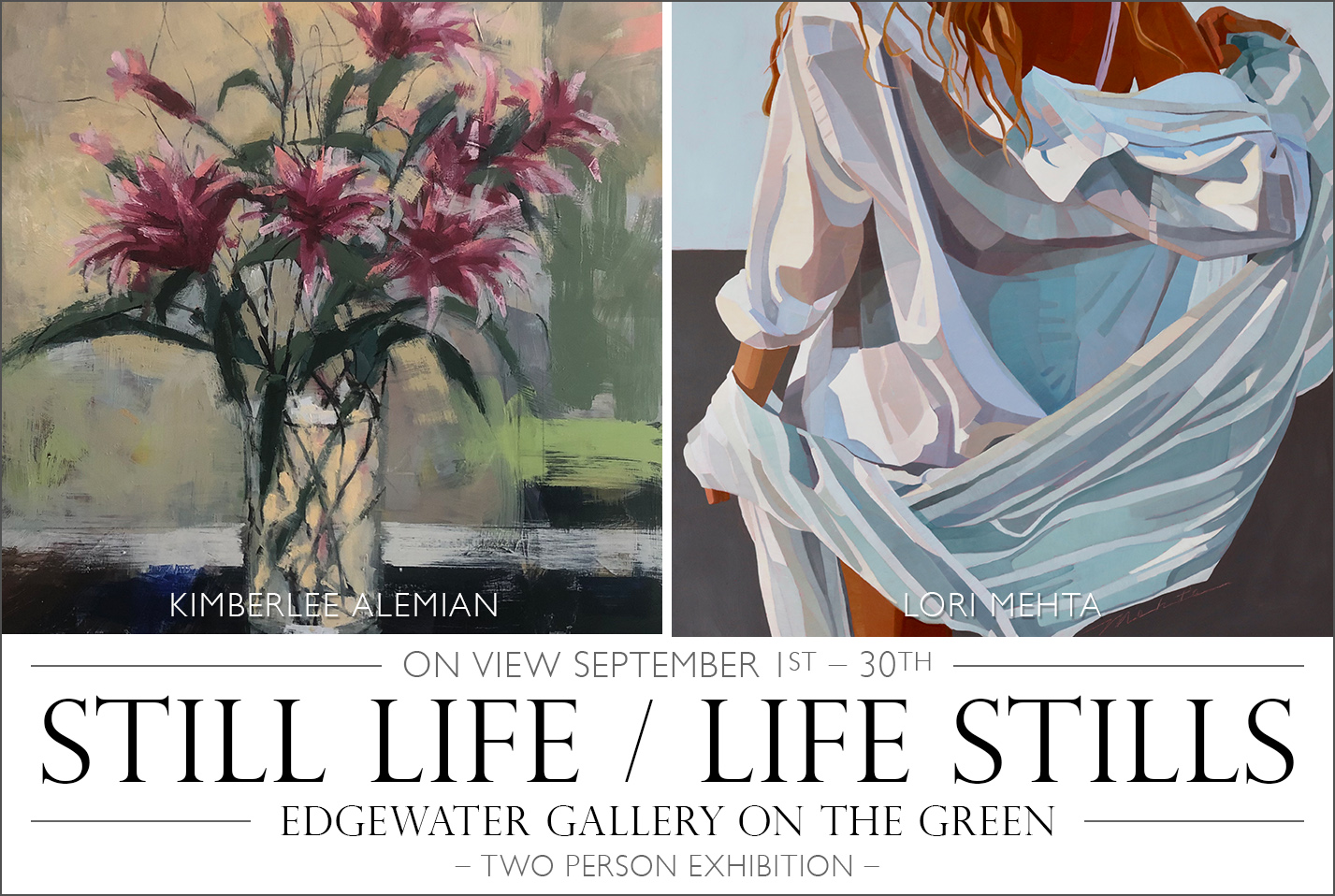 Event Details
Still Life / Life Stills
Two Person Exhibition featuring Kimberlee Alemian and Lori Mehta
September 1st – 30th, 2021
Join us for an opening reception Friday September 10th 5-7PM
Edgewater Gallery on the Green
"Still Life/Life Stills" features the work of still life painter Kimberlee Alemian and figure painter Lori Mehta. Though their chosen subject matter differs their focus and exploration of subject matter is similar. Alemian and Mehta strive to capture a moment in time that is unique and important. For Kim Alemian, that moment comes when light hits the still life object and alters it, adding dramatic shifts in the texture and tones of the composition. For Lori Mehta it's a moment when the figure is caught in a pose that is subtly intriguing, emotionally revealing through a  small gesture and visually striking because of the light's effect on the figure. This exhibition showcases both artists' skill in capturing these uniquely exquisite moments.
Kimberlee Alemian has her studio on the South Shore of Boston. She holds a BFA in painting from the Massachusetts College of Art and a MFA in painting from Boston University, Visual Arts Division. Alemian exhibits nationally and has received numerous awards for her work including the Constantin Alajalov award at Boston University School of Visual Arts and the Grumbacher Gold Medal Award.
Lori Mehta has a BFA and MFA in printmaking and came to painting later in her career after taking a class with Zhanna Cantor. She began painting using acrylics and then switched to oil painting after studying with Katherine Kehoe at The Massachusetts College of Art. Mehta's work is held in private and corporate collections nationally and she is the recipient of many awards including the prestigious American Artists League Professional Award with the Salmagundi Club in 2019.
Time

september 1 (Wednesday) - 30 (Thursday)
Location

Edgewater Gallery on the Green - 6 merchants row middlebury
Organizer
Edgewater Gallery802.989.7419