03sepAll Day31octLocally GrownSeptember 3rd - October 31st(All Day) Edgewater Gallery at Middlebury Falls - 1 Mill Street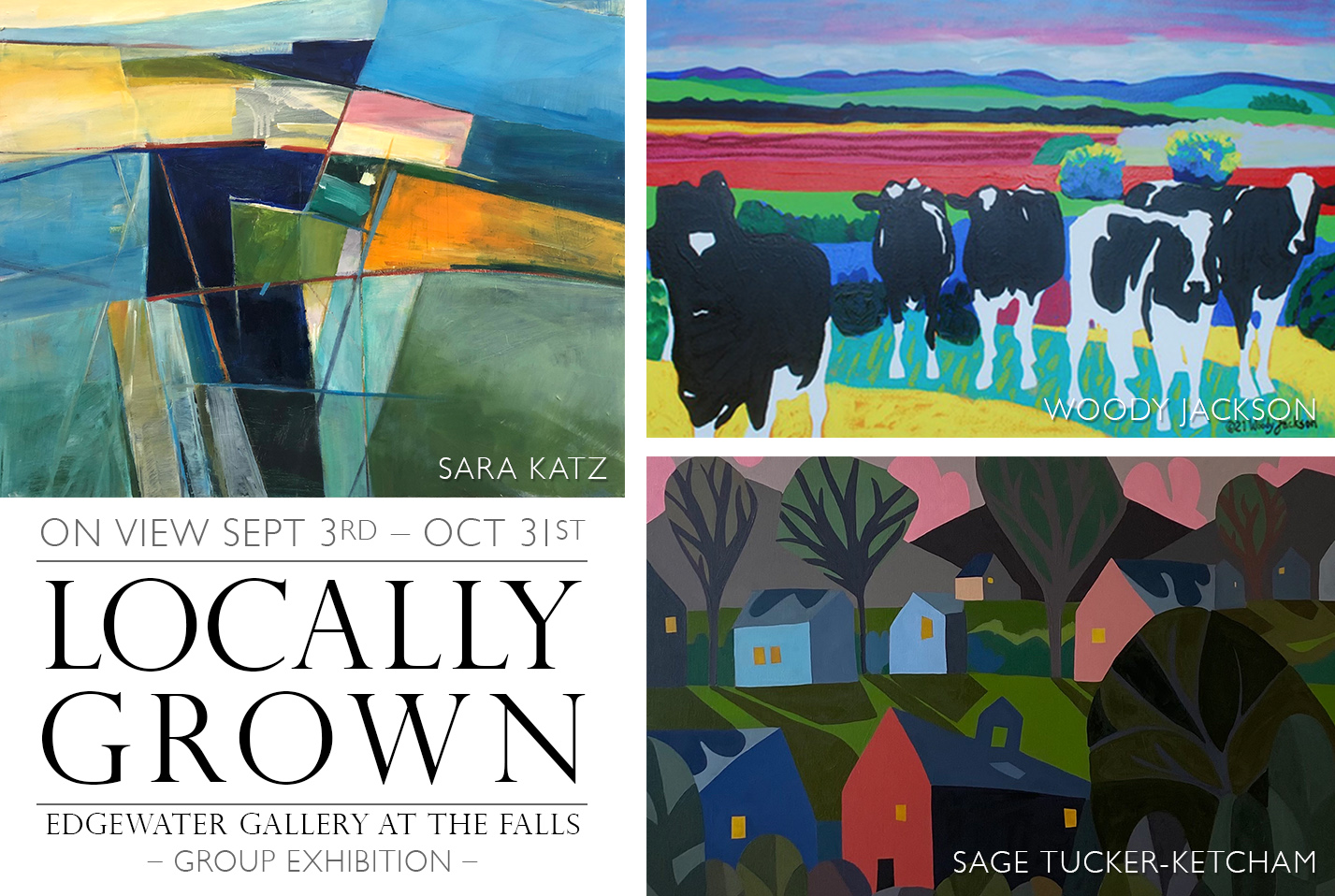 Event Details
Locally Grown
Group Exhibition featuring Woody Jackson, Sara Katz & Sage Tucker-Ketchum
September 3rd – October 31st, 2021
Edgewater Gallery at the Falls
Opening Reception September 10th, 5-7PM
"Locally Grown" features three painters who live in Vermont and whose collections are examples of the wide range of fine art being created and "harvested" in our state. The natural beauty of the landscape attracts and provides inspiration for artists working in a variety of mediums. Woody Jackson, Sara Katz and Sage Tucker-Ketcham choose the landscape as their subject matter but they interpret it in three contemporary and unique styles. The three painters are united in the way in which they push the boundaries of color and shape in their representation of rural Vermont but beyond this Jackson, Katz and Tucker-Ketcham use  elements of abstraction, and choices in palette, mark making, brushwork, and medium that set them apart from each other. Our landscape is reenvisioned in this group exhibition that closes out the summer and welcomes the fall.
Woody Jackson is a Middlebury College graduate with a Masters of Fine Art from the Yale Graduate School of Fine Arts. He is a long time Vermont resident who feels deeply connected to the rural landscape of his home, including the farms and cows that are iconic to the state. After graduating from college Jackson worked as a hired hand for a dairy farmer in Addison County Vermont. It was during this time that his interest in and affection for the relationship between the lush and vibrant colors of the fields and the black and white of the cows who lived on the farmland, grew. His spirited cows, vibrant palette and vision of the landscape have led to his being an iconic Vermont landscape painter.
Sara Katz is a graduate of Skidmore College and was raised in Cabot Vermont on a vegetable farm and nursery. She now lives and has her studio in Ferrisbugh Vermont and is the Assistant Director of Burlington City Arts. Her paintings are inspired by her upbringing and by the natural world. Her work often references the landscape but the paintings that evolve deal with the elements of abstraction. In the studio, it is the mark making, color, brushwork, layering and editing of paint, graphite, pastel, and colored pencil that interest Katz. 
Sage Tucker-Ketcham is a 14th generation Vermonter who currently has her studio in South Burlington and has a BFA from the Maine College of Art and an MFA from the Massachusetts College of Art and Design. Tucker-Ketcham's landscapes are driven by her interest in color  theory and the dialogue that is set up between elements of the composition. The elements of her abstracted and simplified barns, trees, mountains and fields are shifted and edited in tone and shape until the colors and structural pieces are harmonious.
For more information about "Locally Grown", a group exhibition featuring Woody Jackson, Sara Katz, and Sage Tucker-Ketcham, call the gallery at 802-458-0098 or email us at [email protected].
To view Woody Jackson's available work click here.
To view Sara Katz's available work click here.
Time

September 3 (Friday) - October 31 (Sunday)
Location

Edgewater Gallery at Middlebury Falls - 1 Mill Street

1 Mill Street Middlebury, Vt 05753
Organizer
Edgewater Gallery802.989.7419