01octAll Day31ShenandoahOctober 1st - 31tst(All Day) Edgewater Gallery on the Green - 6 merchants row middlebury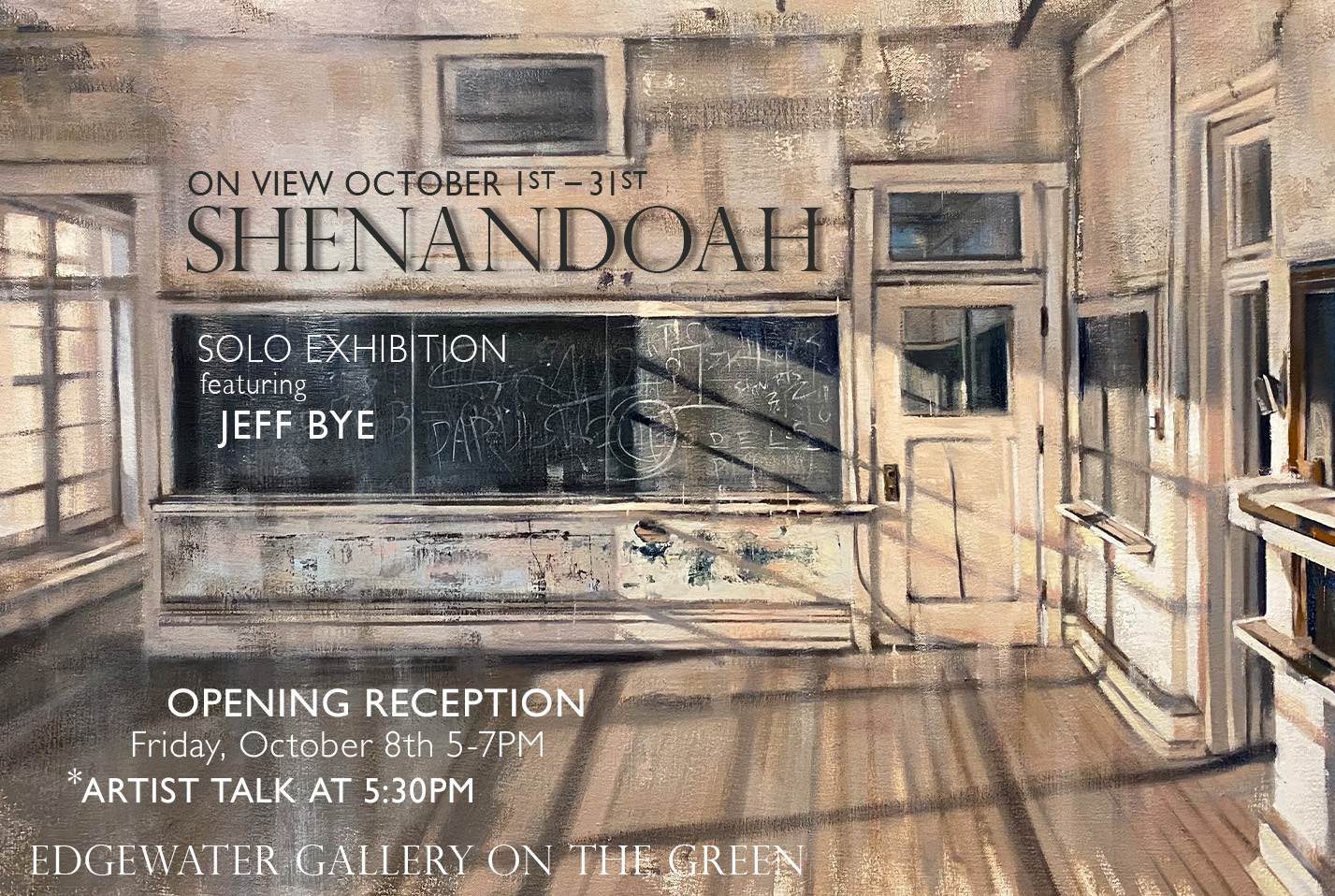 Event Details
Shenandoah
Solo Exhibition featuring the paintings of Jeff Bye
October 1st – 31st, 2021
Join us for an opening reception Friday October 8th 5-7PM
Artist Talk at 5:30PM
Edgewater Gallery on the Green
In 2020 the COVID-19 pandemic forced us to stay home and isolate. Artists worked in their studios and were forced to find subject matter close to home for their paintings. "Shenandoah", is a collection created during the pandemic by Pennsylvania native Jeff Bye. In Vermont we have landscape painters who seek to capture and honor the natural beauty of our state. Bye has a similar focus but his landscapes are the interior landscapes of buildings that once were inhabited and were vital to the towns and communities in which they stood but now are vacant, their histories held captive behind locked doors and boarded windows.
Jeff Bye's primary focus in "Shenandoah" is The Cooper Community Center in Shenandoah Pennsylvania. The school was built in 1918 but its opening was delayed due to the onset of the Spanish Flu pandemic. The themes of buildings left suspended in time, abandonment, and life interrupted, run through the paintings and the parallels to our current lives under the pandemic are dramatic.
The artist was granted unlimited access to Cooper and was therefore able to spend time in different classrooms, hallways, and gathering spaces. His paintings capture the feeling of a building which was meant to be filled with the hustle and bustle of children, teachers and the excitement of learning but was instead forced to close, and be held as the artist says, "in permanent purgatory". Bye's interest lies in the monochromatic surfaces of the interior punctuated by random accents of paint color left from earlier years, the quiet, stark beauty of the building, and the feeling of hope that the light filtering into the rooms, evokes.
For more information about "Shenandoah", a solo exhibition of paintings by Jeff Bye, or to reserve or purchase a painting from the collection, call the gallery at 802-989-7419 or email us at [email protected].
Time

october 1 (Friday) - 31 (Sunday)
Location

Edgewater Gallery on the Green - 6 merchants row middlebury
Organizer
Edgewater Gallery802.989.7419