15novAll Day31decSmall Works, Big ImpactNovember 15th - December 31st(All Day) Edgewater Gallery on the Green and Edgewater Gallery at Middlebury Falls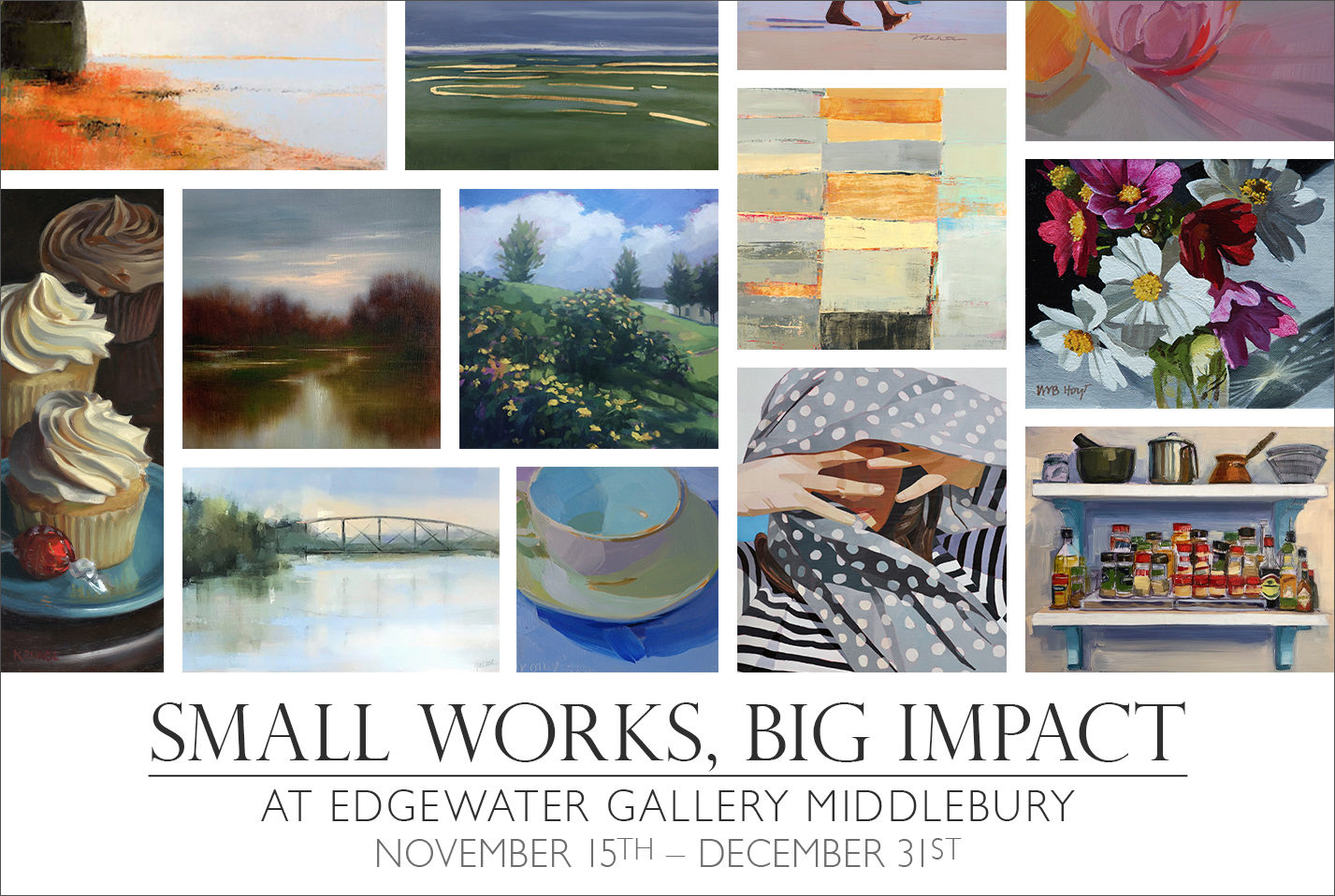 Event Details
Small Works, Big Impact
A Group Show of Small Works
November 15th – December 31st, 2021
Edgewater Gallery on the Green & at the Falls
Edgewater Gallery's annual Small Works exhibition gives us the opportunity to showcase works of art that are small in scale but large in impact. The artist's challenge in a small composition is to portray the essential, convey an idea, evoke a mood and entice the viewer to take a closer look, all within a small framework.
This year's show features work from a broad range of emerging and established Edgewater artists and includes guest artist Barbara Greene, an established landscape painter from Northern Vermont whose abstracted landscapes convey a strong sense of Vermont; its land, lakes and palette. Greene's collection will be on view at Edgewater Gallery at the Falls.
At our 6 Merchant's Row location we will be giving a "sneak preview" of one of our new 2022 artists, Susan Abbott, in our Small Works exhibition. Abbott is a renowned watercolorist who had focused on still life painting but made an abrupt transition to painting the landscape when she moved to Vermont in 1994. She finds beauty in the structures that are part of everyday farm and town life and strives to honor them in her painting. Susan Abbott has exhibited widely, is the recipient of numerous awards, and has been featured in many publications including American Art Collector, Vermont Life and Watercolor Artist.
Along with these two new artists the exhibition will feature small works from a broad range of painters including Irma Cerese, Ellen Granter, Penny Billings, Julia Purinton, Helen Shulman, and Kim Alemian, with new work from Rachel Wilcox, and Jane Davies.
These "small works" are the jewels of our collection, inviting viewers to look more closely and giving them an opportunity to appreciate and experience the intimacy of fine art on a small scale.
To view available work from Barbara Greene click here.
To view available work from Susan Abbott click here.
For more information about "Small Works, Big Impact", a group exhibition on view November 15th-December 31st, visit our website www.edgewatergallery.com, call the gallery at 802-989-7419 or email us at [email protected].
Time

November 15 (Monday) - December 31 (Friday)
Location

Edgewater Gallery on the Green and Edgewater Gallery at Middlebury Falls

6 merchants row middlebury, vt 05753 and 1 mill street middlebury, vt 05753
Organizer
Edgewater Gallery802.989.7419