01decAll Day31Featured Exhibit: Hannah Sessions & Gregory Bernhardt
"Our Song: Farms Up Close and from a Far"Edgewater Gallery at Middlebury Falls(All Day) Edgewater Gallery at Middlebury Falls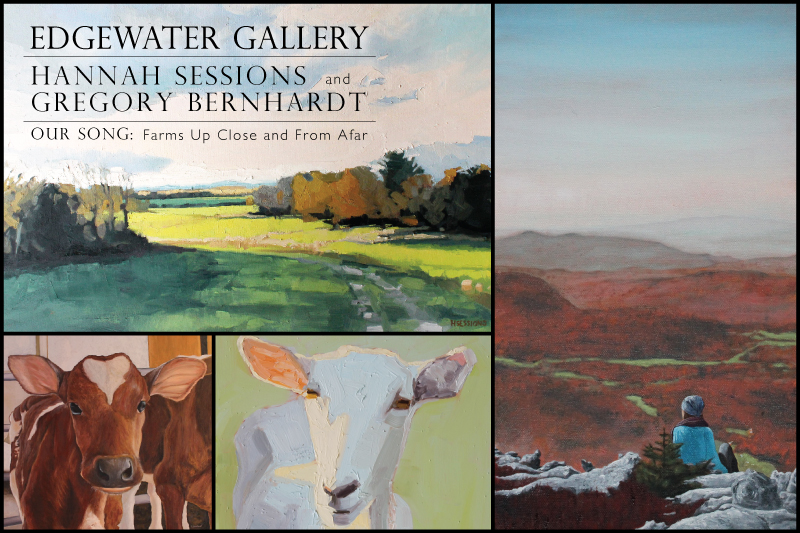 Event Details

This show was dreamt up as we (Hannah and Greg) were passing a milestone: fifteen years as dairy farmers. Though we came into this profession as artists first and foremost, it turned out we really loved farming and it has become an integral part of who we are as people and as artists. There is a satisfaction which comes with working with ones hands and bodily force that can't be attained any other way. It is a balance of thoughtful and meditative mundane work, it is trying to maintain a vision amidst the calamities and successes of every day, it is feeling like we are carrying on a great agrarian tradition, it is the satisfaction which comes from nourishing people, it is relying on weather and the patience of the earth, it is accepting imperfection while at the same time striving for it day in and day out, and it begs stolen moments to stop and reflect on the beauty of our surroundings, the shifting light, and the bounty of life all around us.

This is farms "up close," and this is what we try to capture in our paintings of every day moments on our farm, and the farms of our friends and neighbors.* Hay down in a field, animals headed out to pasture, shadows on a barn, a flock of curious chickens, a goat basking in late afternoon light, long shadows stretching across a field; simple, ordinary, close-up, fleeting moments which resonate. Our work as farmers put us in the middle of it all; our work as artists enables us to take a small step back and appreciate color, light, shape and patterns present in this ever-shifting landscape. It also gives opportunity to convey the emotional connection that we have with our animals and that animals have with each other.

One can only exist in community, and there is a great tradition of agriculture in the Champlain Valley which continues today. This is evident in our "from afar" depictions. The vast expanse of land as seen from the top of nearby Snake Mountain, Buck Mountain, Mt Abe, as well as the view of distant farms as seen from the roads. Farms keep land open and give us these incredible vistas and playgrounds of light. As artists who paint farms our subject matter is in great abundance.

Click here to view Hannah Sessions' work.     Click here to view Gregory Bernhardt's work.

*In addition to our own farm, many thanks go to Oliver Hill Farm, Taconic End Farm, Butterwick Farm, Scapeland Farm, Transfiguration Farm, and many others for maintaining farms which are a source of constant visual inspiration.
Time

december 1 (Tuesday) - 31 (Thursday)
Location

Edgewater Gallery at Middlebury Falls

1 Mill Street Middlebury, Vt 05753