01julAll Day15augRhythms of the LandscapeJuly 1st -August 15th, 2023(All Day) Edgewater Gallery on the Green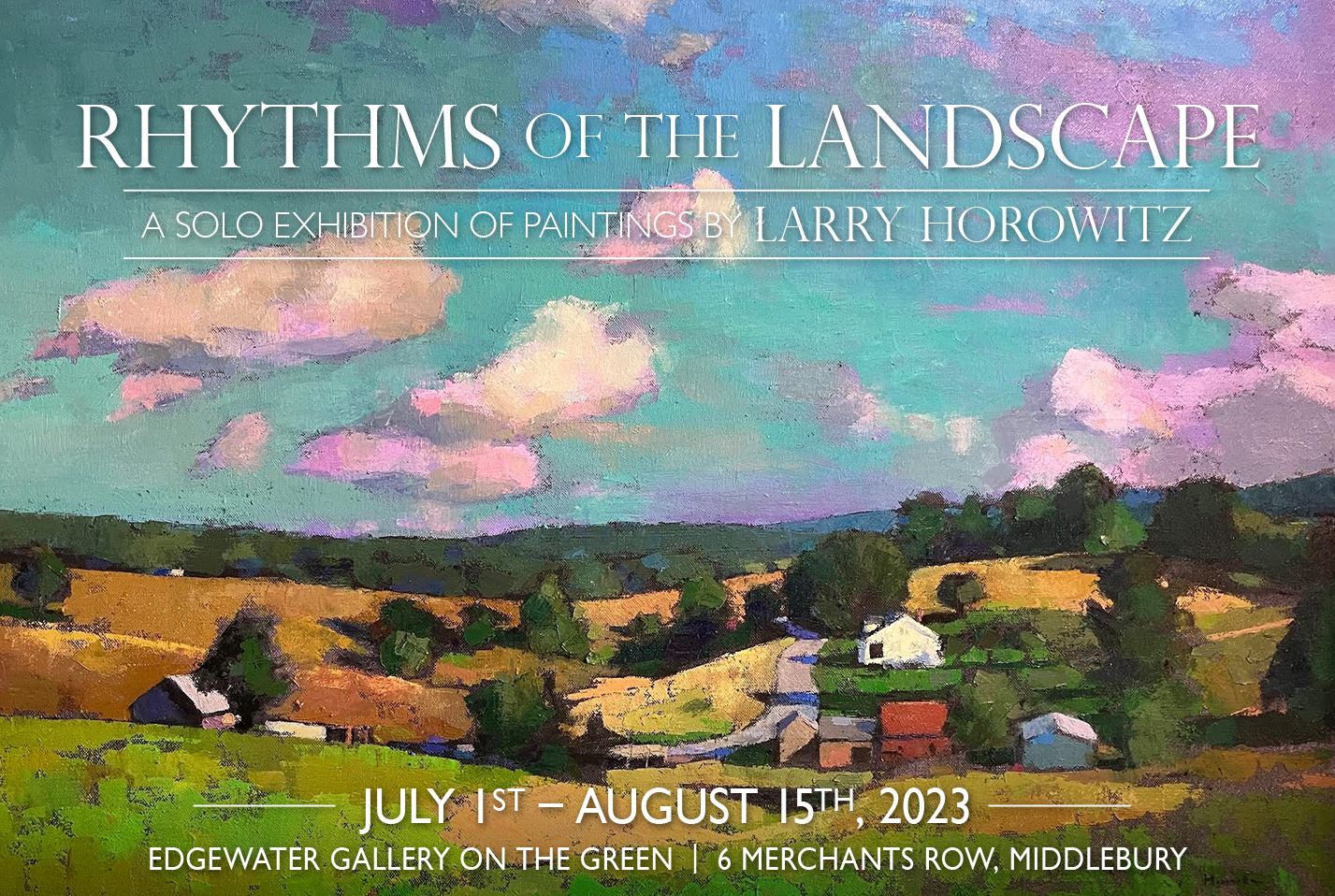 Event Details
RHYTHMS OF THE LANDSCAPE
A Solo Exhibition of Paintings Featuring
Larry Horowitz
July 1st – August 15th, 2023
Edgewater Gallery on the Green, 6 Merchants Row, Middlebury
Rhythms of the Landscape is Larry Horowitz's first solo exhibition at Edgewater Gallery. In it we introduce our audience to this American landscape painter known for his vivid palette, the energetic, physical nature of his painting and bold brush strokes and texture in his interpretations of the landscape. Horowitz won a prestigious apprenticeship with Wolf Kahn immediately after college and credits Kahn's blend of realism and abstract expressionism as influential in the development of his style.
"My best paintings fall somewhere between abstraction and reality. I leave out enough information to invite the viewer to enter the scene and have their own experience"
– Larry Horowitz
Larry Horowitz paints both en plein air and in the studio, painting the landscape of Canada, Vermont and the Cape Cod region of Massachusetts. The changing light, sounds, and other stimuli that he encounters painting in the outdoors become part of the composition when he returns to the studio. He describes feeling a synchronicity with nature that flows from within.
Larry Horowitz was born in New York City and graduated with a Bachelor of Fine Arts from the State University of New York, Purchase in New York. He has had over 90 solo exhibitions and is exhibited in galleries throughout the US and Canada. His work is widely held in both private and corporate collections.
For more information about "Rhythms of the Landscape", a solo exhibition of paintings by Larry Horowitz, call 802-989-7419 or email [email protected].
Time

July 1 (Saturday) - August 15 (Tuesday)
Location

Edgewater Gallery on the Green

6 merchants row middlebury, vt 05753
Organizer
Edgewater Gallery802.989.7419