26mayAll Day18julVessels and Vanishing PointsOn view May 26th - July 18th, 2023(All Day) Edgewater Gallery at Middlebury Falls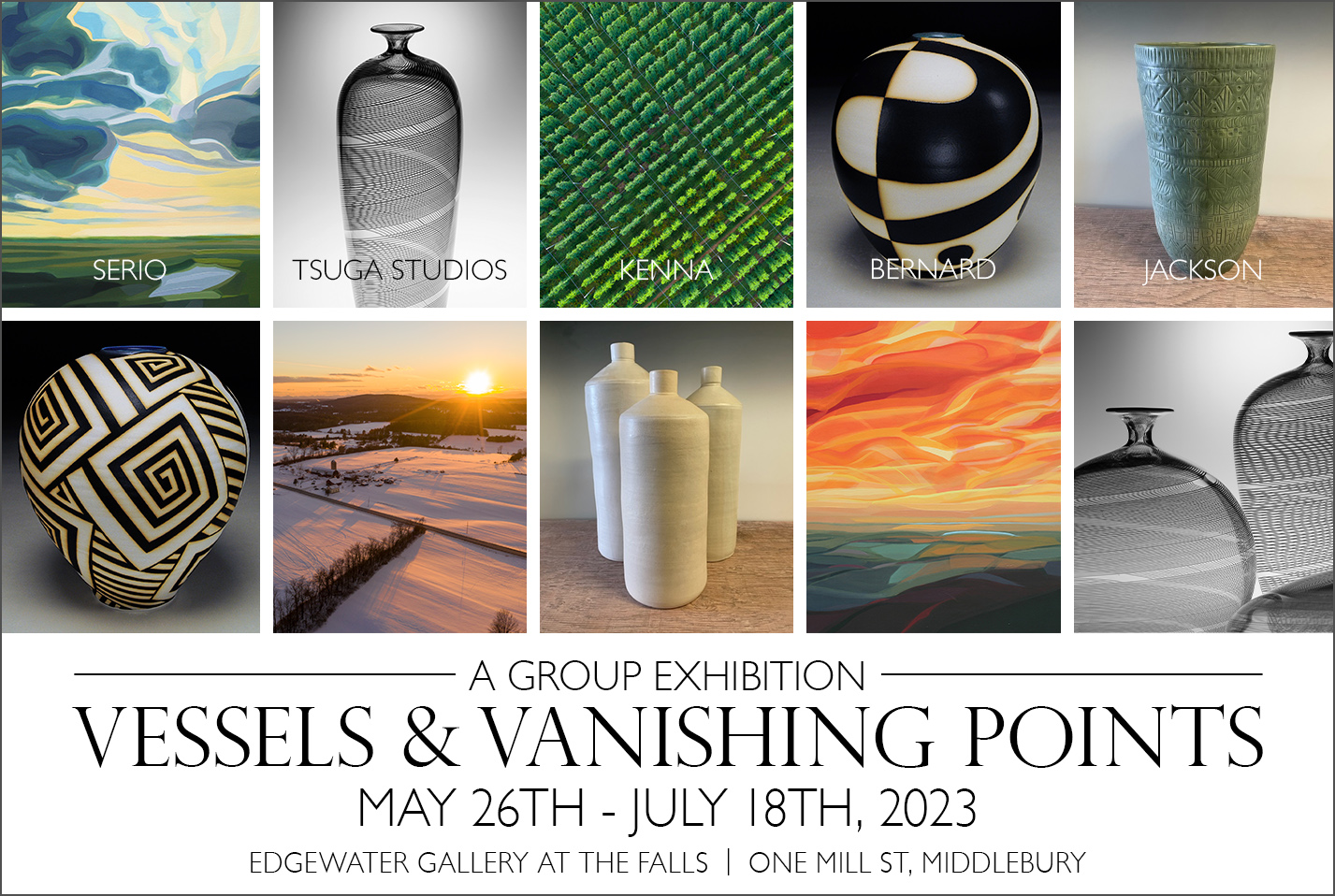 Event Details
VESSELS AND VANISHING POINTS
A group exhibition featuring:
Nicholas Bernard / Judy Jackson / Caleb Kenna / Alexis Serio / Tsuga Studios
On view May 26 – July 18, 2023
Edgewater Gallery at the Falls, One Mill Street, Middlebury
In Vessels and Vanishing Points we feature the work of five artists who work in both 2-D and 3-D, making contemporary pieces where themes of convergence, perspective and symmetry emerge. Nicholas Bernard's bold geometric surface designs flow easily over his rounded stoneware shapes, leading the viewer around the vessel to focal points and intersections of pattern while Judy Jackson's monochromatic ceramic works focus on a simplicity and symmetry of form and carved patterning. The intricate swirling lines of Tsuga Studios' elegant Filigrana blown glass pieces spiral to an apex in each vessel. Abstract painter Alexis Serio anchors each composition with a horizon line that suggests a landscape but are highly abstracted pieces with layers of shapes and colors both vivid and transparent that fit together and glide over one another into dreamlike and vast suggestions of an imagined land. Photographer Caleb Kenna captures unique views of Vermont from above through his drone photography. Some are sweeping views of the landscape and some become purely abstract compositions that are derived from natural and manmade patterns seen from above. Vessels and Vanishing Points has its roots in traditional fine art and craft practices but each of the participating artists reaches beyond the traditions of their medium to create contemporary, evocative works of art.
For more information about Vessels and Vanishing Points, a group exhibition featuring ceramics from Nicholas Bernard and Judy Jackson Stoneware, glass work from Tsuga Studios, paintings from Alexis Serio and photography from Caleb Kenna, visit edgewatergallery.com, call the gallery at 802-458-0098 or email us at [email protected].
To view Nicholas Bernard's available work, click here.
To view Judy Jackson's available work, click here.
To view Caleb Kenna's available work, click here.
To view Alexis Serio's available work, click here.
Time

May 26 (Friday) - July 18 (Tuesday)
Location

Edgewater Gallery at Middlebury Falls

1 Mill Street Middlebury, Vt 05753
Organizer
Edgewater Gallery802.989.7419