16sepAll Day01novSculpture Hunt at Sunrise OrchardsSeptember 16th - November 1st, 2022(All Day) Sunrise Orchards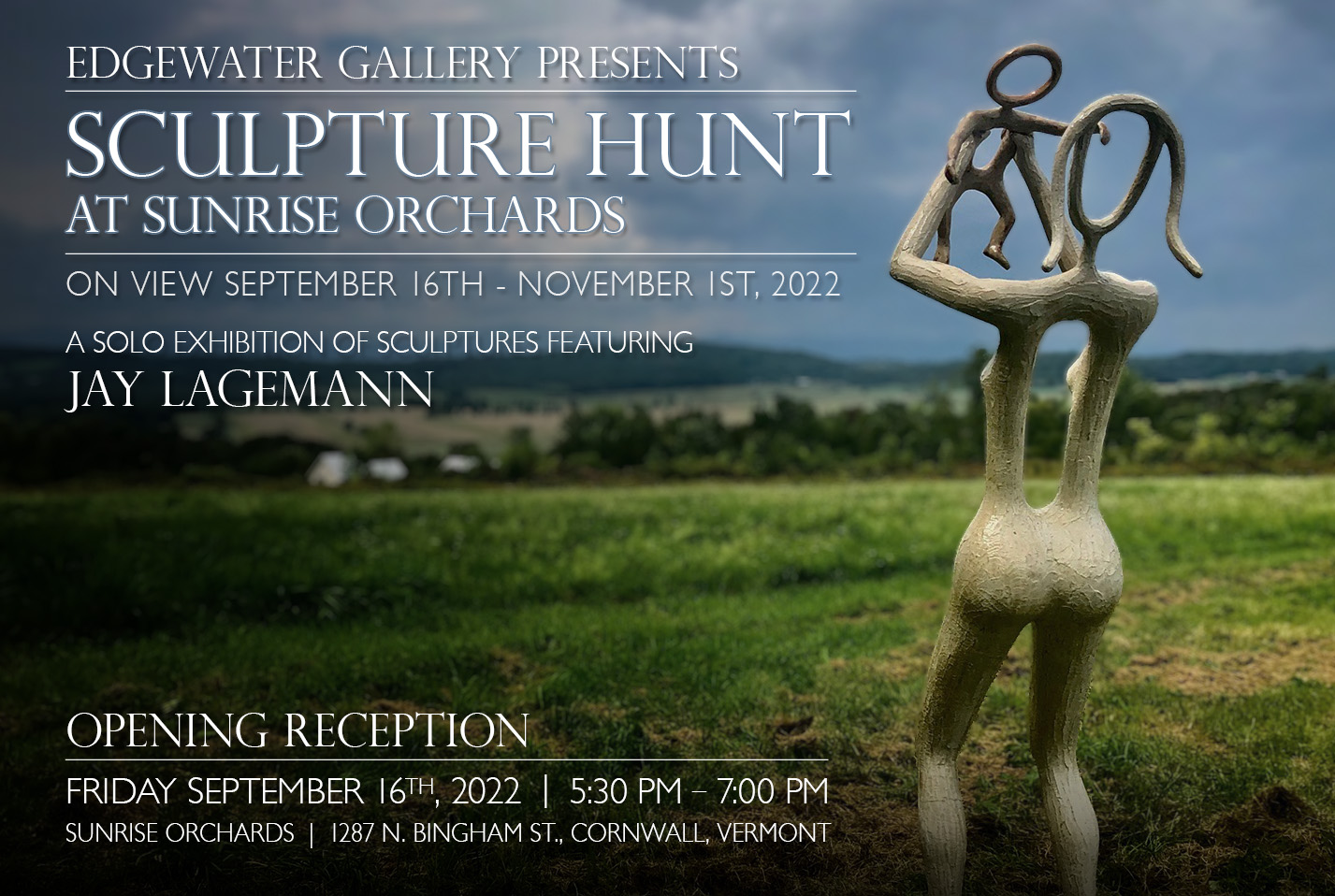 Event Details

On view September 16 – November 1, 2022
Sculpture Hunt
at Sunrise Orchards
A solo exhibition of sculptures featuring

Jay Lagemann
OPENING RECEPTION:
Friday September 16th, 2022
5:30PM – 7:00PM
Sunrise Orchards
1287 N. Bingham St., Cornwall, Vermont
Celebrate the changing seasons, Vermont's harvest and the work of Edgewater artist Jay Lagemann in a collaboration with Sunrise Orchards in Cornwall Vermont. Jay Lagemann makes whimsical and joyous sculptures in metal. His collection at Edgewater features tabletop sculptures cast in bronze or stainless steel, of figures swinging, dancing, skiing, and cycling. Though made from a material that is rigid and unforgiving, his pieces are alive with movement, energy and often, humor. For the first time, we are excited to offer a collection of Lagemann's outdoor sculptures that will be on view on the grounds of the orchard and can be discovered while walking and exploring the paths through the property.
The exhibition opens Friday September 16th with an opening reception 5:30 – 6:30 PM at Sunrise Orchards. Jay will give a guided tour of his sculptures and will discuss his process, inspiration for the collection and his path to becoming a sculptor. Sunrise Orchards will provide an array of seasonal appetizers and refreshment made on the premises. Join us for the perfect celebration of Vermont's season of dazzling color and harvest. This event is free and open to all.
Jay Lagemann has his studio on the island of Martha's Vineyard. He graduated from Princeton University with a degree in Mathematics and went on to complete a PhD in Mathematical Logic from the Massachusetts Institute of Technology. Lagemann found his way to metal fabricating and sculpture through a life of travel, self exploration and adventure. Skills that he gained through a series of jobs that sustained him in his travels, gave him the ability to eventually work in metal and express himself through his sculpture. He has been commissioned to create work for both private and public spaces throughout New England and the Northeast.
Sunrise Orchards is owned and operated by Chris and Barney Hodges. For 25 years they have worked to provide quality apples that are grown with a commitment to community, sustainability, the environment, and innovation.
For more information about Jay Lagemann's solo exhibition of sculpture at Sunrise Orchards, call us at 802-989-7419 or email us at [email protected].
For more information about Sunrise Orchards visit their website www.sunriseorchards.com.
Time

September 16 (Friday) - November 1 (Tuesday)
Location

Sunrise Orchards

1287 N. Bingham Street
Organizer
Edgewater Gallery802.989.7419