15oct2:00 pm4:00 pmArtist Talk with Sabra Field & Author Julia Alvarez2:00 pm - 4:00 pm Edgewater Gallery on the Green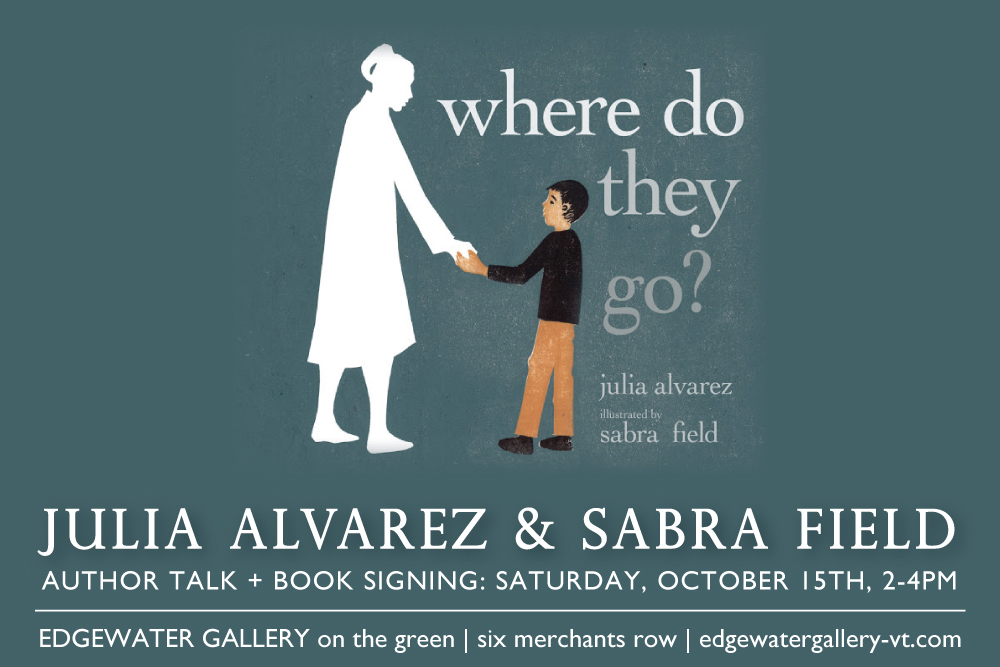 Event Details

SATURDAY, OCTOBER 15th, 2-4pm
Edgewater Gallery on the Green

View an interview with Julia Alvarez on WCAX by clicking here.

Bestselling novelist (How the Garcia Girls Lost Their Accents) and children's author (Return to Sender) Julia Alvarez's new picture book is a beautifully crafted poem for children that gently addresses the emotional side of death. The book asks, "When somebody dies, where do they go? / Do they go where the wind goes when it blows?. . . Do they wink back at me when I wish on a star? Do they whisper, 'You're perfect, just as you are'?" Illustrated by Vermont woodcut artist Sabra Field, Where Do They Go? is a beautiful and comforting meditation on death, asking questions young readers might have about what happens to those they love after they die.

Sabra Field's woodcuts are vibrant portrayals of Vermont fields, mountains, and sky have established her as one of the most accomplished modern printmakers in the world, and a monument among Vermont's rich arts community. In 1991, sixty million copies of her Vermont bicentennial postage stamp circulated in the U.S. Originally from Tulsa, Oklahoma, Field came to Vermont to attend Middlebury College, and has lived in the state since 1969. She has been widely collected by museums, and received accolades from many institutions, including honors from two Vermont governors. An octogenarian, Field continues to publish her hand-pulled woodblock prints from her studio in South Royalton.

Saturday, October 15th, Field and Alvarez will read and discuss their project from 2-4 pm at Edgewater Gallery on the Green. They will also sign copies of the book after the talk, which will be available prior to the official release, and sold at Edgewater by the Vermont Bookstore. From 4-6 pm on the same day, an opening reception will be held for Sabra Field and the five other artists showcased in their October featured exhibit, "Of the Land." A collection of work interpreting the land through the eyes Vermont artists who use vastly different media and draw from a broad array of inspirations, this exhibit makes clear the respect and admiration for Vermont's landscape that unites these artists under one theme.
Time

(Saturday) 2:00 pm - 4:00 pm
Location

Edgewater Gallery on the Green

6 merchants row middlebury, vt 05753