01aprAll Day31mayShedding Light: Group ExhibitionApril 1st - May 31st(All Day) Edgewater Gallery at Middlebury Falls - 1 Mill Street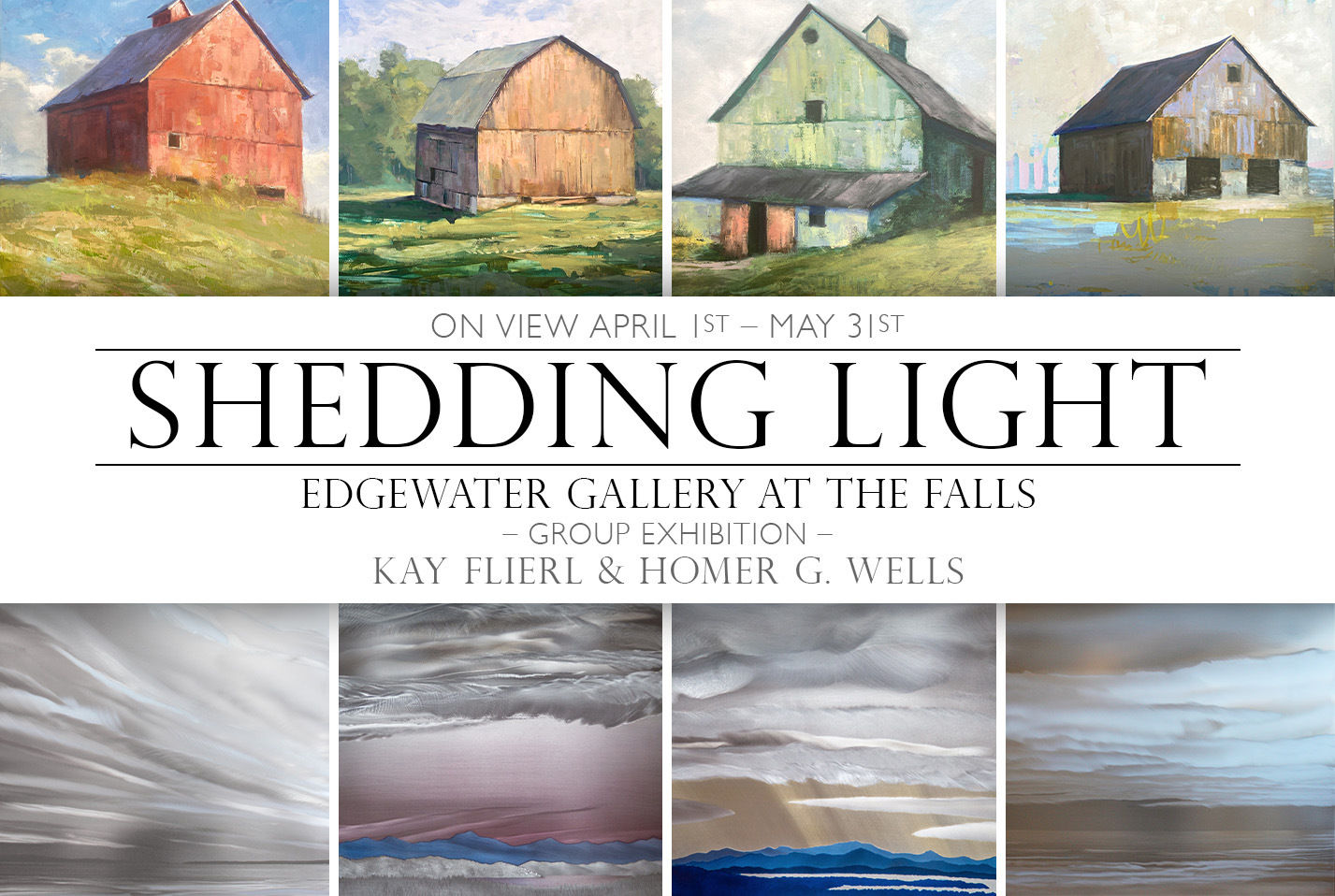 Event Details
Shedding Light
Group Exhibition with Kay Flierl & Homer G. Wells
April 1st – May 31st, 2021
Edgewater Gallery at the Falls
Edgewater Gallery at the Falls opens its 2021 season with "Shedding Light" featuring new collections from Kay Flierl and Homer G. Wells. Vermont's season is slowly shifting from a winter palette to a spring one. The change in the light and tones of the landscape are reflected and uniquely interpreted in both of these artists' collections.
Kay Flierl has her studio in Denver Colorado. After working in landscape and graphic design she made the decision to commit herself fully to expressing her ideas through fine art. As a painter her focus is on representing the landscape and architecture of the places in which she lives and to which she feels connected, but beyond accurately recording these places she works to convey the emotions she feels for her subject matter. Through experimentation with color, surface texture, and pattern, Flierl's compositions reflect a playfulness and joy for the process of painting.
New Haven Vermont resident Homer G. Wells uses non traditional and highly innovative  techniques to  represent and honor a traditional subject matter. Wells began his career as an artist building large kinetic sculptures that were exhibited at Burning Man in Black Rock City Nevada. He is a skilled commercial sign maker who began experimenting with his leftover aluminum to create etched landscapes. Wells' collection for "Shedding Light" is a series of etched aluminum "paintings" that show the rolling hills, vast skies and mountains of Addison County. Using recycled aluminum, the artist skillfully etches, buffs and manipulates his surface to create a composition where the elements shift and change according to the light reflecting on the surface of the work or on the position of the viewer. Wells adds color to some of the pieces by masking areas and spraying colors on using automotive paint. The landscape of Vermont is transformed through his material and process.
Time

April 1 (Thursday) - May 31 (Monday)
Location

Edgewater Gallery at Middlebury Falls - 1 Mill Street

1 Mill Street Middlebury, Vt 05753
Organizer
Edgewater Gallery802.989.7419