19febAll Day22marBlanket of Stillness: Winter in Mad River ValleyFebruary 19th - March 22nd(All Day) The Pitcher Inn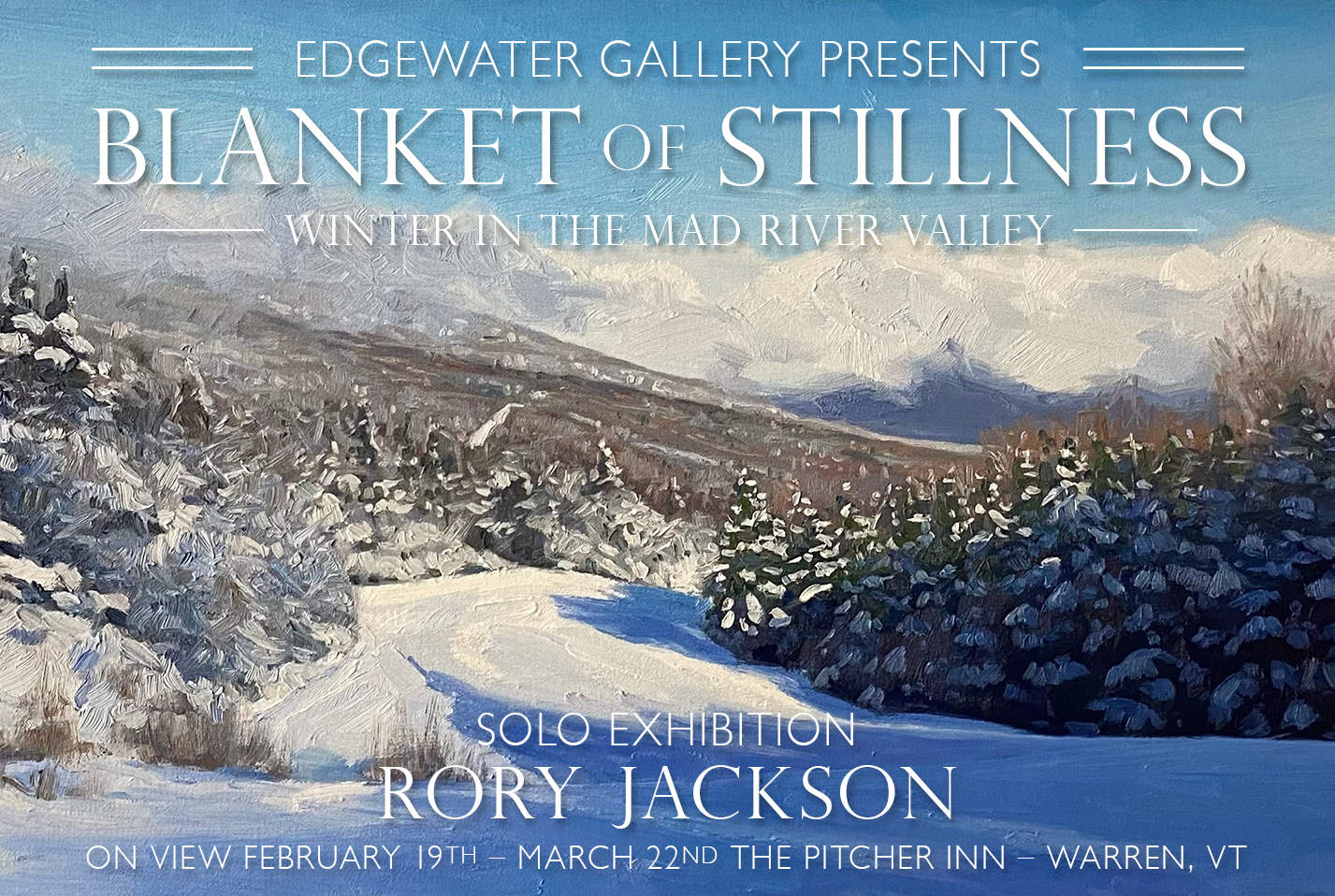 Event Details
Blanket of Stillness: Winter in Mad River Valley
Solo Exhibition with Rory Jackson
February 19th – March 22nd, 2021
The Pitcher Inn in Warren, Vermont
Edgewater Gallery presents the solo exhibition "A Blanket of Stillness", a collection of winter landscapes by Rory Jackson depicting Vermont's Mad River Valley.  Jackson's connection with the landscape in which he grew up and still calls home, is palpable in this series of paintings. The artist skillfully captures the contrast of startlingly white snow against the more subtle tones of the snow laced forests, mountains and skies of winter. He knows the winter light that is cast by the sun, low on the horizon, the subtlety of the palette in the layers of hills and mountains and the complexity of the sky as it changes from brilliant blue to cloud filled.  Those familiar with the trails and landscape of the Mad River Valley will enjoy favorite scenes and those who have not visited this part of Vermont will appreciate the paintings as a celebration of the beauty of winter in New England.
Edgewater's partnership with The Pitcher Inn allows us to present Rory Jackson's solo exhibition, "A Blanket of Stillness" at the inn, and provides an opportunity to see the work in the classic beauty and understated elegance of the inn's dining room and reception areas.
For more information about "A Blanket of Stillness", a solo exhibition of winter paintings of the Mad River Valley by Rory Jackson, visit our website www.edgewatergallery.com, call the gallery at 802-989-7419 or email us at [email protected].
Organizer
Edgewater Gallery802.989.7419