03octAll Day14novSimple MattersOctober 3rd - November 14th, 2023(All Day) Edgewater Gallery on the Green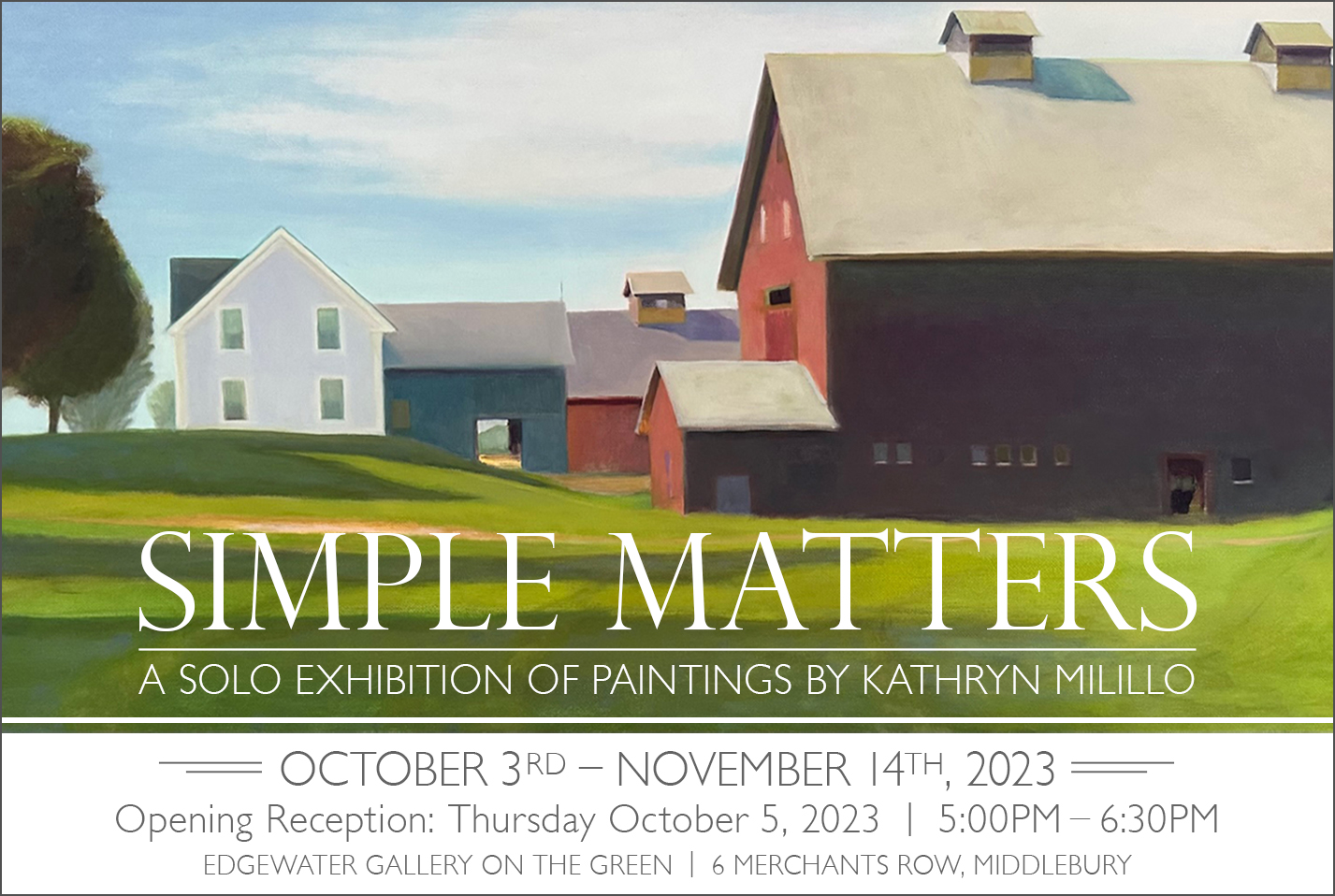 Event Details
SIMPLE MATTERS
A Solo Exhibition of Paintings by
Kathryn Milillo
October 3 – November 14, 2023
Opening Reception:
Thursday October 5, 2023 5:00 – 6:30 PM
Edgewater Gallery on the Green, 6 Merchants Row, Middlebury
Vermont's rolling hills and interwoven fields and forests have a quiet rhythmic beauty. The architectural vernacular of our farm structures and dwellings is straightforward, simple, largely free of adornment, and speaks to functionality and durability. In "Simple Matters", Kathryn Milillo's solo exhibition of new paintings, she pays homage to Vermont's landscape and architecture while exploring the play of light on objects, color relationships, and negative spaces in her compositions. Milillo is a quiet observer. She finds serenity in looking, recording and interpreting what she sees.
"I painted this collection from a vantage point of wistful stillness. My aim was to keep the concept of wabi sabi in mind; to explore the beauty in humble simplicity, to honor and accept flaws and imperfections and embrace aging.
I've loved Vermont's buildings for years, wondering at those windows and doors set in odd corners, the wood surfaces worn to a soft patina. With these oil paintings I've circled back to study some favorite subjects: cupolas crowning old grandee barns, the gleam of sunlight on a metal roof, the fields giving their gold away. 
My color inspiration was a group of Gee's Bend Quilt notecards strung along my studio wall. 
I am never done with looking."
                                         Kathryn Milillo
Milillo graduated from Clark University as an English major but her hope was to someday become a fine artist. After careers in graphic design and marketing the artist was finally able to concentrate on being a painter full time. She cites painters such as Mark Rothko, Edward Hopper, and Milton Avery as important influences and her participation in numerous workshops as being instrumental in her maturity as an artist. 
Milillo is inspired by the play of light on her subject matter, she revels in the experience of brushing on color and the discrimination between warm and cool colors. The artist aims to create a "visual poem" with her compositions through her use of light and shadow, negative space and complementary colors.
For more information about "Simple Matters", Kathryn Milillo's solo exhibition, call the gallery at 802-989-7419 or email [email protected].
To view Kathryn Milillo's available work, click here.
Time

October 3 (Tuesday) - November 14 (Tuesday)
Location

Edgewater Gallery on the Green

6 merchants row middlebury, vt 05753
Organizer
Edgewater Gallery802.989.7419