01decAll Day31ReflectionsDecember 1st - 31st, 2023(All Day) Edgewater Gallery on the Green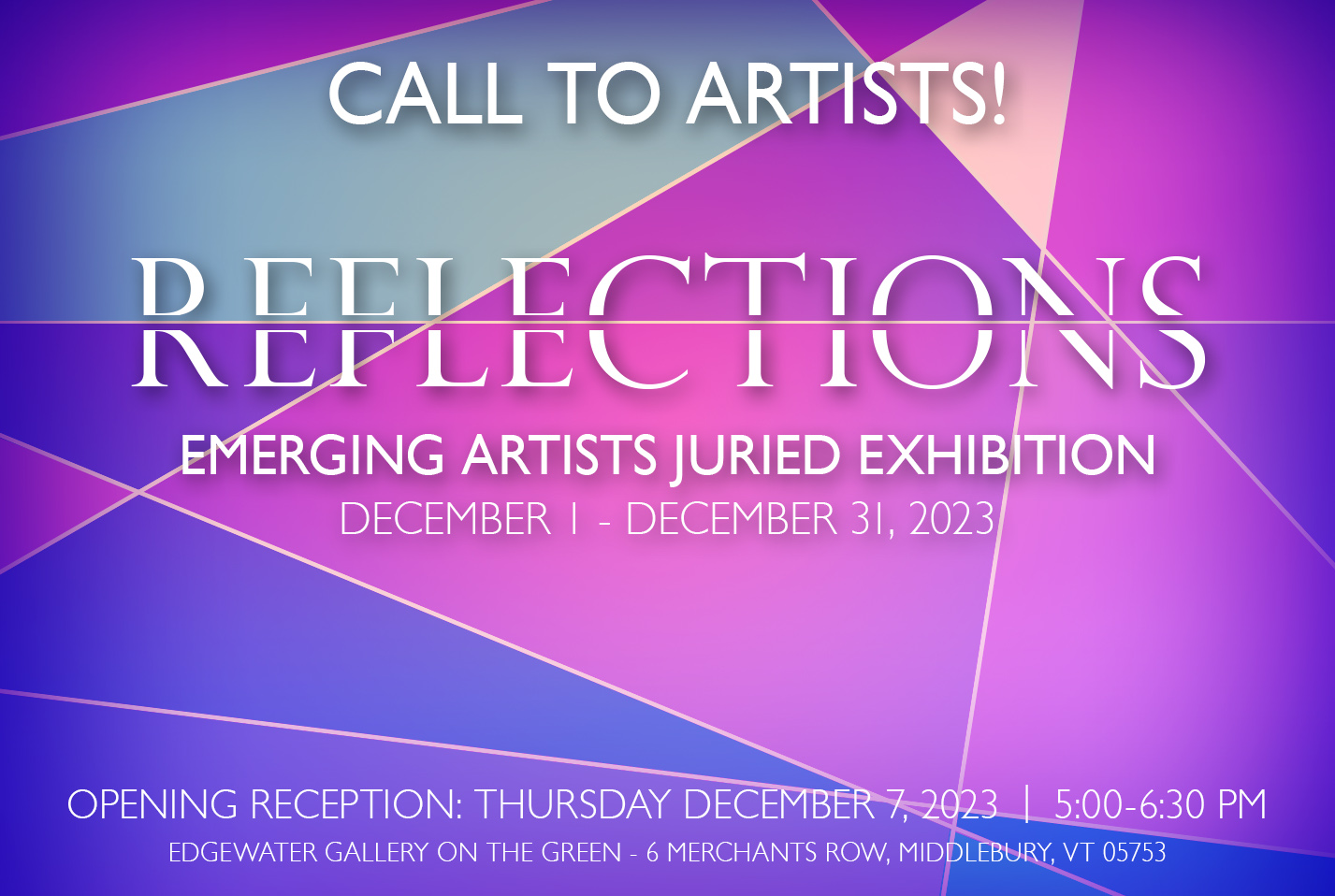 Event Details
Call to Artists!
REFLECTIONS
Emerging Artists Juried Exhibition
December 1st – 21st, 2023
Edgewater Gallery on the Green, 6 Merchants Row, Middlebury, VT 05753
Edgewater Gallery seeks entries of distinctive work within the theme of "Reflections". This competition is open to all emerging artists.
Juried by John and Gillian Ross, owners of Gallery Twist, Lexington, MA (www.gallerytwist.com)
Opening Reception Thursday December 7, 2023 5:00-6:30 PM

All works must be for sale. Edgewater Gallery receives 40% of the purchase price. Please submit only work that will be available at the time of the exhibition and will remain for its entirety. Work must have been created within the past three years. No accepted entry may be withdrawn prior to the close of the exhibition. No price changes will be allowed after acceptance. Work that is copied is not eligible. If the work does not fully reflect what is represented on the submitted image, Edgewater Gallery reserves the right to eliminate it from the competition.
Open to all media
Specifications
Two dimensional work must be professionally presented and firmly wired. No sawtooth hangers, no sandwich frames. 3-D work should include a pedestal.
JPEG Sizing:
Image size for entry on Smarter Entry: Images should be at least 1280 pixels in the longest dimension at 72 ppi, file size not to exceed 2 MB.
Notification 
Accepted entries will be posted on the website by the end of the day Tuesday November 7, 2023. If for any reason you do not receive your notification by the notification date, please check the junk mail folder of your email account. Shipping instructions will be sent by email.
Delivery/Return of accepted artwork.
Shipping, and return shipping fees for shipped work are the responsibility of the artist. Delivery instructions will accompany email notification of acceptance. (Delivery by November 18, 2023) Pick up hand delivered work January 15, 2024, shipped work returned by January 31, 2023.
Hand delivered works may be picked up at the end of the exhibition.
Liability
I understand that Edgewater Gallery will insure work accepted to the extent of 60% of the artist's stated value while the work is in Edgewater Gallery's custody and control.
Agreement
Submission to "New Visions" constitutes an agreement with all conditions of this show. Edgewater Gallery reserves the right to photograph or use a submitted image for an accepted work for publicity purposes. Edgewater Gallery reserves the right to reject any work not resembling the submitted entry or work that is not ready to be shown according to the aforementioned specifications.
Prizes
First Prize – work of art purchased by the gallery plus a $250 gift certificte to Edgewater Gallery
Second Prize – work of art purchased by the gallery plus a $150 gift certificate to Edgewater Gallery
Third Prize – work of art purchased by the gallery plus a $100 gift certificate to Edgewater Gallery.
To enter Click here: (Entry deadline October 20, 2023 at the end of the day.)
Time

december 1 (Friday) - 31 (Sunday)
Location

Edgewater Gallery on the Green

6 merchants row middlebury, vt 05753
Organizer
Edgewater Gallery802.989.7419