09sepAll Day15novNature's Inner LightOn view September 9th - November 15th, 2023(All Day) Edgewater Gallery at Middlebury Falls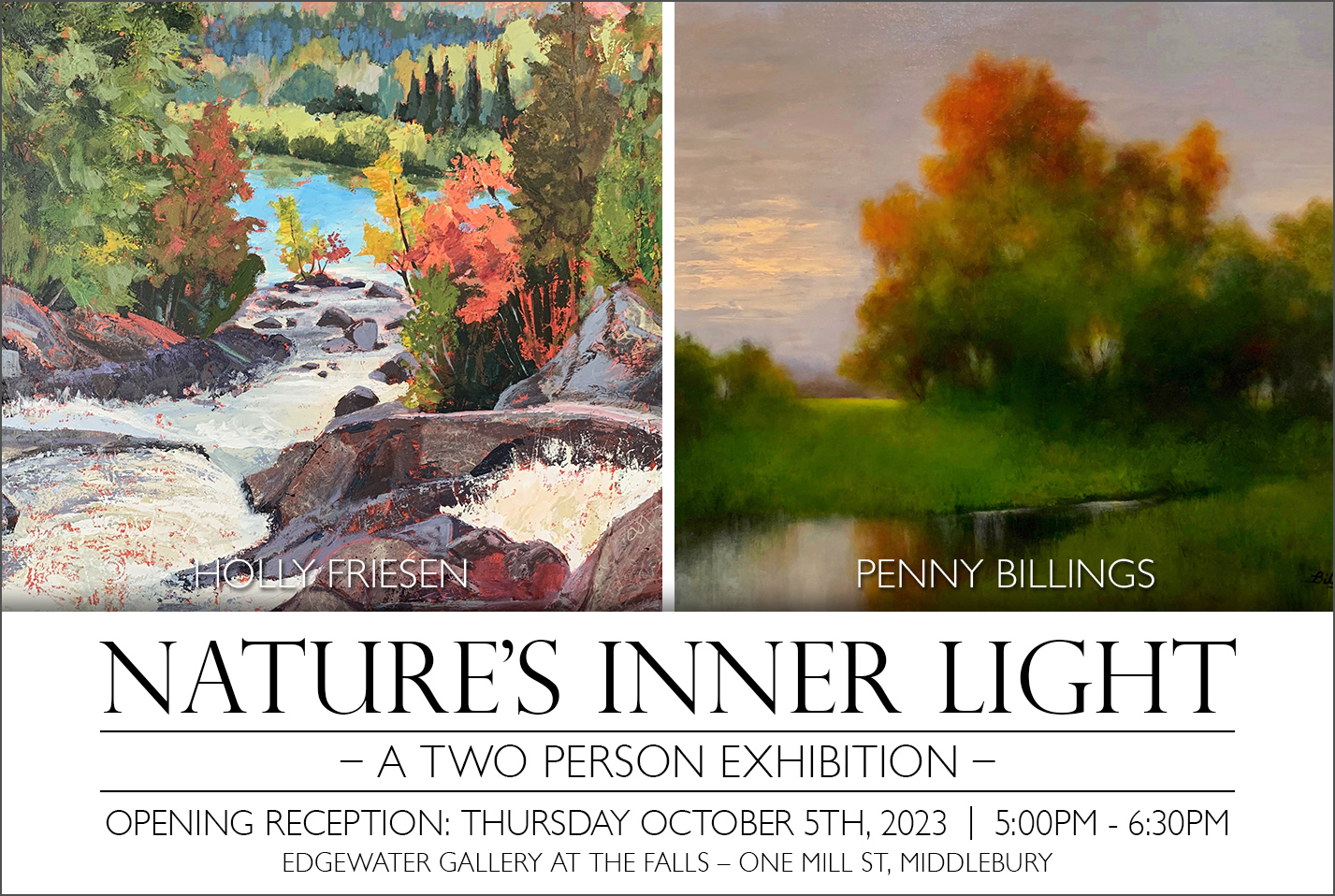 Event Details
NATURE'S INNER LIGHT
A Two Person Exhibition Featuring:
PENNY BILLINGS & HOLLY FRIESEN
ON VIEW: September 9th – November 15th, 2023
OPENING RECEPTION: October 5th, 2023 – 5:00PM – 6:30PM
Edgewater Gallery at the Falls, One Mill Street, Middlebury
Nature's Inner Light our two person show featuring Penny Billings and Holly Friesen brings together two artists whose connections to and reverence for the natural world guide their choice in subject. Their approach to color, painting style, technique and composition differ but a passion for the New England and Quebec landscape, unite them in this collection.
In her tonalist paintings Penny Billings seeks to stir an emotion or memory. She is not concerned about accurately recording the details of a scene but rather eliciting a response to it. She focuses on the early and late periods of the day when light and shadow intersect creating an ethereal, atmospheric world. 
 Of her painting process she writes:
The works "originate from a small sketch painted or recorded in my sketchbook on site, or they are drawn from my own memory or imagination.  The painting is then developed in my studio into the larger final work on linen with many thin glazed layers of high quality oil paint and the same oil medium used by master artists historically.  This lengthy archival process, which can take weeks, gives the finished painting a translucent glow reflecting nature's own."
Holly Friesen paints with a physicality, looseness and energy that aptly conveys the wild beauty of the northern New England and Quebec landscapes. She finds balance and harmony in these places and seeks to live in a "mutually life enhancing manner with the local bio regions." Friesen begins each work in acrylic with a vibrant underpainting tone that appears in traces after layers of paint are applied in textural swirls and broad strokes of color creating areas of vibrating tones that further accent the untamed nature of her region. 
Friesen writes:
"The more I paint the less separation there is between inner and outer worlds. For me, painting is like a deep prayer awakening an inner wilderness that reflects the earth's landscape…"

Join us for an opening reception Thursday October 5th 5:00 – 6:30 PM at Edgewater Gallery by the Falls. 
For more information on "Nature's Inner Light" visit www.edgewatergallery-vt.com, call the gallery at 802-458-0098 or email [email protected].
To view Penny Billing's available work and to learn more about the artist click here.
To view Holly Friesen's available work and to learn more about the artist click here.
Time

September 9 (Saturday) - November 15 (Wednesday)
Location

Edgewater Gallery at Middlebury Falls

1 Mill Street Middlebury, Vt 05753
Organizer
Edgewater Gallery802.989.7419