15sepAll DayThe Working LandscapeFriday September 15th from 5:30 - 7:00pm(All Day: friday) Sunrise Orchards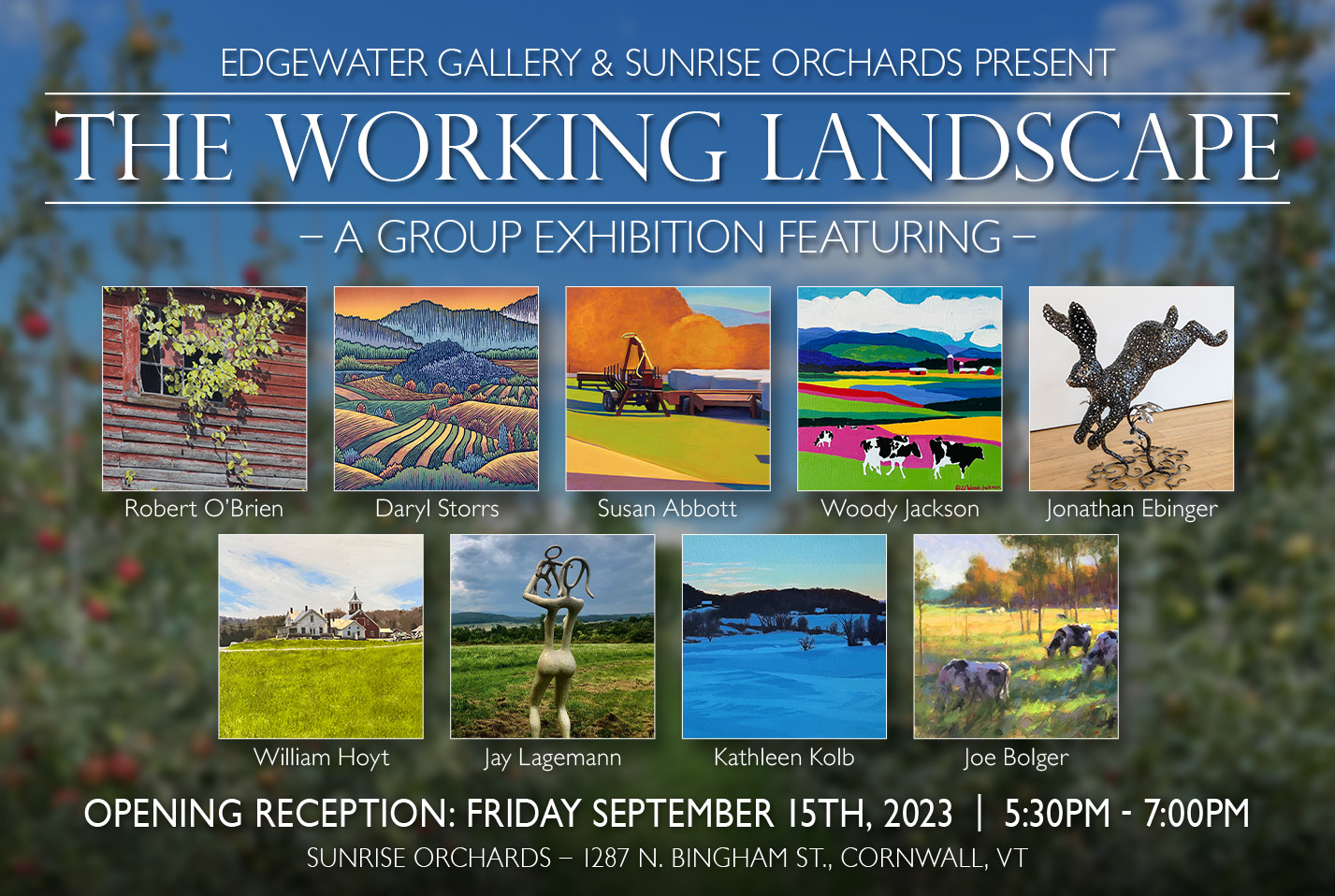 Event Details
Edgewater Gallery and Sunrise Orchards present
THE WORKING LANDSCAPE
A Group Exhibition featuring
Susan Abbott, Joe Bolger, Jonathan Ebinger, William Hoyt, Woody Jackson, Kathleen Kolb, Jay Lagemann, Robert O'Brien & Daryl Storrs
OPENING RECEPTION:
Friday September 15, 2023
5:30PM – 7:00PM
Sunrise Orchards – 1287 N. Bingham St., Cornwall, Vermont
Join us Friday September 15th to celebrate Vermont's harvest and the beauty of our autumn foliage in a collaborative evening of art, apples and family fun at Sunrise Orchards in Cornwall. In "The Working Landscape" we will feature a collection of paintings by Edgewater's artists under the tent at the orchard's farm store and sculptures by artists Jonathan Ebinger and Jay Lagemann, placed throughout the orchard. Visitors can discover the sculptures as they stroll through the orchard and enjoy the views west over Lake Champlain to the Adirondacks and enjoy a seasonal array of appetizers and refreshment prepared in the orchard kitchen, as they view a collection of paintings by Vermont artists whose interpretations of our working landscape will mirror the setting in which they are displayed. All of the fine art on view will be available for purchase through Edgewater Gallery.
This is a family friendly evening complete with opportunities for apple picking, sculpture hunting and art viewing. The event is free and open to all.
Sunrise Orchards is owned and operated by Chris and Barney Hodges.
For 25 years they have worked to provide quality apples that are grown with a commitment to community, sustainability, the environment and innovation.
Chris and Barney met in 1989 while studying ocean biology and pollution aboard the SSV Corwith Cramer, a 134-foot-long brigantine that calls Woods Hole, MA, home port. After graduating college and trying out careers in geology and teaching, they followed their hearts back to the family farm and were inspired by the entrepreneurial and environmental challenges and opportunities that growing food offers. Since that day 25 years ago, they have weathered many ups and downs, become a mainstay of apple production in Vermont and the wider New England region, raised Sophie, Sam and Malia and continue to reinvent the farm, always striving to grow food responsibly, be good neighbors and take care of this beautiful corner of Addison County.
For more information about "The Working Landscape", a group exhibition of regional Edgewater artists on location at Sunrise Orchards in Cornwall, visit our website edgewatergallery.com, call us at 802-989-7419 or email us at [email protected].
For more information about Sunrise Orchards, visit their website www.sunriseorchards.com.
Location

Sunrise Orchards

1287 N. Bingham Street
Organizer
Edgewater Gallery802.989.7419