16novAll Day31decSmall Works and Seasonal FavoritesNovember 16th - December 31st(All Day) Both Edgewater Gallery Locations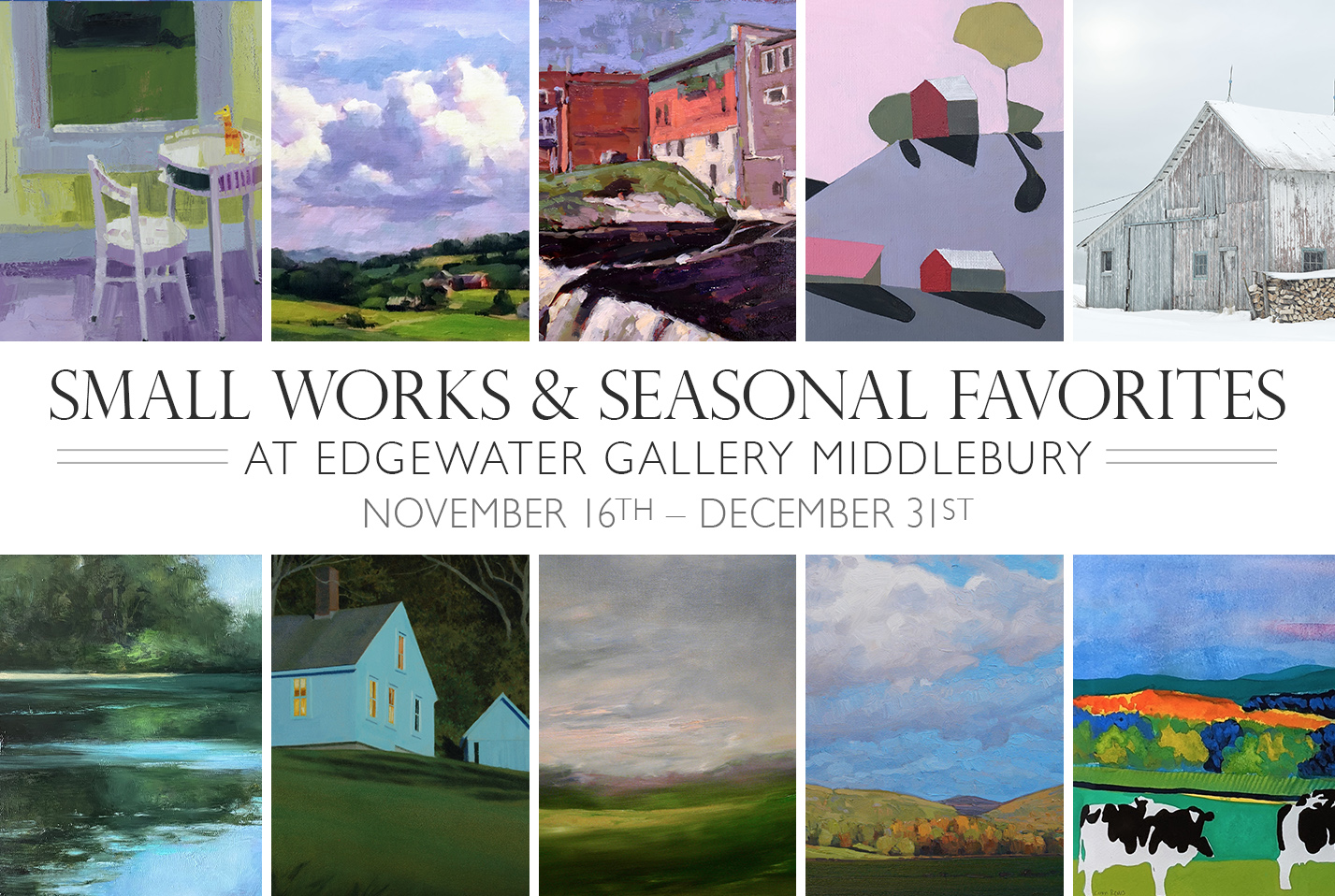 Event Details
Small Works and Seasonal Favorites at Edgewater Gallery Middlebury
Highlighting new works from Joe Bolger, Scott Addis, Julia Purinton, William Hoyt and Tim Horn and featuring seasonal works of fine art from Edgewater's established artists. On view November 16th through December 31st at both Edgewater Gallery locations.
Edgewater Gallery celebrates the holiday season with our annual Small Works Exhibition at our Falls location and selected small works and collection favorites at our On the Green gallery. 
The Small Works show is a chance for us to showcase the beauty of small scale paintings and the artist's ability to create a composition within a smaller format.
This year's exhibition will  feature new work from Scott Addis, Joe Bolger, Philip Frey, Penny Billings and Sage Tucker Ketcham, and include a selection of small scale pieces from the existing collections of artists such as Jane Davies, Woody Jackson, Sara Katz and Irma Cerese.
Edgewater Gallery on the Green will simultaneously present a selection of new small works from Tim Horn, William Hoyt and Julia Purinton along with collection favorites intended to spread the joy of the season and highlight the talents of Edgewater's established artists.
**Open Sundays 11-4 starting November 15th with expanded holiday hours including Friday November 27th and Thursday December 24th.**
Time

November 16 (Monday) - December 31 (Thursday)
Location

Both Edgewater Gallery Locations

6 merchants row and 1 mill street middlebury, vt 05753
Organizer
Edgewater Gallery802.989.7419