02aprAll DayTom Dunne PresentationApril 2nd, 2022 | 2:00PM - 4:00PM(All Day: saturday) Edgewater Gallery on the Green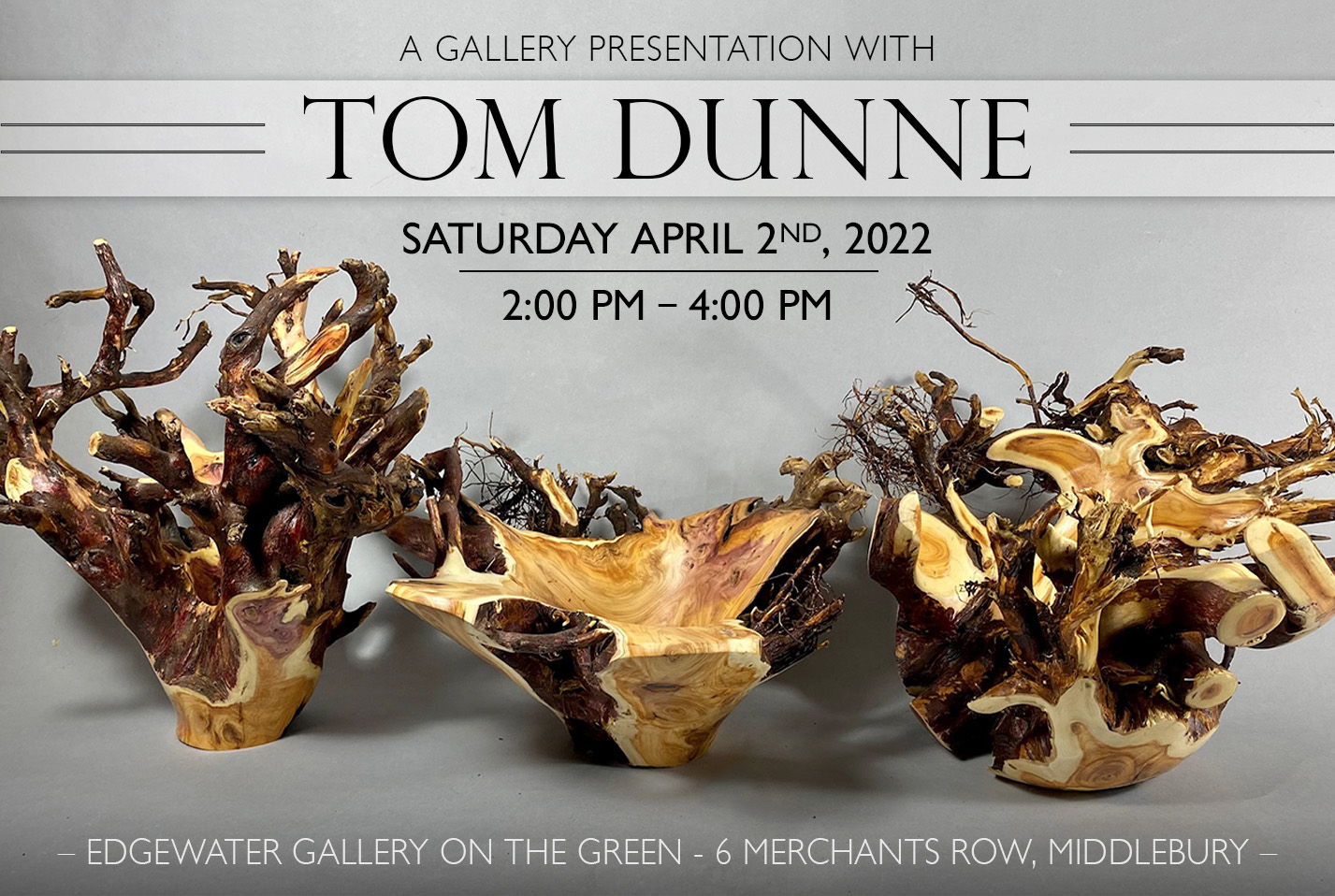 Event Details

Gallery Presentation with
TOM DUNNE
Saturday April 2nd, 2022
2:00OM – 4:00PM
Edgewater Gallery on the Green
6 Merchants Row, Middlebury
In conjunction with our group exhibition "Tools of the Trade", now on view and running through April 26th, 2022, artistic wood turner Tom Dunne will give a presentation at the gallery at 6 Merchants Row where he will show slides and discuss the body of work that he created for this exhibition, give an explanation of woodturning techniques and answer questions about his process.
Tom Dunne was born in Indianapolis and received his BS in Mathematics from the University of Michigan and his MBA in Finance from Harvard University. Though he worked for a number of years in the world of corporate finance he had a long time interest in woodworking which was fostered by time spent in Peru and Ecuador where he served in the peace corps and learned the art of woodcarving in his spare time. Years later he purchased a lathe and began his exploration of wood turning. Eventually he left his job in finance and decided to devote himself full time to the art of woodturning.
In his sculptural vessels, Dunne strives to highlight the uniquely beautiful qualities of each piece of wood that he turns.
Join us from 2:00-4:00 PM, Saturday April 2nd, to meet Tom Dunne, learn about his work and enjoy the "Tools of the Trade" exhibition.
For more information about Tom Dunne's gallery presentation or about the Tools of the Trade exhibition, call the gallery at 802-989-7419 or email us at [email protected].
To to learn more about Tom Dunne and view his available work click here.
Location

Edgewater Gallery on the Green

6 merchants row middlebury, vt 05753
Organizer
Edgewater Gallery802.989.7419