18marAll Day26aprTools of the TradeMarch 18th - April 26th, 2022(All Day) Edgewater Gallery on the Green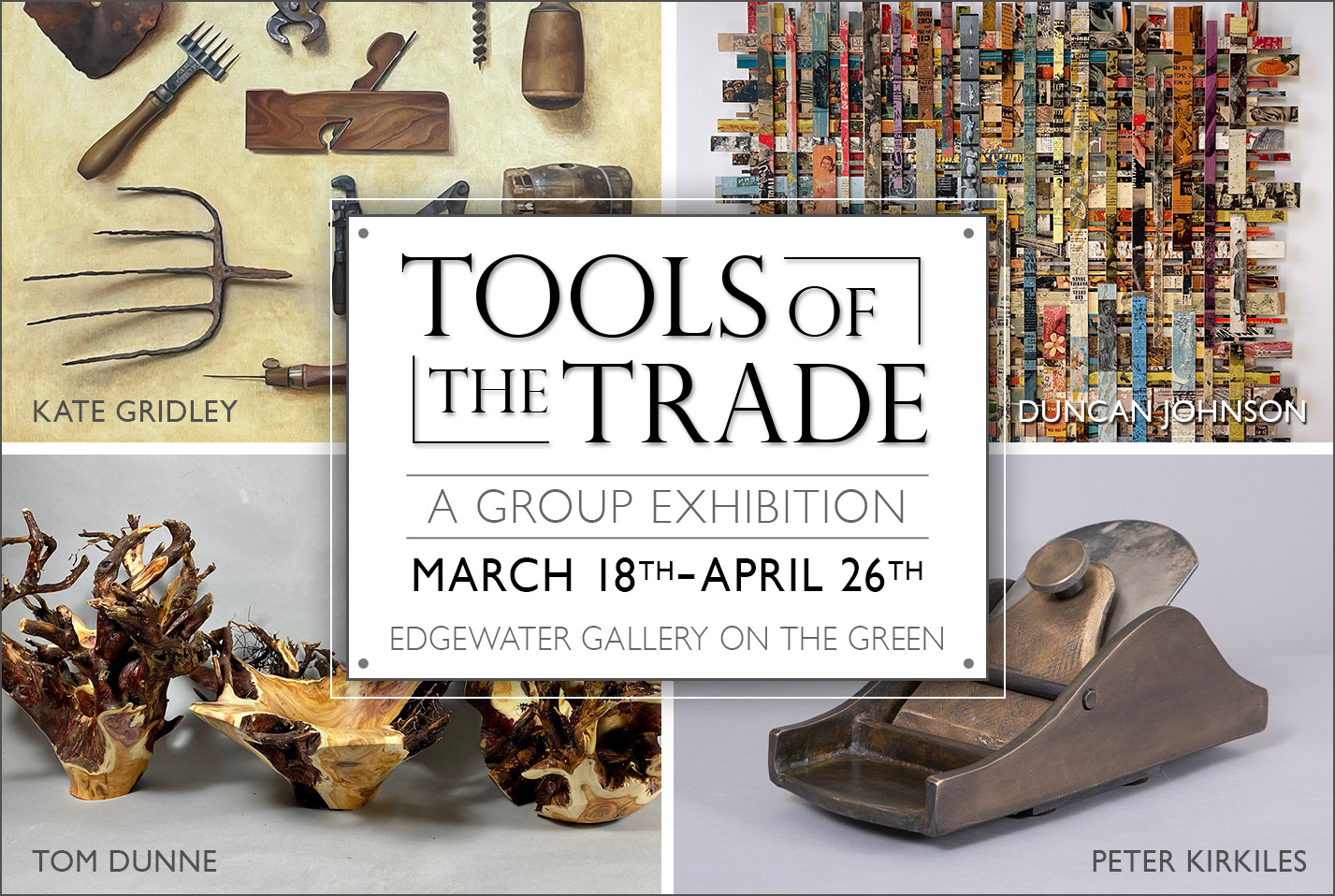 Event Details
Tools of the Trade
A Group Exhibition featuring –
Tom Dunne, Kate Gridley, Duncan Johnson and Peter Kirkiles
On view March 18th-April 26th
Edgewater Gallery on the Green
"Tools of the Trade" honors the process of crafting fine art, the tools themselves that make the work possible and the beauty of the finished product.
In this exhibition we honor the skills of a painter, a painter and wood sculptor, a metal fabricator and a wood turner as they honor their individual materials and tools.
Painter Kate Gridley has chosen as subject matter a collection of antique tools used in the kitchen, blacksmith shop, the garden and the wood shop. She highlights the beauty of their design, the unique worn qualities each has developed through years of use and the sense of history that each tool carries.
"These paintings aim to capture a sense of time, handwork, and imagined story through the simple act of honoring old and worn tools as they are now. Witnessing and creating memory. Full of stains, rust, cracks, imperfections, pockmarks, they stand simply. They cast shadows. The tools are beautiful."
– Kate Gridley
Duncan Johnson builds wall sculptures out of reclaimed wood found in the scrap yards of Vermont. His skill as a woodworker allows him to refine the wood to his needs while preserving the natural beauty of each piece. Johnson then uses the wood to build intricately woven or fitted wall sculptures enhanced with paint or image transfers.
"My work uses discarded wood gathered from landfills and construction sites in Vermont. They contain aspects of sculpture, drawing and painting referencing many of my interests from quilting to architecture."
– Duncan Johnson
Thomas Dunne also works in wood but his focus is on creating vessels that accentuate and preserve the unique qualities of each piece of wood that he collects. His work celebrates simplicity of design, the craft of wood turning, and natural beauty of the material.
"Each piece is unique whether functional or not, a statement of my commitment to simplicity of design, good craftsmanship and respect for this extraordinary material."
– Tom Dunne
Peter Kirkiles makes his Edgewater debut in Tools of the Trade. His experience as a metal fabricator shows in the precision of his cast bronze and steel pieces. Kirkiles is clear in his mission to remind us of the beauty of design in common household tools. By increasing their scale the artist elevates the object to that of an art piece and allows the viewer to better appreciate its design and importance in our day to day life. Kirkiles has a nostalgia for well designed, well used, history laden objects. He finds great satisfaction in the process of creating.
"I'm a maker; I'm also an admirer of things well made. Over the years, I've chosen to make things that I love. I find the subjects of my sculpture in real life; a shoe, a camera, a clock, a ruler…made to scale, as sculpture."
– Peter Kirkiles
For more information on "Tools of the Trade", a group exhibition featuring Tom Dunne, Kate Gridley, Duncan Johnson and Peter Kirkiles, on view at Edgewater Gallery on the Green at 6 Merchants Row, Middlbury, call the gallery at 802-989-7419 or email us at [email protected].
To to learn more about Tom Dunne and view his available work click here.
To to learn more about Kate Gridley and view her available work click here.
To to learn more about Duncan Johnson and view his available work click here.
To to learn more about Peter Kirkiles and view his available work click here.
Time

March 18 (Friday) - April 26 (Tuesday)
Location

Edgewater Gallery on the Green

6 merchants row middlebury, vt 05753
Organizer
Edgewater Gallery802.989.7419