30mar5:30 pm8:00 pmTwo Spring Evenings of Fine Art and Fine DiningMake Your Reservations Today!5:30 pm - 8:00 pm The Pitcher Inn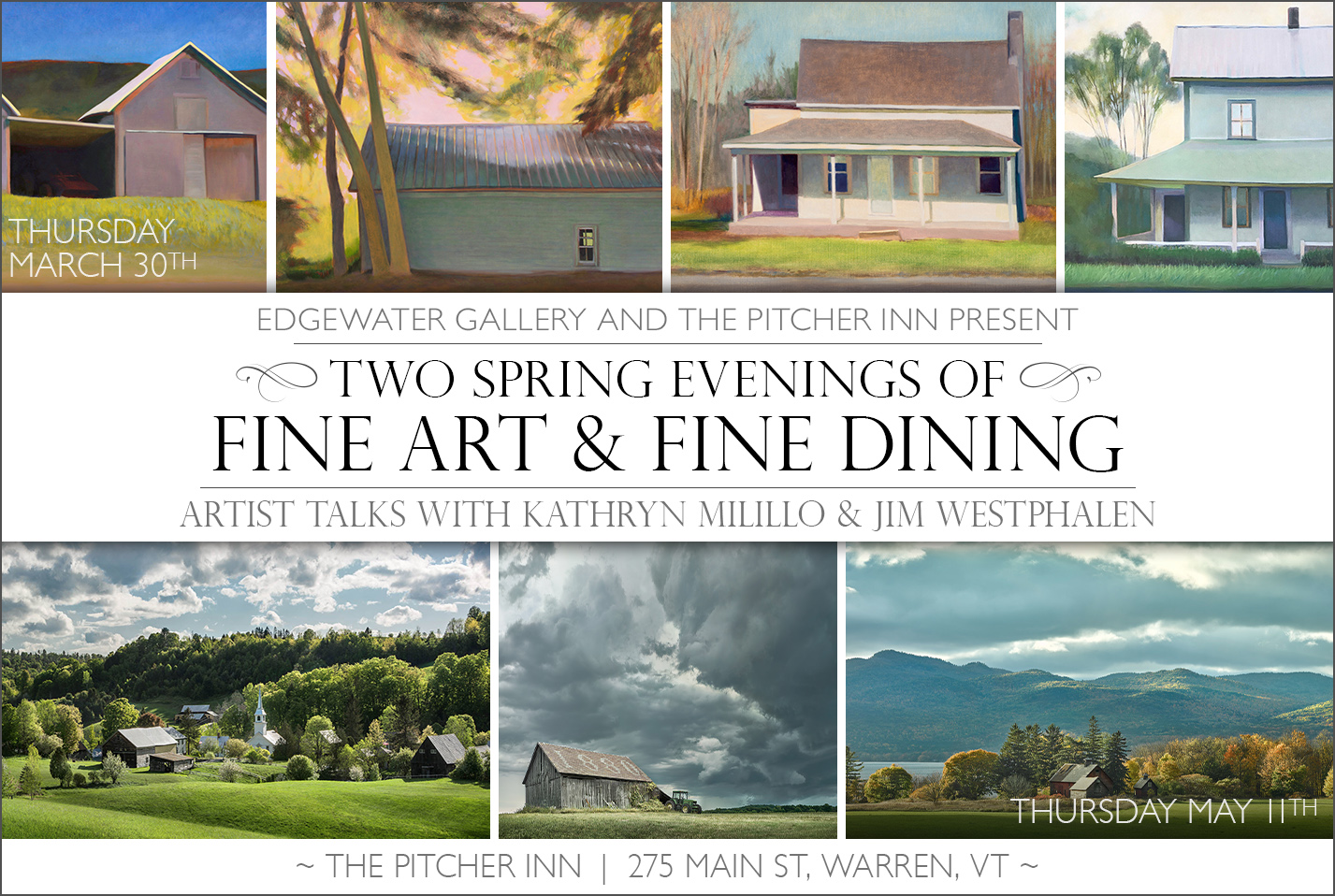 Event Details

Edgewater Gallery and The Pitcher Inn, Warren Vermont present
TWO SPRING EVENINGS OF FINE ART AND FINE DINING
Thursday March 30th & Thursday May 11, 2023
5:30PM – 8:00PM
Join Us
Thursday March 30 for
an artist talk with Kathryn Milillo
and
Thursday May 11th for
an artist talk with Jim Westphalen
Followed by Dinner at the Inn
This spring we invite you to join us as we host two evenings of art, discussion and fine dining with Katheryn Milillo and Jim Westphalen. Milillo and Westphalen share a passion for the Vermont landscape including the vanishing farmscapes and structures that stand proudly along the byways of the state.
Vermont oil painter Kathryn Milillo is preparing for her solo exhibition at Edgewater Gallery on the Green in October of 2023 and will join us on Thursday March 30th for a conversation about her journey to becoming a painter, her inspiration, technique and approach to creating fine art.
Kathryn Milillo is drawn to the aging architecture of Vermont's barns and farmhouses. She strives to honor their decaying but handsome presence.
More broadly the artist says of her work, "I am influenced in my painting choices by a background in English literature and Graphic design. Words like "grace", "refuge" and "abandonment" are veins of gold to be mined. Playing with light and dark, color complements and negative spaces, I aim to create a visual poem."
Photographer Jim Westphalen has always had an affinity for the built landscape; those features and patterns reflecting human occupation within the natural surroundings. His current body of work entitled, Vanish is an ongoing narrative that speaks to the decay of iconic structures in rural America.
His talk on May 11th at the inn will focus on his chosen subject matter, photographic technique and his path to becoming one of Vermont's premier fine art photographers. His talk will come on the heels of the screening of his documentary "Vanish: Disappearing Icons of Rural America" premiering at the Town Hall Theater in Middlebury on Saturday April 8, 2023.
Examples of both artists' work will be on view and guests will have the opportunity to ask questions and to enjoy dinner following the talk at the inn's acclaimed restaurant.
To register for this event, including dinner at the Pitcher Inn, call the gallery at 802-989-7419 or email us at [email protected]. To make dinner reservations for the evening please call The Pitcher Inn at 802-496-6350.
Organizer
Edgewater Gallery802.989.7419